Biz Buzz: Development plan features green design
BAXTER--A first in commercial building design could be in Baxter's future. A sketch plan for an addition to Baxter Village was presented to the city's planning and zoning commission last week with a visually interesting design and one that incorp...
BAXTER-A first in commercial building design could be in Baxter's future.
A sketch plan for an addition to Baxter Village was presented to the city's planning and zoning commission last week with a visually interesting design and one that incorporates environmentally friendly concepts. Elements include a green roof topped with plants and a water filtration system, a porous parking lot that allows water to pass through it, rain barrels, high-efficiency lights and roofs with solar panels.
The proposal involves a 2.28-acre commercial site of vacant land south of Baxter Village, two buildings with retail, service, banking and the Boulder Tap House restaurant. The original plan called for three phases, but a third building was never constructed. Phase one of Baxter Village, which is west of Highway 371, was completed in 2005.
Utilizing the city's sketch process, the developer took advantage of the option to bring a preliminary plan to the city to get comments early.
The new proposal for construction calls for a primary 16,355-square-foot multi-tenant building to be positioned in the shape of an "L." The main building would have a two-story portion, lots of trees, sidewalks and a plaza area, according to information presented to the commission.
Dentist Jeanni Foss opened her Edgewood Dental practice in Baxter in 2004. Foss was before the commission along with design and construction representatives, including those from Hy-Tec Construction in Brainerd. The idea is to include Edgewood Dental, a dental lab, a shake shop, bakery and salon in the main structure. In the proposal is a plan to include a second building that could possibly be a 2,000-square-foot coffee shop with a drive-thru in the future.
At the meeting, Foss said her goal was to be a good environmental steward and incorporate the green design concepts and potentially offer them as an example of what can be used here.
Proposal includes:
• A green roof on two portions of the main building and solar panels on two roofs.
• An aggregate parking surface created using an American-made TrueGrid framework made of recycled plastics and densely packed aggregate.
• Both the green roof and this porous parking lot design are new to Baxter.
The parking surface design is reported to work in all kinds of climates and has been in use at least a decade, developers reported. To mark parking areas, gold or yellow caps called SuperSpots can be attached to the grid-basically colored circles to outline parking spots. The developer reported the concept has been used in winter climates, including the East Coast-upstate New York-Colorado and in Canada.
But the aggregate-based system caused some staff concern that pebbles may track from the site onto the nearby street surface, which could be considered an illicit discharge and subject to fines. Commission members wondered about snow removal. Bumpers or plow shoes can be used to provide the proper elevation so the caps are not disturbed but snow removed. TrueGrid reports its permeable pavers absorb water and are less expensive than concrete, saving land and eliminating the need for retention ponds. In many cases, TrueGrid reports, direct runoff is eliminated. On its website, TrueGrid listed Google, Whole Foods Markets, NASCAR and the military among its clients.
Josh Doty, community development director, said staff is very supportive of green practices, but the city hasn't supported aggregate surfaces with other applications. This is not the same as just applying gravel as this would be an engineered porous surface, Doty said, although it is still an aggregate-based approach. Doty said there wasn't a location nearby they could look at but they were learning more.
Foss said she would be open to using it as the employee parking lot so people could see how it works and holds up to the climate here as a test run with a different paver system that is better for plowing in the front. Bituminous pavement has a life expectancy of 20-25 years for parking lots, developers said, with porous paver anticipated to last for 50 years, which also cuts down on maintenance costs for the property owner. The specs call for the pavers to work from 60 below to 130 above for temperatures. It is compliant for the Americans with Disabilities Act as well, they reported.
"Because this technology is so new sometimes you have to be the person who does the trial for that," Foss said.
Foss said she visited Iceland and looked at the green roofs there and they are planning on one here that is more self-sustaining.
"You have several cutting edge technologies here ... a lot of things that are unfamiliar for us so it will challenge us as the application continues to move forward, which will create some uncertainty along the way," said Steve Lund, planning commission. "Here is what I do know. You have a great project in a progressive city with a talented staff that's going to help you. ... I think it is going through a great process to gather that feedback to make it the best application we can when it does present itself."
Lund encouraged Foss and her group to keep their project moving forward.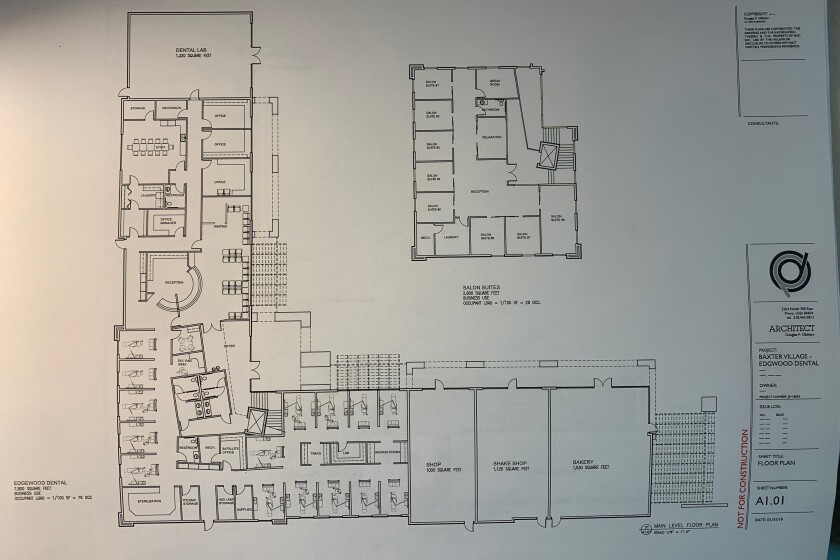 1
/
3:
A preliminary outline of the retail and commercial buildings show a dental lab, shops and potential for a bakery and coffee shop.
2
/
3:
Preliminary plans provide a glimpse of what a new development in Baxter could include, incorporating green building technologies with a green roof, solar panels and a porous pavement. Douglas Oldham, architect.
3
/
3:
A preliminary plan from architect Douglas Oldham shows the potential layout for a new development in Baxter south of Baxter Village.