Open City Thrift offers thrill treasure-hunting for used clothes
Owner Holly McKnight spoke on the unique culture of thrifting and how Open City Thrift looks to fit in Brainerd historic downtown area.
If there was ever a baptism by fire, this is it.
Starting a business — a thrift store no less — months before the start of COVID-19, just to have it closed during a time when it should have been establishing itself. That's been the story so far for Open City Thrift, a used clothing store on Brainerd's South Seventh Street that offers a wide array of styles with a bent for creative expression and environment-friendly practices. The store offers a buy-sell-trade or store credit model for loyal customers, as well as numerous mark-downs and pricing scales to meet the needs of any potential buyer.
Judging by the selection on its open floor layout, Open City Thrift offers a curated lineup that varies between an understated practicality and a certain flare for color, self-expression and personality. The store is laid-out in such a way as to offer its merchandise so that customers aren't boxed into a particular standard of gender, size, style or function. In addition, the thrift store has partnered with Uff-Da Records in St. Cloud to sell vinyl records, CDs and cassette tapes, much of them featuring old-school classics.
Holly and Steve McKnight — the wife-husband team that operates Open City Thrift — didn't have prior experience owning a business when they decided to take the leap late last year. Sure, Holly had been an avid thrifter all her life and she'd been entertaining the idea of dipping her toes into such a unique industry, but it took a bit of serendipity and an outpouring of support from the Brainerd community for the outlook to change from possible, to probable.
"We've been looking at wanting to be business owners for a few years. We had some other fun ideas and nothing really just clicked the way this one did. There was a lot of community support right away and so we actually put out on a Facebook post about it … then we just got all these responses," Holly said. "We're like 'Oh, I guess we could. I guess this is the thing we're going to do.'"
For Holly, who spoke warmly of fond memories with her family growing up in the lakes area and visiting thrift shops on a regular basis, there was only one place that fit the mold — Brainerd's historic downtown neighborhood. Not only was there a matter of nostalgia and the prospect of investing into and being invested by a supportive community, but the business environment was conducive for thrifting in a number of ways.
"When we thought about running a business and thinking about what we would want to do and where we want to be, the definite goal was always `We want to be downtown,'" Holly added. "A downtown community is something every town really needs and so when that started happening down here we just really wanted to be a part of that. That was a big driver to jump in and do the whole thing in the first place."
Thrifting, Holly explained, is more than just a segment of a shopping economy or second-hand retail, it's a sort of subculture all its own. Where most industries would advise a new business owner to avoid competition and set up shop a considerable distance from others in the industry, Holly said thrifters actually benefit from clustering their businesses close together — a rationale, she noted, that encouraged her to rent their current spot on South Seventh across the street from a lakes area mainstay, Bargains on 7th.
It taps into a sort of collectors or treasure hunting drive that many people have, thrifters in particular, Holly said. Thrifting offers people an opportunity to seek out something unique, vintage, or inexpensive — much of it, she noted, that is imbued with a sense of time, and place, and memory that other retail options don't offer. As such, she said, it's only natural that people want to hit up multiple thrifting locations on a given trip and often schedule an afternoon around that very purpose.
"We really have always appreciated the importance of buying thrift," Holly said. "From the environmental standpoint, that's really, really important to us, but as well as the uniqueness of it and the personality that just comes with the thrift store style. It's a creative kind of community. We're trying to provide a space that's just like creative and comfortable and clean."
And amid COVID-19 — which has caused its fair share of economic hardship for shop owners and shoppers alike — there are certainly challenges, but also some advantages for homegrown thrift stores. People are often looking for affordable quality, or willing to spend time sifting through articles of clothing to find a hidden bargain that's a fraction of its typical price, Holly said, and thrift stores offer people that option during such times.
And, Holly noted, there's plans to expand further in the future, offering more and more treasure hunts to people willing to take a chance on a line of clothes, each of them with a story of their own.
1
/
4:
A view of the sales floor in Open City Thrift on South Seventh Street in Brainerd. Owner Holly McKnight emphasized the used clothing outlet follows a vigorous regimen of cleaning and disinfection -- not only to stop the spread of COVID-19, but also to maintain a clean, odorless shopping experience for customers. Gabriel Lagarde / Brainerd Dispatch
2
/
4:
A view of the sales floor in Open City Thrift on South Seventh Street in Brainerd. Owner Holly McKnight emphasized the used clothing outlet follows a vigorous regimen of cleaning and disinfection -- not only to stop the spread of COVID-19, but also to maintain a clean, odorless shopping experience for customers. Gabriel Lagarde / Brainerd Dispatch
3
/
4:
A view of the sales floor in Open City Thrift on South Seventh Street in Brainerd. Owner Holly McKnight emphasized the used clothing outlet follows a vigorous regimen of cleaning and disinfection -- not only to stop the spread of COVID-19, but also to maintain a clean, odorless shopping experience for customers. Gabriel Lagarde / Brainerd Dispatch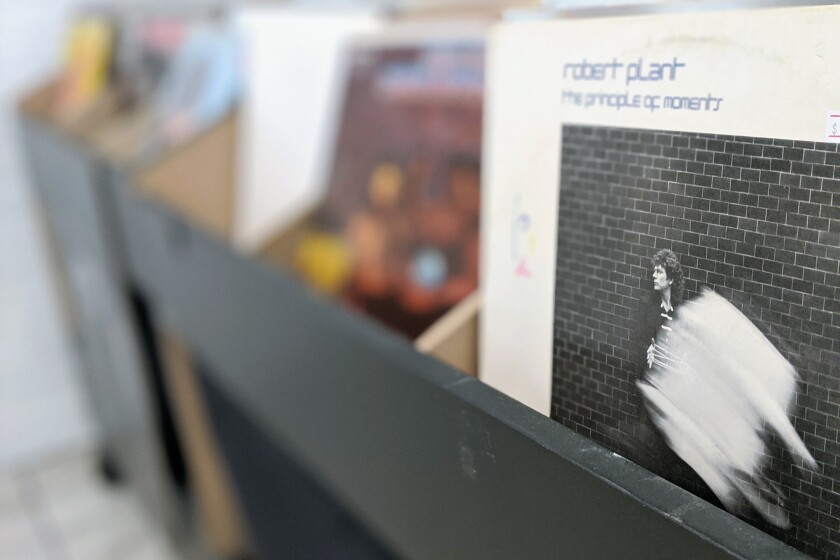 4
/
4:
A lineup of classic vinyls, CDs and cassette tapes in the backroom of Open City Thrift