Bourke's Bookshelf: More of my favorites
This week's reads include "A Murder is Announced" by Agatha Christie, "Turtles All the Way Down" by John Green and "The Girl Who Loved Tom Gordon" by Stephen King.
BRAINERD — I finished off my birthday month in May with more works by some of my favorite authors.
I took the opportunity to put a dent in my Agatha Christie collection, dive into the last unread John Green book on my shelves and explore more of Stephen King's sinister world.
'A Murder is Announced' by Agatha Christie
This is the closest I've come to predicting the ending of an Agatha Christie book. I won't lie and say I had all the details figured out, but my main inkling turned out to be right, so I'm going to call this one a win.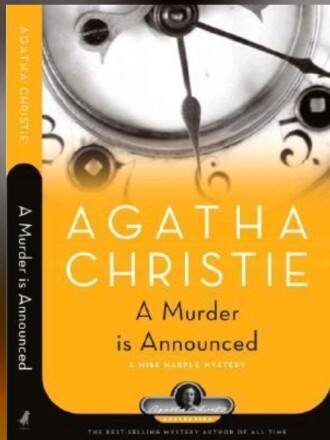 The book opens with an advertisement in the newspaper serving the small town of Chipping Cleghorn announcing a murder is to take place at a residence later that night. Out of sheer curiosity, the neighbors show up at the appointed time, assuming it's some sort of murder mystery party. But when someone actually ends up dead, an investigation ensues.
Christie's beloved old spinster Miss Marple happens to be in town at the time and naturally lends her mind to solving the crime.
I'll admit the first person I suspected of being the killer ended up as the next person to be murdered, so I wasn't on the right track from the beginning. And there were still plenty of twists I could never have seen coming, giving it that unbeatable classic Christie quality.
'Turtles All the Way Down' by John Green
"You remember your first love because they show you, prove to you, that you can love and be loved, that nothing in this world is deserved except for love, that love is both how you become a person and why."
It's been a long time since a line from a book resonated with me so deeply, but "love is both how you become a person and why" has been playing over in my head since I finished reading "Turtles All the Way Down."
John Green is on the same level as Mitch Albom for me. I automatically want to read everything he's written, and know I'll likely enjoy it all immensely.
"Turtles All the Way Down" is another phenomenal young adult novel from John Green, this one narrated by 17-year-old Aza Holmes, who is stuck inside her head, struggling with mental health disorders, namely anxiety.
Aza's narration and the intrusive thoughts running through her mind depict the reality of mental illness and the constant, everyday struggle it can bring to those who feel like they live with the weight of the world on their shoulders. Personal relationships are a struggle for Aza but pale in comparison to finding the right words to describe the burden.
As she works through her ever-spiraling thoughts and the loss of her father at a young age, Aza clings to her best friend Daisy, and the two find themselves caught up in the mystery of a missing billionaire. There's a hefty monetary reward for information leading to his whereabouts, so the two teens go snooping around his mansion, where Aza reconnects with his son Davis but must soon prove her motives aren't entirely selfish.
"Turtles All the Way Down" was a beautiful read and one I highly recommend for anyone looking to lose themselves among the pages of a book.
Those unfamiliar with John Green may recognize the acclaimed 2014 movie "The Fault in Our Stars," which is based on his novel of the same name.
'The Girl Who Loved Tom Gordon' by Stephen King
Nine-year-old Trisha McFarland is hiking a segment of the Appalachian Trail with her mom and older brother, who are too busy arguing with one another to notice her pleas to stop and go to the bathroom. Fed up with their constant bickering since the divorce, Trisha takes it upon herself to veer off the trail and relieve herself. But when she thinks she can manage a shortcut that would take her back to her mom and brother quicker, Trisha soon realizes the family squabble is the least of her worries. As night falls and the little girl accepts that she'll have to sleep in the woods, Trisha falls back on the one comfort she has — her Walkman radio. It's got plenty of battery life and a strong enough signal to pick up the Boston Red Sox. Trisha escapes her dim reality and immerses herself in the roaring cheers of Fenway Park as her favorite player, closing pitcher Tom Gordon, tries to secure a Red Sox victory. If No. 36 can get the save, then she'll also be saved, she tells herself.
While she wanders through the endless expanse of trees and swampland, the Tom Gordon signature on Trisha's baseball cap smudges in the rain, blurring almost as much as the line between reality and imagination. She takes solace in talking to her hero, imagining him in the woods with her, donning his bright white Red Sox uniform, keeping her company and giving her advice.
I wouldn't rate this book quite as high as the other Stephen King works I've read, but it was an enjoyable read nonetheless. King's descriptive writing transports the reader to the woods with Trisha, and his superb storytelling style keeps the suspense building the entire time.
THERESA BOURKE may be reached at theresa.bourke@brainerddispatch.com or 218-855-5860. Follow her on Twitter at www.twitter.com/DispatchTheresa .