'Bring Her Home' documentary tells of tragic reality of missing persons, and those inspiring change
The documentary "Bring Her Home" helps bring awareness to the epidemic of Missing and Murdered Indigenous Women. Leya Hale hosted a screening of her documentary at Pioneer Public TV in Granite Falls in early May.
GRANITE FALLS, Minnesota — A tragic reality is the focus of a documentary that, at its heart, also inspires activism and change.
The inspiration comes from the three women who are the subjects of "Bring Her Home," a documentary by Leya Hale with Twin Cities Public Television .
Joined by friends in the Lower Sioux and Upper Sioux communities, Hale hosted a screening of the documentary for an audience of more than 60 people at the Pioneer Public Television studio in Granite Falls on May 5.
The documentary brings awareness to the epidemic of Missing and Murdered Indigenous Women in Minnesota and the nation. Minnesota recently opened an office to address the epidemic, and tapped Juliet Rudie of the Lower Sioux Community to lead it.
While Indigenous women comprise only 1% of the state's population, they account for 9% of all murdered girls and women in the state during the last decade, according to the Department of Public Safety.
Hale's documentary follows three women — Mysti Babineau, an activist; Angela Two Stars, an artist; and Ruth Buffalo, a North Dakota legislator — as they work to bring about awareness and change.
In the telling of their works, viewers of the documentary also learn of the harms inflicted on innocent victims. Babineau tells of how she witnessed the killing of her grandmother when she was 12 years old. She also recounts how she was once assaulted and kidnapped, and escaped.
"As they face the lasting effects of historical trauma, each woman searches for healing while navigating the oppressive systems that brought about this very crisis," stated the documentary.
Hale told her audience before the documentary's showing that she sought not only to help bring awareness to the issue, but also "to provide tools to help our communities see examples of women taking on this issue and providing awareness to it."
She said she pursued her career to tell native stories and especially, to create content for native people and audiences. As she explained of the portrayal of native women: "It's usually about us. It's never for us."
Hale is from the Sisseton Wahpeton Dakota and Diné Nations. She is a producer for Twin Cities PBS and lives in St. Paul. She won a 2019 Upper Midwest Emmy award for best cultural documentary for her first feature documentary, "The People's Protectors."
She said that while growing up, "(I'd) never seen a picture of myself that wasn't through the lens of a western movie."
Depictions of native women she knew were those of Pocahontas and Tiger Lily from Peter Pan.
"Indigenous people continue to suffer from the effects of colonization, systemic oppression, and trauma," Hale said in a statement for the documentary. "Many of the issues we face today, such as the Missing and Murdered Indigenous Women epidemic, are a direct result of U.S. Federal Indian Policies."
Hale said she deliberately incorporated the stories of indigenous women of all ages — including that of a grandmother — who have been victimized. She wants to refute the "blame the victim" mentality that has been so prevalent in our society towards indigenous women.
After the screening of the documentary, a young girl in the audience asked Hale: "What made you want to make a movie about this?"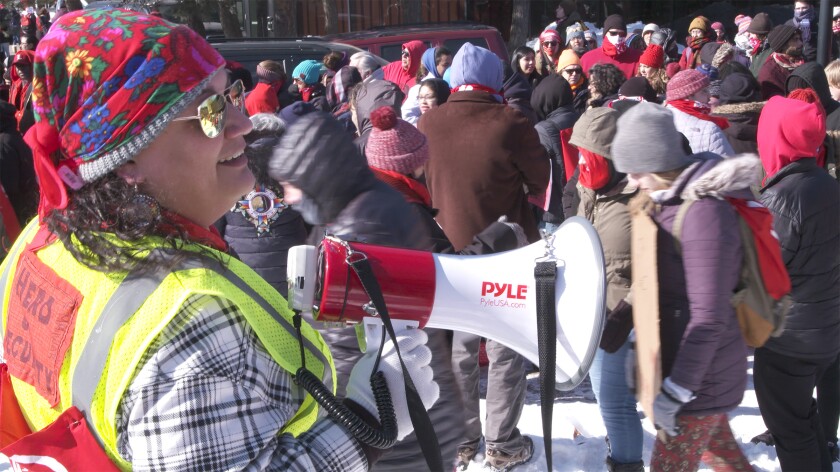 Her answer: "I think I wanted to make it specifically for you because I especially wanted young native women to see the power in ourselves — to see how powerful we are when we unite and come together in community; strengthen our identities. Whether that is through art or language, your voice can be strong."
Hale said her hope is that her documentary helps show the strength and resilience that native women can tap into when facing hard times.
"Turn to the women that are around you as examples and you learn to strengthen your core, your identity as a native woman," she told the young audience member. "It helps everybody around you."
"That's why I made that for you," she said to applause.