Entertainment Briefs — Sept. 9
A roundup of area concerts, shows, book and visual art events in the Brainerd lakes area.
'Salute To The Arts' opens at art center

The Crossing Arts Alliance presents its annual exhibit "Salute To The Arts." The exhibit, sponsored by Midwest Security And Fire, will run from Sept. 8-25 in the Crossing Arts Gallery. This exhibition, which usually takes place in June, was rescheduled to this month due to COVID-19.
"We are excited to be able to continue the annual tradition of this exhibition in our community, even amongst the many changes happening all around us," The Crossing Arts Alliance staff stated in a news release. "Featuring fresh new artwork from area artists that have been created over the past year. Works on display include photography, sculpture, paintings, textile/fabric, and more."
Exhibiting artists include Carolyn Abbott, Carla Benjamin, Kathleen Braud, Shelby Cate, Karen Cheney, Mark Christy, Millie Engisch, Susan Foss, Haddie Hadachek, Jody Hagenson, Lonnie Knutson, Tom Larson, Natalie McGuire, Mark Moser, Molly Ring, Gregory Rosenberg, Jan Sheets and Robert Whistler.
Due to COVID-19 and regulations for large group gatherings, the art gallery will not have a public reception for this exhibition, but rather are invited to visit the gallery during regular business hours to view the artwork. In addition, a gallery tour video will be posted on its website at crossingarts.org/ and social media pages for those that are unable to view the exhibition in person.
This exhibition is funded, in part, by the voters of Minnesota through grants from Five Wings Arts Council and the Minnesota State Arts Board, thanks to a legislative appropriation from the Arts and Cultural Heritage Fund.
For more information contact Crossing Arts at 218-833-0416, info@crossingarts.org .
Crossing Arts Alliance to distribute creativity kits
The Crossing Arts Alliance will distribute creativity kits at multiple locations from 10 a.m. to noon Sept. 12 at the art center and at Frandsen Bank & Trust branches in Baxter, Crosslake and Nisswa.
Kits will be available on tables in front of the art center and Frandsen Bank volunteers will hand out kits in their parking lots. These kits have two art projects, a coloring sheet and more. Creativity Kits are for anyone and are free to the public. Kits are limited to the first 200 people at Crossing Arts. Frandsen Bank also will have 200 creativity kits total between all three locations. The kids are supported by Crossing Arts supporters, Frandsen Bank & Trust and Mid Minnesota Federal Credit Union.
This month's creativity kit distribution will feature bags with artwork created from the following artists: Karen Cheney, Laurel LaBorde, Lisa Jordan, Cindy Buxton and Lori Norman.
For more information contact Crossing Arts at 218-833-0416 or info@crossingarts.org .
Brainerd art center announces art fundraiser
The Crossing Arts Alliance announces its annual "8x8" art fundraiser, which will be online.
Between Oct. 18-25, a person will have a chance to bid on an original piece of art in an online silent auction that will support the arts center in the process. All proceeds will go toward supporting the nonprofit's mission of promoting and enhancing the arts in the lakes area.
For those interested in contributing their talents to this fundraiser may stop at the arts center at 711 Laurel St., downtown Brainerd, to pick the canvas. People put their creativity to work and return their finished piece back to the center by Oct. 1.
For more information contact the Crossing Arts at 218-833-0416 or info@crossingarts.org.
The center's hours are 10 a.m. to 5 p.m. Tuesday-Friday.
1
/
4:
The Crossing Arts Alliance announces its annual "8x8" art fundraiser, which will be online. People may stop by the art center to pick up a canvas if they want to contribute their talents to this fundraiser. Submitted Photo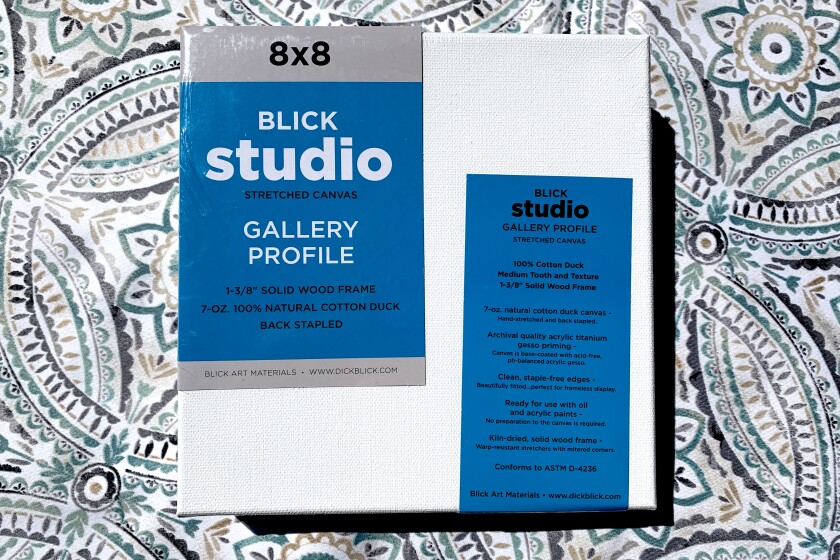 2
/
4:
The canvases that will be handed out for those who want to take part in The Crossing Arts Alliance's art fundraiser. Submitted Photo
3
/
4:
The Crossing Arts Alliance presents its much anticipated annual exhibit "Salute To The Arts." Submitted graphic
4
/
4:
The Crossing Arts Alliance will distribute creativity kits at multiple locations from 10 a.m. to noon Sept. 12 at the art center and at Frandsen Bank & Trust branches in Baxter, Crosslake and Nisswa. Submitted Photo