Larry Cole shares personal story of how a Minnesota farm kid made his dreams come true
Larry Cole tells of his journey as a farm kid and athlete for the Granite Falls Kilowatts to playing in five Super Bowls and 26 playoff games as a stalwart of the Dallas Cowboys and the team's "Doomsday Defense." He brought the competitive spirit he showed on the field to business and built a successful career as a real estate developer.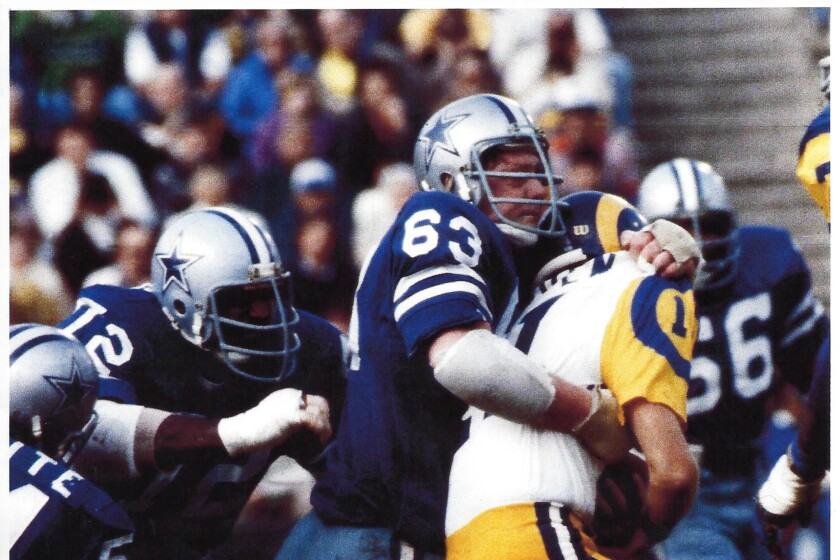 From the warmth of his apartment in Honolulu, Hawaii, Larry Cole cheered for the Green Bay Packers as they overcame the Dallas Cowboys 21-17 to win the National Football League championship in the famous "Ice Bowl" of 1967.
One month later, the Dallas Cowboys called to tell him the team had drafted the University of Hawaii lineman in Round 16 — of 17 — of the NFL draft.
For Cole, a Granite Falls high school graduate, it was the start of a 13-year career with the Dallas Cowboys that saw him play in five Super Bowls and 26 playoff games as part of the team's "Doomsday Defense."
He shares his story of the small-town kid who made it to the big leagues in a recently published, 242-page book, " Larry Cole, Living the Dream on America's Team ."
Rural upbringing sets the foundation
For those who might think a rural upbringing is an improbable path to the big leagues, think again.
"I learned how to work from a lot of people," Cole said of how a rural upbringing benefited him. He gives a lot of credit for his success to the positive experiences that came with growing up around people who cared for each other and knew how to work, and also for the coaches and even sports reporters who helped him along the way.
Cole grew up on a farm outside of Clarkfield. His family moved into Granite Falls when he was 12 years old. He continued to work on local farms during his younger years. He said picking rocks and shoveling corn proved to be like a modern-day weight lifting program.
"Who knew?" he laughed.
Basketball was his first passion in high school sports. It may have helped him develop the footwork, peripheral vision and eye-to-hand coordination that would serve him so well as a defensive lineman for the Cowboys.
It was in his junior year of high school while playing football for the Granite Falls Kilowatts that he first attracted attention. Lefty Ranweiler, a sportswriter with the West Central Tribune, came calling and wrote an article on the up-and-coming athlete. That article led to his being named WCCO's "player of the week" and subsequent awards.
Sid Hartman, a sports columnist for the Minneapolis Tribune, also told of his feats. Years later, Hartman would pull some strings to help Cole avoid retaking an English class at the University of Minnesota.
Cole, now 75, said the early honors and recognition continue to mean as much to him today as the Super Bowl rings and other awards he achieved.
But, despite his promise, the University of Minnesota did not pursue the Kilowatt lineman. "No bus ticket or anything," said Cole. The U sent a letter inviting him to drop in if he should be on campus and no more.
However, that wasn't the end of his football career. The Air Force Academy expressed an interest, and Cole ended up playing on the defensive line for the Academy. While there, the defense began getting attention for its play against schools like Nebraska and UCLA.
But the cheating scandal that rocked the Academy — and the exodus of his fellow players to Hawaii — caused Cole to leave as well. He first played for the University of Houston, but soon decided to join several of his friends in Hawaii.
And so, while the University of Hawaii was not a big name school in college football, it suddenly had the players to prove itself a program on the rise.
Dallas came calling, and Cole answered
When the Cowboys called, they told him right out. He needed to up his 225-pound playing weight in college by at least 20 pounds. Cole said they sent him a case of Hustle protein drink and he began to bulk up and train in earnest. He returned home to Granite Falls and developed his own practice routine on Volstead Field on the high school campus to prepare for his debut with the pros.
Cole enjoyed a standout rookie year with the Cowboys, and his career in the pros kept its upward trajectory. Fellow lineman Bob Lilly became both a mentor and friend.
These were days when pro football players were "seasonal," and he and others continued to work jobs in the off-season. Cole earned a degree in civil engineering. He turned his off-season work into a highly successful career as a housing developer in the Dallas-Forth Worth area.
It was his buddy from Granite Falls, Tom "Tork" Torkelson, who introduced him to Linda Kleinert, a 1966 Aquatennial Queen who became his lifelong partner and mother to their children. At their first meeting, Cole was introduced to his bride-to-be as a Dallas Cowboy. She asked if that meant he was some sort of rodeo guy.
So much for fame.
Cole was a stalwart for the Cowboys, but he didn't always attract the national attention that was being heaped on some of his teammates in those days. Quarterback Roger Staubach, with whom he played 11 years, was among the best-known.
"Roger made us believe," said Cole of his quarterback's ability to motivate the team. Staubach led a come-from-behind victory in which the Cowboys beat the San Francisco 49'ers in a wild card playoff game. Cole got his moment of fame: NFL highlight films show him rolling on the field in wild exuberance to celebrate the victory.
Yet through much of his career, Cole was part of the self-described "Zero Club" along with fellow defensive linemen Blaine Nye and Pat Toomay.
Sportswriters often ignored the guys in the trenches in favor of position players during the media events that were becoming increasingly common as the team played in championship and Super Bowl games.
Hometown support leads to written account
If the national attention didn't always give him his due, the locals did. Cole went to his first Super Bowl after receiving a telegram signed by more than 250 people in Granite Falls wishing him the best. When the Cowboys played the Minnesota Vikings, he and his fellow Cowboys landed their photo on the front page of the Minneapolis Tribune.
That local support always meant a lot, and of course, the most meaningful came from his parents, Violet and Rudolph Cole. He said his mother was the best sports fan ever, and kept game programs and records from his career that helped him author the book.
It's a narrative that can be enjoyed by those who love the game of football and, of course, fans of the Dallas Cowboys. Cole offers insights into Cowboys' years and games in the book, and what it takes to compete on the professional level.
His book can also be enjoyed by anyone who appreciates the spirit of what it takes to realize your dreams. He lined up against many all-pro players, the country's very best.
"I was never intimidated by anybody I played against," Cole said. "You have to have that attitude: Today is the day I can beat you."
The competitive drive mattered in business as well. He knew that no differently than in sports, there will be wins and losses. "Try to do two steps forward with only one step backward each day," he said.
Cole and his wife remain in the Dallas area, but he will be returning to sign copies of his book on Saturday, July 16, from 10 a.m. to noon at the Hanley Falls Machinery Museum and from 2 to 5 p.m. at the Kilowatt Community Center in Granite Falls.
Copies of the books are available online at Barnes and Noble and Amazon , as well as other retailers.