Tech Savvy: Holiday gift guide
I love technology and gadgets. Being able to turn on the lights in my house from a voice command upon entering, or turning them on from my iPhone, has been an extremely useful addition. There are a number of smart plugs--like the Belkin Wemo or T...
I love technology and gadgets.
Being able to turn on the lights in my house from a voice command upon entering, or turning them on from my iPhone, has been an extremely useful addition. There are a number of smart plugs-like the Belkin Wemo or TP-Link-ranging from $18 to $27 that provide the service and the smaller plugs now only use one outlet space compared to earlier models that took over both sockets. On the daily usefulness side, the lights can be turned on before entering dark rooms to fumble for switches, or act as a security measure to make a home look lived in even when the occupants are away at work. They even make that inaccessible lamp or plug-in easier to live with and there are smart bulbs as well as smart plugs that can change color and dim on command when you've already settled into a chair with popcorn for movie night.
Recently, I added a TP-Link webcam. It's a great way to catch up on pets or do a security check and there are a lot of options for a variety of models and price ranges. The setup is simple, basically a plug-and-play.
Smart TVs, ultra high definition TVs, and large-screen TVs provide a lot of options for consumers and come with affordable prices. For those who want to cut the cord, the smart TVs combined with a Hulu or Netflix subscription or individual options for streaming like CBS-All Access or HBO Go, give consumers choices when looking at costs and watching habits. In the list for gift ideas below, a Hulu subscription is one idea for holiday shoppers. For those who love British TV, there are other subscriptions options like Acorn TV or Britbox with a long list of programs-contemporary and classics.
As the The Washington Post recently noted, high-tech gifts can make life easier or just add to the fun. Both are worthy of note and provide gift giving options this time of year. The Apple TV 4k and the Apple Watch Series 4 are both looking good. And for those with old tech, there are a number of options to either re-gift, or trade-in and get a discount for the new purchase. For those looking at phone upgrades, there are multiple options to get a newer and better phone without paying top dollar for the latest models.
Here's the list from The Washington Post:
Give the gift of an upgrade this year
What's a better gift than the future? These are the innovative gadgets and services we've tried and loved over the past year.
Oculus: Go Virtual Reality Headset
The Oculus Go is the first virtual reality gadget you might actually gift. It has no cables and requires no additional hardware. And it's good for more than just games. It's a self-contained portal to 360-degree experiences, from concerts to meditation experiences. Curl up and watch TV virtually with a faraway friend. Or on a long flight, you can use one as your private movie theater. Price: $199.
Hulu: No-ads Subscription
For the TV lover, what's better than the gift of no commercials? Hulu streams the current season of shows from NBC, CBS, ABC and other networks, as well as beloved back-catalogue hits. For a bit more money, the often-overlooked commercial-free subscription lets you squeeze even more TV into your life. Price: $11.99 per month.
Sony: Aibo
Sure, nobody needs a robot dog. But you'll want one after meeting Aibo, the rebirth of Sony's iconic robot companion from 1999. Aibo's new litter comes with remarkably lifelike mechanical movement, its own cellular connection and artificial intelligence that learns faces and grows with you. Also: You'll never have to take it for a walk - though it can still simulate taking a tinkle. Price: $2,899.99.
iRobot: Roomba i7
The next-generation robot vacuum cleaner from iRobot has gained remarkable skills. Like a self-driving car, it creates its own map of your house to clean more efficiently - and so it can take commands to vacuum just one particular room. Even better: The i7 has a docking station that empties its own dustbin. Watch out, Rosie from "The Jetsons." Price: $949.99.
Sonos: Beam Smart TV Soundbar
The best upgrade you can make to your TV is better sound. This compact soundbar attaches to a TV and packs in a lot of great sound - but also has a few other tricks. With Amazon's Alexa built in, it can take voice commands to play music or even control the TV. And it can wirelessly sync up with other Sonos speakers to give you music all over the house. Price: $399.
Surface Go With Type Cover
Want the full capabilities of a PC in a package you can stick in a purse or knapsack? The Surface Go is a 10-inch tablet that weighs 1.15 pounds but comes with a keyboard cover and stand that transform it into a Windows 10 laptop. The smaller keys take a little getting used to, but this tablet is serious about business. Price: $626.95.
TCL: 6-Series Roku TV
You might not be familiar with the TCL brand, but don't let that turn you away from this amazing value. The 6-series TV boasts picture tech that rivals what you can get from bestseller Samsung - and costs half as much. It's not only 4K, it supports high dynamic range (HDR) content. Price: $649.97.
Sphero: Bolt App-Enabled Robot
What's more fun than a ball? A waterproof robot ball you drive from an app with a rainbow LED screen inside. Even better, the Bolt teaches kids the basics of coding through its Sphero Edu app with drawing, using Scratch blocks or writing JavaScript. Price: $149.99.
Apple: Watch Series 4
If you've been on the fence about a smartwatch, this one is finally worth considering. The Series 4 has a larger screen, faster processor and - for $100 extra - comes with its own independent cellular connection to take calls and receive messages while you're away from your iPhone. This model also acts more like a medical device, with abilities to measure your heart and call for help after a hard fall. Price: From $399.
Moment: Wide Lens for Smartphones
Help your favorite Instagrammers take their photo game to the next level with this detachable lens for the iPhone and Samsung and Google Pixel phones. This wide lens provides the most dramatic new view, but there are also telephoto, macro and fisheye lenses available. Cases that make it easy to twist on and off the lenses sold separately. Price: $117.99.
Byrd & Belle: Laptop, Tablet and Phone Felt Cases
This is really a gift for laptops, tablets and cellphones. They'll get to spend downtime encased in a luxurious, thick, protective felt - in one of 10 beautiful colors. Makers Byrd & Belle believe in simple, yet functional designs with quality construction. Price: $19 and up.
Amazon: Fire HD 8 Kids Edition Tablet
Kids love tablets. But for parents, providing safe, age-appropriate experiences - that aren't just rotting Junior's brain - can be a lot of work. Amazon's kids edition tablet goes further than iPads to give parents tools to reward learning time. It comes with a year's subscription to FreeTime Unlimited, which provides access to over 20,000 popular apps and games, videos and books. Price: $99.99.
Apple: AirPods
Sure, these totally wireless ear buds looked goofy when they first came out. But now they're everywhere and with good reason: The AirPods work and sound great. An included case keeps them charged and from getting lost. The biggest downside is Apple's one-size-fits-all design, so you should try on a pair and give your head a good shake before buying. Price: $159.
1
/
8:
A gift idea for the holidays: A no-ads subscription to Hulu. MUST CREDIT: Courtesy of Hulu.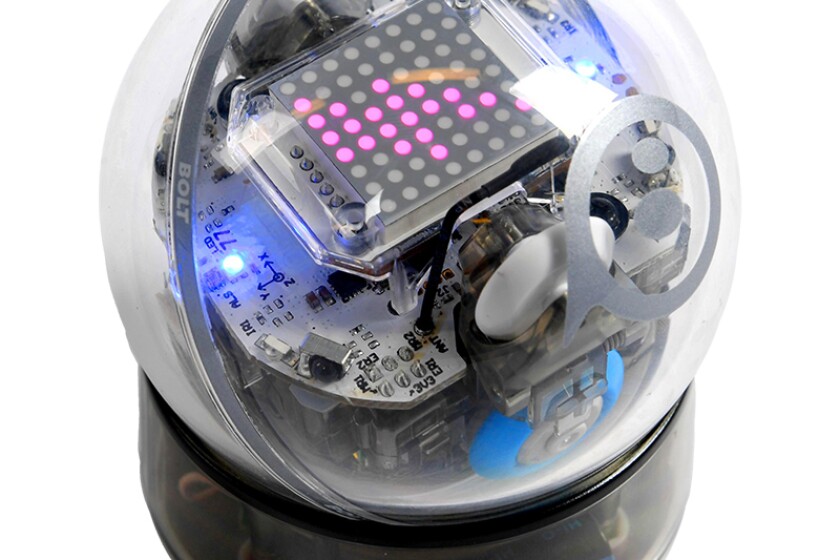 2
/
8:
From Sphero, the Bolt App-Enabled Robot. MUST CREDIT: Washington Post photo by Katherine Frey.
3
/
8:
Surface Go With Type Cover. MUST CREDIT: Washington Post photo by Katherine Frey.
4
/
8:
A 6-Series Roku TV from TLC. MUST CREDIT: Washington Post photo by Katherine Frey.
5
/
8:
From Sonos, the Beam Smart TV Soundbar. MUST CREDIT: Washington Post photo by Katherine Frey.
6
/
8:
Aibo, the robot dog, from Sony. MUST CREDIT: Washington Post photo by Katherine Frey
7
/
8:
The Oculus Go by Oculus/Facebook. MUST CREDIT: Washington Post photo by Katherine Frey.
8
/
8:
The Apple Watch Series 4. MUST CREDIT: Courtesy of Apple.