Premature baby defies odds, turns 1 Jan. 22
A 24-year-old Pine River woman had a baby girl just five months into her pregnancy. The infant weighed 13 ounces at birth but celebrates her 1-year-old birthday on Friday, Jan. 22.
Elicia Buschmann was overjoyed to learn she would be having a baby.
"The week prior, we found out we were having a girl, everything was great, she was growing the way she needed to be. I woke up about almost a week later, and I couldn't put my shoes on, so I got my blood pressure checked and my blood pressure was sky high," Buschmann said.
Her joy as an expectant mom turned to heartache when the 24-year-old learned she would have to deliver the baby early, lessening the odds that the infant would be healthy or even live.
"We spent eight months down at Children's (Minnesota) in Minneapolis, which was a very trying time in life and watching our child fight for her life for many, many months," Buschmann said.
The stay-at-home mother from Pine River is engaged to the father of their baby, Crecentia Catherine Wolkenhauer, but the engaged couple has not set a wedding date.
"C.C. kind of put a halt to that. It might be a couple of years," Buschmann said with a chuckle about her 36-year-old fiance Peter Wolkenhauer.
Buschmann couldn't always laugh about the delivery. In fact, her baby's prognosis at first was downright scary, according to the new mom, but she shares her story to raise awareness.
"I just want to bring awareness to prematurity and that there are awesome possible outcomes and there are good things that come from it," Buschmann said.
In 2019, 1 in 10 babies was born too early in the United States, according to the Centers for Disease Control and Prevention. Buschmann's baby was born 16 weeks early, but the girl will celebrate her 1-year-old birthday Friday, Jan. 22.
"She's come home on oxygen and a feeding tube, and it's doable," Buschmann said of her firstborn. "But she goes to therapy once a week. We do three hours at the hospital, doing occupational, physical and speech therapy."
Buschmann recalls being flown from Staples to Abbott Northwestern Hospital in Minneapolis on Jan. 17, 2020, to deliver the infant.
"I was only five months along," Buschmann said. "She weighed only 13 ounces at birth. She was growth restricted in utero and then I had preeclampsia on top of that."
Preeclampsia is a pregnancy complication characterized by high blood pressure and signs of damage to another organ system, most often the liver and kidneys, according to the Mayo Clinic.
"We were supposed to just sit at the hospital until at least 27 weeks, but my water broke. And then her heart rate started dropping — we had an emergency C-section (cesarean section), so she was born at 2:22 a.m. on Jan. 22," Buschmann said.
Premature birth is when a baby is born too early, before 37 weeks of pregnancy have been completed, according to the CDC, and the earlier a baby is born, "the higher the risk of death or serious disability." Preterm birth and low birth weight accounted for about 17% of infant deaths, according to the CDC.
"So it was very scary. And we didn't know if she was going to survive," Buschmann said. "She spent the first three months of her life with a tube down her throat helping her breathe."
Premature babies who survive can have breathing issues, digestive problems and bleeding in their brains, according to the CDC, and long-term problems may include developmental delay and lower performance in school.
Fortunately, Crecentia continues to beat the odds.
"She's hitting all her milestones — she's sitting up, starting to try to crawl, she's talking," Buschmann said. "We do speech therapy every week and speech is actually for feeding, so she's starting, she can take a couple spoonfuls by mouth then — no bottle yet."
And, Buschmann's baby girl now weighs more than 16 pounds.
"Other than the oxygen that we're hopefully going to be off of in April, she's got what they call 'pulmonary hypertension,' which is high blood pressure from her heart to her lungs, which is caused from prematurity. And then she's been on medicine for that," Buschmann said.
Buschmann said her baby was diagnosed with adrenal insufficiency, a condition in which the adrenal glands do not produce adequate amounts of steroid hormones, but the infant is taking steroids, which she will likely have to be on for the rest of her life.
"Other than the steroid deficiency, she will have no long-lasting health problems," Buschmann said of her baby. "Now that we've been home for going on five months, life's pretty good."
Because of the coronavirus pandemic, Buschmann said her family plans to virtually celebrate her baby girl's 1-year-old birthday via Zoom.
Preterm labor signs, symptoms
Preterm labor (labor that happens too soon, before 37 weeks of pregnancy) begins unexpectedly and the cause is unknown. If you have any signs or symptoms of preterm labor, call your health care provider right away. Like regular labor, signs of early labor include:
Contractions (the abdomen tightens like a fist) every 10 minutes or more often.

Change in vaginal discharge (a significant increase in the amount of discharge or leaking fluid or bleeding from the vagina).

Pelvic pressure — the feeling that the baby is pushing down.

Low, dull backache.

Abdominal cramps with or without diarrhea.
Source: Centers for Disease Control and Prevention
1
/
4:
Crecentia Wolkenhauer plays at her rural Pine River home Thursday, Jan. 15, after spending nearly a year at Children's Hospital in Minneapolis. She was born Jan. 22 2020 and weighed just 13 ounces. After a year of care, she now weighs 16 pounds remains on oxygen and receives nutrition through a feeding tube. Steve Kohls / Brainerd Dispatch
2
/
4:
Elicia Buschmann holds one of Crecentia's tiny diapers from her stay at Children's Hospital in Minneapolis. To mark the birth of her daughter, Buschmann had Crecentia's name and date of birth tattooed on her left arm. Steve Kohls / Brainerd Dispatch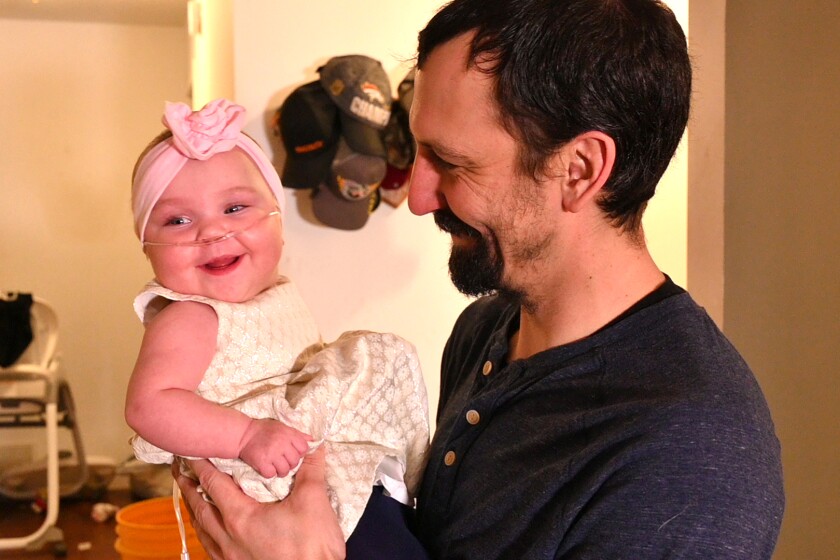 3
/
4:
Baby Crecentia smiles in her daddy Pete Wolkenhauer's arms Thursday, Jan. 14, at their rural Pine River home.
4
/
4:
Crecentia Wolkenhauer will turn one this week on January 22. She was born premature a year ago weighing just 13 ounces. She now weighs 16 pounds and enjoys an active life with her parents. Steve Kohls / Brainerd Dispatch