Try these perennials that pop with amazing autumn color
In this week's Growing Together column, Don Kinzler lists several perennials that offer a mix of fall blooms. "Fall-blooming perennials usher the growing season out with a flair," Kinzler writes.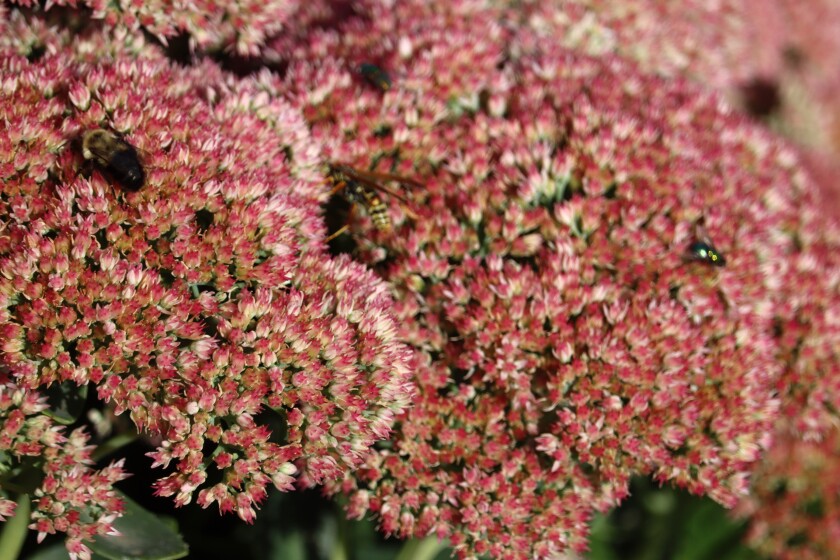 We are part of The Trust Project.
Do you know why it's so easy to trick a leaf in autumn? Because they'll fall for anything.
Autumn leaves do produce amazing fall color, but they're not alone. Many perennial flowers arrive at peak glory during the fall season, adding end-of-season color splashes to flowerbeds and landscapes.
Most perennial flowers bloom brilliantly during a specific season, such as spring, mid-summer or fall. That's why it's important to intermingle types that bloom during each of the seasons, creating an ever-changing palette of continuous color in the perennial flowerbed. Fall-blooming perennials usher the growing season out with a flair.
Potted perennials from garden centers can be planted yet this fall and autumn-blooming types will be in full glory next year at this time. Water well after planting and consider giving a protective mulch of leaves or straw, as the perennials face their first winter.
The following is a list of perennials that provide peak performance during the fall season.
Chrysanthemums - Usually shortened to "mums," these are the traditional autumn flower, sold potted at nearly every grocery store and national chain, plus garden centers. Besides being a seasonal pot plant, mums can be a great addition to the perennial garden, if you choose types such as the Minn Series and Mammoth Series, both developed in Minnesota. They are best planted in spring to develop a root system capable of surviving winter and many locally-owned garden centers sell starter mum plants in spring. Potted mums sold in fall are often not the best cultivars for perennial gardens, but you have nothing to lose by trying, so go ahead and plant them, if you like, and with a little winter protection they might return next spring.
Purple Dome New England Aster – Perennial asters begin blooming around the same time as mums and develop full steam when most other perennials have faded, continuing even after frost. Besides Purple Dome, other cultivars include lavender, pink and blue.
Tall Fall Sedum – Butterflies love this plant, which starts blooming in late summer. Several cultivars are available, mostly in pink and rose shades. Sedum thrives in hot, dry locations and even tolerates poor soil.
Russian Sage – Blue spikes bloom profusely above finely textured aromatic foliage. Newer cultivars are more compact than older types.
Joe Pye Weed – The standard type can reach six feet high and wide, so select the shorter three-foot version if space is limited. The light pink blossoms are a butterfly and bee magnet.
Ornamental Grasses – The many types are at peak beauty in fall, as the seedheads develop fascinating color and texture, which also provide landscape interest during winter.
Goldenrod – The sunny flowers are a great source of late-season nectar for bees and butterflies.
Chelone (Turtle Head) – This easy-to-grow perennial exhibits unique lavender flowers that begin forming in September. The plant grows in a neat, dense clump.
Helenium – It's warm colors of deep yellow, orange and burnt red mesh well with fall-colored themes.
Heliopsis – Sprightly yellow flowers give it the nickname "false sunflower," although the blossoms are smaller. Plants are sturdy and foliage is deep green.
Rose Mallow, also called Perennial Hibiscus – The huge, open-faced flowers can reach dinner plate size for some cultivars. Although they begin flowering in mid-summer, these tropical-looking plants continue blooming through autumn.
Panicle Hydrangeas – Actually a shrub with woody stems, the pyramidal-shaped flower clusters of many cultivars develop rich colors by fall. Garden centers sell many cultivars, having various heights and flower shades. Panicle hydrangeas grow best with at least half-day sun and appreciate a moisture-conserving mulch of shredded bark. Popular cultivars include Vanilla Strawberry, Strawberry Sundae and Quickfire.
Shrub roses – Many winter-hardy shrub roses continue blooming in fall until killing frost. Look for cultivars that indicate repeat bloom.
In this week's Fielding Questions, Don Kinzler offers advice for caring for a weeping fig, tips for thinning apples, and tells readers it's not too late to wrap trees to prevent sunscald damage.