Attorneys in James Hunter case go head to head: County Attorney Don Ryan states it was not politically motivated, defense says it was
It's been two months since former Crosby Mayor James Hunter was vindicated on all criminal charges filed against him in March 2017--including theft by swindle and unlawful gambling--in Crow Wing County District Court in Brainerd.
It's been two months since former Crosby Mayor James Hunter was vindicated on all criminal charges filed against him in March 2017-including theft by swindle and unlawful gambling-in Crow Wing County District Court in Brainerd.
This week, in a rare occurrence, Crow Wing County Attorney Don Ryan spoke out about allegations made against him and the county attorney's office regarding the decisions made in prosecuting the case.
"Certain individuals in our community have asked that we make complete disclosure of our investigative files," Ryan said.
Ryan hosted a "press briefing" Tuesday, June 18, in the attorney's office on the third floor of the Crow Wing County Judicial Center in Brainerd for newspapers that covered the Hunter case. His goal was to address the allegations made by "certain individuals" to the newspapers in past stories, as well as on a recent radio show broadcast on Skeeter radio, KFGI 101.5 FM.
Hunter's Brainerd attorney, Ed Shaw, was a guest speaker on "Community Connection" in late May on Skeeter radio, a radio station in Aitkin. Shaw made his arguments known in previous Brainerd Dispatch stories, stating the charges should have never been filed as the case was politically motivated against his client, false accusations were made and the Crosby Police Department should have never investigated its own mayor.
Shaw on Wednesday emailed to newspapers an eight-page response to Ryan's press briefing comments.
Case history
Hunter was charged March 2017 with four felonies of second-degree assault, theft by swindle, receiving stolen property and unlawful gambling, and a gross misdemeanor for selling vehicle financing without a license. He then was charged in August 2017 for falsely reporting a crime in a separate case, involving the same person who filed the earlier theft by swindle complaint with the Crosby Police Department.
Hunter was accused of swindling $90,000 from a man who believed he bought one of Hunter's businesses in Crosby; domestic assault involving the man's son; and engaging in the business of a sales finance company in the state without a license.
Hunter's charges were tried separately, with each charge being addressed individually, resulting in the following outcomes:
• Theft by swindle: Acquitted June 27, 2018, by a Crow Wing County jury.
• Second-degree assault: Acquitted Aug. 30, 2018, by a Crow Wing County jury.
• Receiving stolen property, a firearm: Dismissed Nov. 19, 2018.
• Unlawful gambling: Acquitted March 22. Before the jury trial, the charge was lessened from a felony to a gross misdemeanor.
• Gambling on premises: Acquitted March 22. This misdemeanor charge was added before the jury trial by the prosecution.
• Selling vehicle financing without a license: Dismissed April 19.
• Falsely reporting a crime: Dismissed April 19.
Allegations-Was there a political agenda?
Hunter filed for mayor in August 2016 and was elected that November for a two-year term as Crosby mayor. Authorities arrested Hunter in March 2017, and he continued to serve as mayor until he resigned in August 2017. Hunter ran for mayor again, but lost in the November 2018 election.
"I am not privy to any information nor am I aware of any information that would support that there was a political agenda or some kind of political persecution through prosecution that occurred in this case," Ryan said. "Not on my part, nor the county attorney's part or the city of Crosby/the Crosby Police Department.
"And any accusations to the contrary is nothing but supposition that is not supported by anything."
Ryan said in all his years as the county attorney-24 years, five months and 18 days- the office has never once or will it ever use the office or any other resources of this office for political purposes.
"We've been accused of political persecution through prosecution, which in essence accuses us to be unethical and basically committing a crime-based on nothing but one or two people's opinions," said Ryan, who clarified he was speaking for himself and not for the Crosby Police Department. "It is pure opinion and supposition unsupported by evidence ... and I will put my reputation and the reputation of the Crow Wing County Attorney's Office up against anyone when it comes to practicing the highest ethical professional standards."
Ryan said allegations were made that an outside agency should have investigated the case, as it wouldn't have found probable cause to prosecute this case. Ryan said this allegation was also based on speculation.
Ryan said standard procedure for an allegation against someone who is inside the municipal system-whether it be a city council member or employee or a school board member-is the police department will typically ask another police department to conduct the investigation.
However, Ryan said Hunter's case is not the only time in his law career when a law enforcement agency investigated its own. Ryan did not elaborate on other instances, however.
Ryan said it makes no difference to him if Hunter was the mayor or not the mayor of Crosby, as it is up to the municipality to make their own decision on if it will conduct the investigation. He said Hunter was not the mayor when the investigation began. The investigation began when the complainant came to the police department to report the allegations.
"The fact Crosby investigated this case did not change our operation," Ryan said. "It didn't change the processes we go through to make a decision. We believed there was sufficient evidence to prosecute and we did. And you could talk to other various law enforcement you will find out we are a pretty independent lot and they are typically more frustrated than the defense attorneys."
Ryan said the county attorney's office made the decision to pursue the case based upon the information of the investigative materials the office was given and they stand by their decision. Ryan added a judge would never sign off on a search warrant if there was no probable cause for the alleged crimes.
In his emailed statement, Shaw argued it "... appears that the investigation of Mr. Hunter began in July 2016 when Mr. Hunter was already an announced candidate. He was actively campaigning and offering opinions critical of the current leadership of the city and police department. Mr. Ryan admitted that it is the standard procedure for a local police department to defer investigations of local officials to outside agencies. In my experience, this practice also applies to serious candidates and individuals that have been elected but have not yet taken office. Mr. Hunter was elected in November 2016 and he took office in January 2017. The charges against him were filed in March 2017, two months after he had taken office and four months after he had been elected.
"Based on the materials obtained by me through the discovery process, it appears that almost all the investigation occurred after Mr. Hunter was elected mayor. It also appears that the chief and lieutenant increased their efforts to have Mr. Hunter charged with serious crimes once he had been elected and they knew he would be taking office. The fact that an extensive investigation of a local political figure was carried out by the leadership of the city's own police department, raises very serious concerns about the integrity of the political process, and the right of citizens to choose their leaders.
"This was a major red flag that should have been obvious to any observer including the county attorney's office when the request for charges were brought to their office by the Crosby Police Department in March 2017."
Should the county be held accountable?
In April, Shaw stated he would like to see "full disclosure" and wanted to see the Crosby Police Department and the Crow Wing County Attorney's Office held accountable on the case and asked for the release of the discovery materials, which Ryan released.
Ryan said he did not know what his office should be accountable for.
"Just because someone was acquitted doesn't mean we were not doing our job the right way," Ryan said. "The simple fact of the matter is that people are acquitted. There are 'not guilty' verdicts and that doesn't mean it was a bad prosecution.
"It (the allegations) also calls on the county attorney office to issue an apology to Mr. Hunter. Again, just because they were not guilty verdicts, doesn't mean they weren't proper prosecutions. ... If we would have made a mistake or had done something and believed we needed to stand up and be accountable for, I'd do that. We work hard to be fair and ... do a good job looking at the whole picture. We are gonna still do our job whether it is popular or unpopular with certain people. There is not a decision I make on a daily basis that doesn't upset somebody."
How much money did the county spend?
Shaw stated Crow Wing County residents have the right to know how much money was spent on the Hunter case. Ryan said the county is accused of spending tens of thousands of dollars on the case.
Ryan said his office does not keep track of staff time, as the attorneys are paid salaries and other staff are hourly employees. Ryan said he didn't have time to come up with a total number, but said on the unlawful gambling charge, the county spent $418. He said times that by three for the other charges, and then round up and the number is estimated at $2,000.
"This is well under what the allegations say," Ryan said.
Shaw argued staff time is the largest budget item in the county attorney's office. "Almost all of their budget goes to pay staff," Shaw stated. "Given the complexity of the case, there were over 30 court appearances, including the related forfeiture and false report cases, and three multi-day jury trials. Hundreds, maybe over a thousand hours of staff time were no doubt spent over the two years that the case was pending. This does not include the time spent by city of Crosby staff, which I would expect to be even more. Even a conservative valuation of staff time adds up to tens of thousands of dollars."
Ryan said the reason why the case took longer in the court system was the defense filed a motion to have the charges tried separately.
"This could have been done in one trial," Ryan said. "I'm not belittling their decision as it is their decision, but just don't slam the process based on your own decisions."
Closing
Although Ryan previously stated he may do so, the county attorney said he has no plans to recharge Hunter for falsely reporting a crime.
"I dismissed that. I own that," Ryan said. "The reality is the community of Crosby needs to heal."
"The county attorney's press conference seemed to try and blame the defense for their not obtaining convictions against Mr. Hunter," Shaw stated. "In our system, it is the job of the defense attorney to do everything that is legal and ethical to represent their client. In this matter, my office had no doubt from the beginning that Mr. Hunter was not guilty of what he was accused of and that the investigation was biased and that the charges were brought for an ulterior motive. When I first heard that Mr. Hunter had been arrested and charged, I could not believe it. There were too many red flags to support any other conclusion."
Shaw added in Minnesota, based on information he gathered, the vast majority of criminal trials end in conviction, more than 85%.
"The odds against an individual charged with such serious crimes and winning three jury trials are almost astronomical," Shaw stated. "The county attorney's office did not lose the three trials because they were bad attorneys. Mr. Ryan and the assistant who handled the first two trials are fine attorneys and presented their cases well. The problem is that these cases should have never been brought in the first place."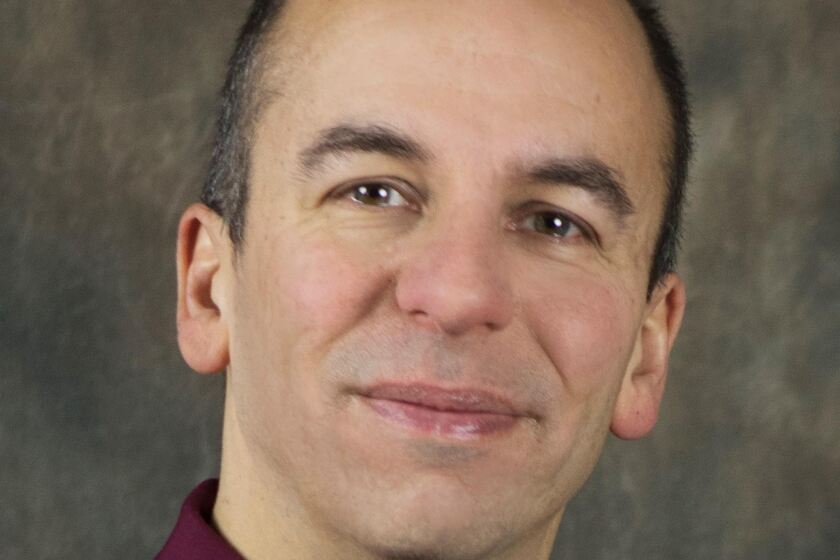 2
/
2:
Brainerd Attorney Ed Shaw. Submitted Photo