Baxter Council seeks consultants for management plan of Mississippi River Overlook Park
The city is looking for outside help to formulate a plan to manage 880 acres of riverfront preserves, much of it featuring valuable natural resources and high biodiversity.
The city of Baxter is enlisting the help of firms in different fields with the hope their expertise will help formulate a comprehensive plan for Mississippi River Overlook Park.
During a Baxter City Council meeting Tuesday, July 6, the council authorized city staff to issue a request for proposal — or, essentially advertising firms to bid their services — as a way to formulate an open space master plan and community use policy for Mississippi River Overlook Park.
At this initial stage, how much these contracts would cost won't be clear until suitable firms are identified, said Community Development Director Josh Doty, but in issuing an RFP the city is taking a definitive step toward shaping how Mississippi River Overlook Park will be utilized and maintained. The RFP seeks professional consulting firms in a litany of fields, from landscape and architecture, to parks and recreation, to environmental and transportation.
Doty admitted there is some trepidation with how high these costs could ultimately be.
"That crossed our minds. We're a bit nervous about that," Doty said. "I'm worried about the cost, how high (these contract bids) come in. … They're going to make the proposal based on what we're hoping to receive. There's not a constant there. They're going to be calling and pushing for that information, so I don't know how to watch that closely with how much we can negotiate with the lowest line."
"I think the way it's set up right now," Doty later said, "We would have to react and maybe consider phasing if the numbers come in too high."
Mississippi River Overlook Park Gallery
Doty said travel costs are often a large portion of the contract. With widespread usage of virtual communication, like Zoom meetings and the like, these contracts could be cheaper as the city and its consultants move forward to formulate a comprehensive plan.
The process entails a great deal of public engagement, including from nearby property owners. Consulting firms that contract with the city through the RFP would help facilitate studies of the Mississippi River Overlook Park, garnering public input and making detailed analysis of the property in order to compile a report. This report, in turn, would be used by the city and consultants to formulate natural resource management plans, funding structures, landscaping and architectural designs and communal policies as they pertain to stewardship of riverfront reserves and amenities, such as the Camp Ripley State Veteran's Trail.
The 880-acre area includes 50-foot-high rolling hills of high quality natural land that features high biodiversity forests and wetlands, 1 mile of frontage along Pike Creek, and ownership entirely surrounding Island Lake. The city of Baxter received the land through a combination of a land donation and various acquisitions through grant funding from the U.S. Department of Defense Readiness and Environmental Protection Integration Program and the Environmental and Natural Resources Trust Fund, among others.
Once a consultant is selected, the project will commence within two weeks. The consultant will prepare and submit the proposal with a detailed project schedule based on the following:
The city issued an RFP for consultant proposals July 7.

The deadline for receiving consultant proposals is two months from that date.

The city would award a consultant contract at the next available meeting after proposals are received from potential consultants.

A comprehensive open space master plan and community use policy for Mississippi River Overlook Park would be formulated by six to eight months after the consultant is contracted by the city.
In other business, the council:
Approved the allocation of $5,900 in funds from the alcohol forfeiture fund to cover overage costs that occurred while the city waited to purchase and outfit three squad cars for its police department during delays in the pandemic and issues with the vendor.
Approved specifications and authorized staff to authorize bids for a pilot project of the yet untested micro-surfacing roadway repair method to be implemented this summer.
Approved a revision to city statutes that empowers the city to levy a $100 fine on violations of water restrictions, in this case as they pertain to violations that threaten the city's water supply during a vulnerable period.
Approved a contract with engineering-architectural firm WSB to complete a comprehensive review of the city's current geographic information system mapping and provide recommendations on implementing a modern Enterprise GIS system. The contract is not to exceed $2,340.
1
/
4:
Mississippi Overlook Park Thursday, July 8, 2021, in Baxter. Kelly Humphrey / Brainerd Dispatch
2
/
4:
Mississippi Overlook Park Thursday, July 8, 2021, in Baxter. Kelly Humphrey / Brainerd Dispatch
3
/
4:
Mississippi Overlook Park Thursday, July 8, 2021, in Baxter. Kelly Humphrey / Brainerd Dispatch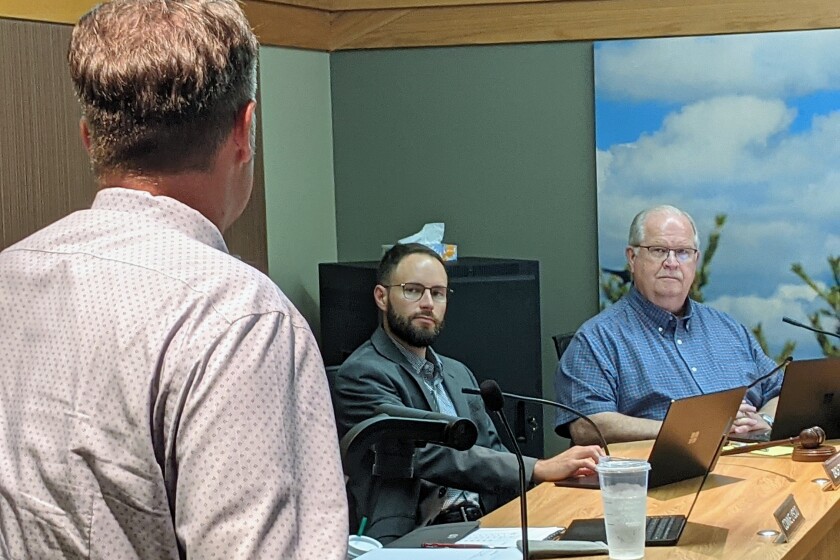 4
/
4:
Community Development Director Josh Doty (left) discusses a proposal to contract with consultants to formulate a comprehensive plan and policies to manage Mississippi River Overlook Park during a workshop Tuesday, July 6. Gabriel Lagarde / Brainerd Dispatch