Cass County Board: Cass County, Leech Lake officials meet in annual joint session
The county board and tribal council received updates on several joint programs underway or being considered between the two entities.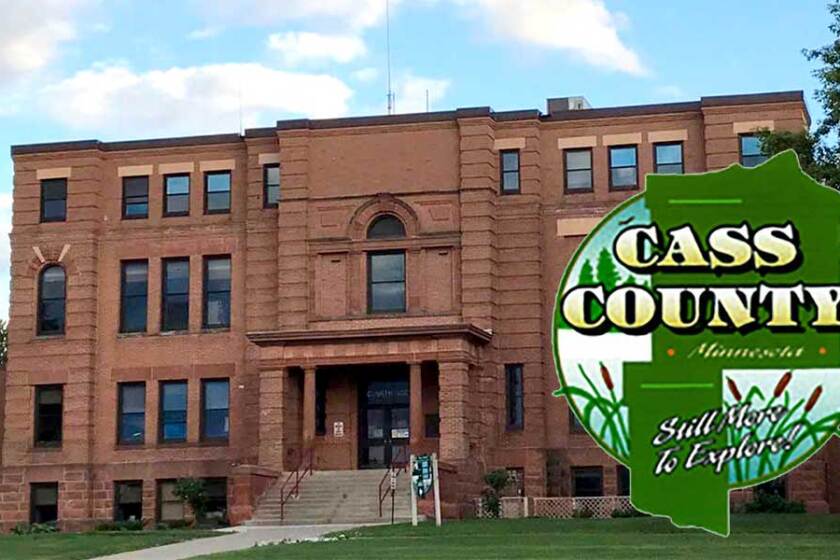 CASS LAKE — The Cass County Board and the Leech Lake Tribal Council met for their annual joint meeting Monday, Nov. 30, at Cedar Lakes Event Center in Cass Lake.
County Administrator Josh Stevenson stated this is the sixth year county commissioners and the tribal council have met since entering into a memorandum of understanding in 2015. During the meeting, most staff joined and presented via Zoom due to COVID-19 restrictions.
An update on the Juvenile Detention Alternatives Initiative program was given by Probation Director Jim Schneider, who recommended the Leech Lake Band of Ojibwe and Cass County enter into a joint JDAI program process. Currently both entities are running their own Juvenile Detention Alternatives Initiative program and a joint program would benefit everybody involved if they were to combine forces and participate in a joint program, Schneider said.
It was noted that when the Juvenile Detention Alternatives Initiative program was formed it was intentionally done as two separate programs because Leech Lake Band of Ojibwe wanted to be responsible for their own work and have a voice in how their juveniles were being handled. A discussion was had on joining the two separate programs and working together, but there were still different opinions on how things would need to be handled. Therefore, no action was taken and the separate judiciary departments for Cass County and Leech Lake Band of Ojibwe were going to further discuss the options of having a joint Juvenile Detention Alternatives Initiative program.
A brief update was given by Sheriff Tom Burch and Tribal Police Chief Ken Washington, who said the departments are working well together and have finished updating the house numbers in the Kego area for emergency response purposes. The Longville area is the next to be completed. One goal mentioned for the future is to conduct mental health training as there are new mandates from the state requiring this training. Washington mentioned that he is working on setting up quarterly or biannual meetings for the departments.
Discussion on roads and trails was next on the agenda, with County Engineer Darrick Anderson sharing the 2020 update. Anderson said the program to install walking trails adjacent to high volume roads is an ongoing project, with a pedestrian bridge to be installed over Highway 2 in Cass Lake in 2021. A joint project on County Road 136 has been completed, taking what was a narrow gravel road and paving and widening it, while a street reconstruction project in Bena will be completed in 2021.
There was discussion on what was considered to be a "gentleman's agreement" concerning Tribal Employment Rights Ordinance fees. With this agreement, Tribal Employment Rights Ordinance fees have been waived on any local projects when Leech Lake Band of Ojibwe and/or Cass County are the only source of funds. Anderson suggested this "gentleman's agreement" be placed in writing and the board and council motion and approve waiving these fees. It was mentioned by Leech Lake's Laurie Harper that this agreement needs to be a larger discussion with the Tribal Council, therefore no motion was made or approved.
During the Human Services and Public Health update portion of the meeting Earl Robinson with Leech Lake Band of Ojibwe shared the collaboration of the drive-thru flu vaccines at the Cedar Lakes event center went very well and when the COVID-19 vaccine becomes available there would be another drive-thru event. Another item discussed was the establishment of an emergency youth shelter, which was put on hold due to the pandemic. When this shelter is completed, plans are to utilize Bush Grant funds received to purchase furniture for this shelter.
The final report of the joint meeting was on the environment and land management. Environmental Service Department Director John Ringle, noting the collaboration between the county and Leech Lake Band of Ojibwe concerning the recycling bins, said when unsupervised recycling sites got problematic and the City of Cass Lake decided to terminate offering recycling bins, Leech Lake Band of Ojibwe stepped up and let the county place bins at the Cass Lake Transfer Station so residents in the area didn't have to travel to recycle. Some of the 2021 goals are to collaborate more on the recycling issue at Cass Lake Transfer Station and to continue to work together on the prevention of Aquatic Invasive Species.
Stevenson wrapped the meeting up by sharing the collaboration of absentee voting at Leech Lake Band of Ojibwe Government Center went very well and most employees spent extra hours to allow residents flexibility for voting. It was also noted an increase of communication within the reservation boundary needed to be considered, as with most townships opting for mail-in ballots due to COVID-19, residents didn't realize voting couldn't be conducted in person. One possible option to consider would be offering in-person voting at area community centers for those residents.