Cass County Board: County department heads deliver annual reports
Most department heads noted the increased amount of traffic in the area and the challenges it's bringing, from increase in values of property, increase in traffic on the roads and trails, to increases in the county's local option sales tax revenue.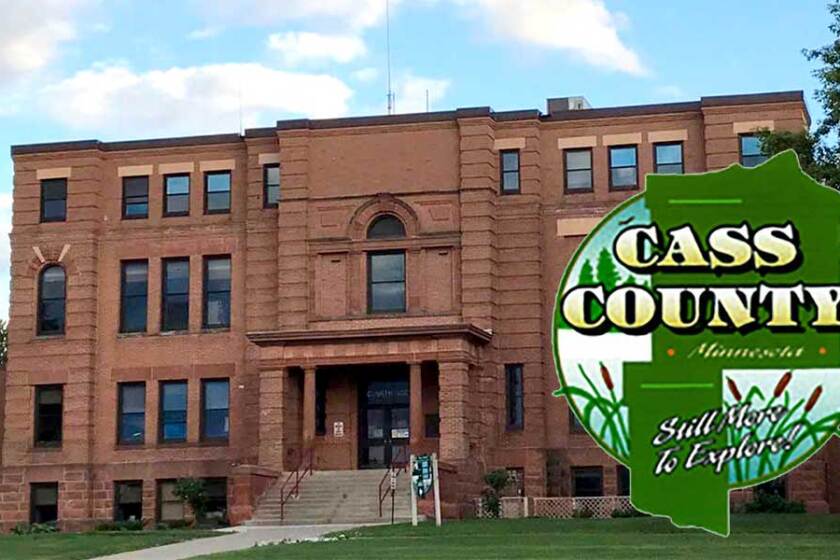 BACKUS — Cass County department heads met for the county's annual planning meeting Friday, June 25, and talked about market trends of 2021, a legislative update and potential issues for 2022. Most department heads noted the increased amount of traffic in the area and the challenges it's bringing, from increase in values of property, increase in traffic on the roads and trails, to increases in the county's local option sales tax revenue.
American Rescue Plan Act
County Administrator Josh Stevenson shared information with the county commissioners and department heads about the American Rescue Plan Act.
Stevenson said Cass County will receive about $5.75 million, which is going to be split into five separate categories. A total of $1.25 million will be used for county public service projects; $1.2 million for direct cash assistance for businesses and nonprofits, to be distributed in amounts of $4,000, $6,000 and $8,000; $1.5 million for infrastructure such as drinking water, wastewater and broadband for currently underserved or unserved; $925,000 for home health and learning and $900,000 for other qualified uses and needs after 2021.
Darrick Anderson, county engineer, asked if roads were included in the infrastructure category and if this was a county or federal list of requirements. Stevenson replied this is a list from the federal government on what is acceptable and currently roads are not included in the infrastructure category, but there is talk about more money coming that may cover roads.
Stevenson also mentioned townships and cities would receive grants to give out and the county is encouraging those governments to apply for the funds, even if they feel they can't use them, as they could partner with the county to use the relief money.
Sheriff
Sheriff Tom Burch said recreational vehicle use, both all-terrain vehicles and boats, is still increasing and causing more crashes along with complaints of improper use on roadways, destruction of property, boats creating wakes and area lakes being overcrowded.
One issue Burch sees for the department in 2022 is finding qualified people willing to work for the department. Currently, the department is short staffed and the job pool is extremely limited, which he attributed to people either not wanting to work in law enforcement or not wanting to leave another department, even though, he said, Cass County is a great county to work for. Burch also reported though his staff has done an excellent job de-escalating situations concerning the Enbridge pipeline, the next few weeks are speculated to be a challenge.
Related: Cass County Board: Road show brings commissioners to Powers Township County seeks state to pay any property tax refunds given to Enbridge.

Administrator
Stevenson shared in his report that although the county is experiencing growing pains, the staff seems to be balancing out the delivery of services to the public. Some staff were able to embrace working from home during the past 18 months, while others still came to the county building to work. Stevenson said all county buildings are open to the public and citizens are able to walk in again like they did before COVID-19.
One issue Stevenson sees for 2022 is, with real estate sales increasing, the valuations of property have increased for many properties, resulting in almost doubling of property taxes. Also, Stevenson said after the recent census there was population growth, which will more than likely lead to a change in commissioner districts. More information is expected in the next couple of months.
Assessor
Assessor Mark Peterson reported property market values continue to rise, with the county's overall estimated market value up over 5%, excluding new construction.
New construction value is up 30%, new home starts are up 24%, real estate sales are up 72% for the first quarter of 2021 and foreclosures were down 33% for the first quarter.
In legislative activity, a classification change for short-term vacation rentals was made, which changed the assessment for 2021. There are no tax bills for the current legislative session, but there is the possibility of a due date change for homestead applications from Dec. 31 to Dec. 15.
Peterson informed the board three new employees hired this past year have almost completed their required training and licensure. It is hard to find qualified and licensed people to apply for these positions, Peterson said, which is costing the county more money by having to pay for the training.
County attorney
County Attorney Ben Lindstrom reported there is still a backlog of cases, but the department is working its way through them. With the capability of attending hearings by Zoom, Lindstrom said people are now contesting their tickets rather than just paying, speculating that previously they didn't want to drive to fight it.
A number of staffing changes in the department has allowed necessary changes to operate on a more paperless basis, Lindstrom said. Previous staff were reluctant to make those changes, he said, but new staff are learning this way. Case management needed to be done in a more electronic manner so everyone could have adequate access to files, he said, plus law enforcement is generating more data for each case in a more digital world.
For 2022, Lindstrom said it will be important to work with law enforcement to more efficiently process cases and work with other agencies to avoid duplication of services.
Central services
Director Tom Buhl said network security still remains a top priority and staff is continuously monitoring the server and upgrading the firewalls to make sure they are not compromised.
The issues Buhl foresees for 2022 involve budgeting and the increased costs to secure and maintain the network infrastructure and maintain and upgrade older county buildings. American Rescue Plan Act funding will help with some of these expenses, Buhl said.
Chief financial officer
Sandra Norikane reported the county is benefiting from its local option sales tax. In 2020, the revenue was up 14.8% at $2.3 million and currently through the end of March it is up $210,000. The 2020 Coronavirus Aid, Relief, and Economic Security Act grant supported 58 local businesses, with the average grant being $32,000. The lowest grant amount was $900 and the largest was $208,000. The county also awarded a total of 198 grants with the 2021 state COVID-19 funding in the amounts of $2,000, $3,000 and $4,000.
In a legislative update, Norikane shared information on the Enbridge tax case and said counties may not have to pay back the taxes as the payback is now currently proposed in the state's budget.
Norikane also said the county's insurance program would be re-evaluated in 2022 with a possible rate increase for employees and retirees. Another issue for 2022 is to try to maintain a reasonable levy request.
Court administration
Kayla Litter said beginning July 6, jury trials will be back to normal, with courtrooms returning to pre-pandemic protocol and masks no longer required. There is still a backlog of cases due to the pandemic, but the department is chipping away at those cases and is hopeful to be caught up by the end of summer.
Litter mentioned Judge Charles Halverson will no longer be chambered in Cass County and Judge Christopher Strandlie will be chambered there instead beginning Thursday, July 1.
Civil cases are beginning to be processed again, but evictions are still on hold due to a mandate from Gov. Tim Walz, Litter said.
Environmental services
Director John Ringle reported planning and zoning activities are up 45% over last year's first five months, while solid waste activity is up 23% over last year's first five months.
With these increases, the department is seeing an uptick in the overloading of property, shorelines and septics, Ringle said. With the population growing, some people are placing campers next to shorelines, trying to divide up already small pieces of property and overloading septic systems in current use.
The biggest concern for the department going into 2022 is the continuation of community recycling. Walker lost its host and is looking for a new location. The county is seeing an increase in cardboard recycling due to more people online shopping. A positive note is cardboard prices increased also, though it's not a huge money maker for the county, he said.
Health, human, veterans services
Director Michele Piprude shared concerns of elevated levels of adverse adult mental health conditions and substance abuse due to COVID-19 and isolation. Cass County already had a high rate of substance abuse and Piprude said it worsened during this past year.
One issue going into 2022 is the financial strain linked to increased commitments for competency to stand trial issues. If the court orders an evaluation to see if people are fit to stand trial, Piprude said the state pays for the cost until a judgment is determined. After that judgment, if the person still needs to be hospitalized, the county is required to pay for the fees, which is about $1,500 per day.
Another issue, Piprude said, involves children's truancy and educational neglect. Due to COVID-19, numerous kids have fallen behind in school. A survey on the matter was sent out to various people within the county, including school administration, school boards, teachers and others.
Highway
Anderson told the board the 2021 county state highway funding program is at a deficit of $260,000 for construction and $173,000 for maintenance. He said usage is up, and the use of the roads is what determines how much money the county receives from the state in funding.
In the legislative update, Anderson said the county was awarded $700,000 in 2020 for the county highways 1 and 44 project and $1.25 million in 2021 for the County Highway 37 project. Also, the local option sales tax is projected to exceed $2.4 million for construction projects.
Moving forward there is project development for larger projects on County Highway 37 in 2022, which is going to be bid this winter; and County Highway 70 in 2023, which is expected to bid in the fall of 2022.
The highway department continues to look for ways to partner with the Leech Lake Band of Ojibwe, U.S. Forest Service, townships, cities and neighboring counties.
Human Resources
Kelsey Schwartz, payroll and benefits and human resources official, told the board over the past year, remote work provided opportunities for health care accommodations for staff.
Issues in 2022 will involve getting the new payroll/human resources system implemented and getting ready for labor negotiations for 2023 as current contracts are up in 2022, she said.
Land department
Land Commissioner Kirk Titus reported tax-forfeited land sales were at record levels in 2020 and sales in 2021 are already at 75% of last year's sales. Titus said reported timber prices are still at retail, but are starting to retreat. He also said an engineered wood mill was confirmed to be opening in the Cohasset area. Although this is not in Cass County, it will still be good for the county and eventually bring in numerous jobs, Titus said.
Titus reported he, too, has seen an increase in recreational trail use, resulting in increased maintenance for area volunteer clubs.
Titus continues to monitor threatened and endangered species, including the northern long-eared bat, monarch butterflies and the rusty patched bumblebee.
Probation
Director Jim Schneider reported an increased number of pretrial offenses, but the number of juvenile and adult supervised cases remained constant. The department continues to work on addiction issues, but chemical dependency and mental health issues are driving factors in the criminal justice system.
With the state of Minnesota indicating it would charge the county without an increase to its caseload, beginning Thursday, the county will begin processing misdemeanors.
Recorder
Recorder Katie Norby reported volumes of documents and electronic recordings are up, while interest rates are relatively low and stable. However, interest rates are expected to begin slowly increasing by the end of this year. She also said the number of properties for sale is low.
With the Legislature allowing counties to accept electronic documents, the Minnesota County Recorders Association is researching how county recorders can provide certified copies online.
2022 budget schedules
Cass County's five citizen appointees and two county commissioners for the budget committee will receive departmental requests and prepare a proposed 2022 county budget and levy this summer.
The county board will set the preliminary levy in September before the budget committee makes additional budget changes in October. The board will host a public hearing before adopting a final budget and levy in December.
That schedule is as follows:
Aug. 13, 20 and 27 — Budget committee reviews requests and prepares the preliminary budget and levy,

Sept. 7 — County board sets preliminary levy,

Oct. 8 and 15 — Budget committee makes additional budget changes,

Nov. 12-24 — Truth in taxation notices mailed to taxpayers,

Dec. 9 — Public hearing on proposed budget, and

Dec. 21 — County board sets final levy and budget.