Cass County Board: County eyes Sept. 1 for reopening of county buildings without restrictions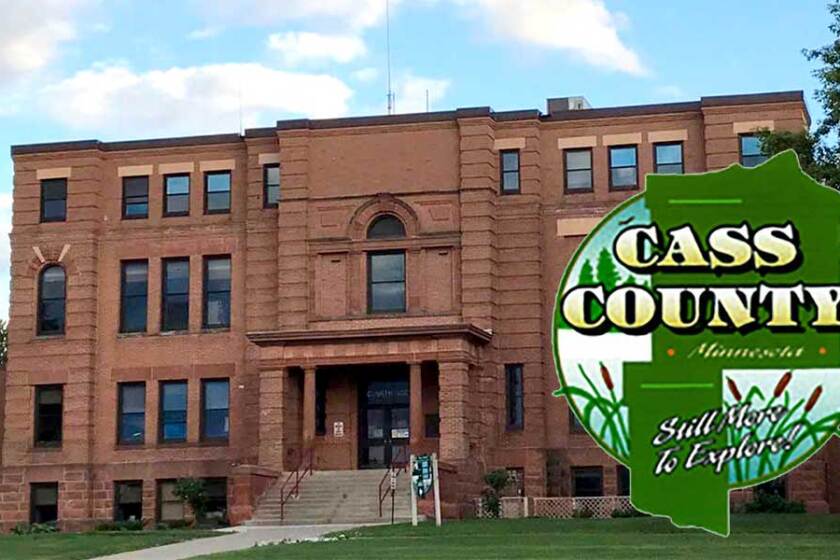 PINE LAKE TOWNSHIP — Restrictions to public access to Cass County buildings may be lifted beginning Sept. 1, depending on case activity and directives from the state.
Cass County Administrator Joshua Stevenson began the Cass County Board meeting Tuesday, June 16, at the Pine Lake Township hall with an update on county building operations and informed the board staff will continue to work from home consistent with Gov. Tim Walz's executive orders. Stevenson mentioned protective equipment is in place including Plexiglas dividers for all public counters and masks, face shields, gloves and cleaning supplies were acquired in preparation for increased public contact.
Stevenson made the recommendation to remove public access limitations to county buildings beginning Sept. 1 pending COVID-19 case activity and executive orders from the governor. Secured access to courts, however, will continue. The board approved this recommendation.
There was also a request from the land department to change the scheduled July 30 oral timber auction to a sealed bid timber auction. Commissioner Jeff Peterson inquired on the number of people who typically attend this type of auction. Stevenson replied there were usually at least 25 people. Board Chair Neal Gaalswyk asked what sales the county gets with an oral sale compared to a sealed bid. Stevenson replied there is little difference revenue received because with a sealed bid people have one chance at purchasing the timber. The county conducts 12 auctions a year with four of them being oral. All board members approved changing the July 30 oral timber auction to a sealed bid timber auction.
The meeting was opened for a public hearing to discuss the possible revocation of a portion of a county road known as Old Trunk Highway 34 and Whipholt Beach Road Northwest to Pine Lake Township. Stevenson described the parcels in question as being two different sections, with one completely surrounded by Huddle's Resort and the other portion currently maintained by Pine Lake Township.
Gaalswyk asked if there was any input from anyone present or joining via phone call. Leonard Zimmer shared his opinion with the board, stating the county would be making a costly mistake by revoking this road portion to the township. Instead he suggested the board vacate the road to owners of land on either side of the parcel in question. Zimmer explained by revoking the road to the township the county would be required to upgrade the road to county standards, plus the county would be responsible for the maintenance for a period of two years following the revocation. If the county were to transfer the land to the property owners it would only cost the county the amount of transfer fees.
Adam Arnold, representing Trapper's Landing, told the board Trapper's Landing requests if the board approved the revocation, it would amend it to allow public free access to Whipholt Beach Road. The reasoning for this is because numerous people staying at Trapper's Landing use that portion of the road by all-terrain vehicle, utility task vehicle, walking or other means that are not safe on Highway 200.
Mike McGee, a resident residing on the portion surrounded by Huddle's Resort, stated if the county allowed free public access it would be dangerous for people staying at Huddle's Resort. McGee said that part of this parcel runs directly through the middle of Huddle's, so to allow ATVs or UTVs to drive through is unsafe for vacationers. Kay Huddle, owner of Huddle's Resort, agreed with McGee, saying if it were to be maintained and public given free access to use it, it would be unsafe for her customers. Huddle also mentioned that back when Highway 200 was built the land used was Huddle's property and the parcel in question now would be given to Huddle's Resort.
After the public hearing concluded, Stevenson recommended with the new information received the board should take no action on this matter. The commissioners accepted this recommendation and took no action.
In other business, the county board:
Conducted a public hearing for the purpose of approving an off-sale intoxicating liquor license at 64-Stop in Motley. There were no comments from the public on this subject, therefore the public hearing was closed and the board approved the motion.
Awarded a contract in the amount of $2,067,000 to Anderson Brothers Construction Co. for a project that includes Americans with Disabilities Act work in the city of Longville, a cooperative project with the city. It will impact county highways 5, 47 and 46. This project is funded through use of state aid construction, municipal state aid construction and local levy road construction dollars.
Heard from resident Doug Carpenter on a taxable property inquiry regarding property classified as unorganized road. The board shared information with Carpenter from past letters they have received on this issue. Carpenter requested to see that information to review and then address the board again at a future meeting.
Heard from resident Brook Kindor inquiring on when the volunteer driving program for veterans would be reinstated. Kindor is a volunteer driver for the program. He told the board he is a driver for some veterans who have post-traumatic stress disorder. They are comfortable with him as a driver and have been personally calling him to see when he was going to be able to start driving them to appointments again. Gaalswyk stated they would check with the governor's orders and see if it was allowable yet to reinstate that program.
The next meetings are as follows: annual planning work session, 9 a.m. Friday, June 26 at the Land Department Meeting Room in Backus; commissioner's board meeting, 9 a.m. Tuesday, July 7, at the Land Department Meeting Room in Backus. and commissioner's board meeting, 6 p.m. Tuesday, July 21, at Wilkinson Township, 6789 140th St NW, Cass Lake.