Cass County Board: County tax levy to increase by 3% in 2020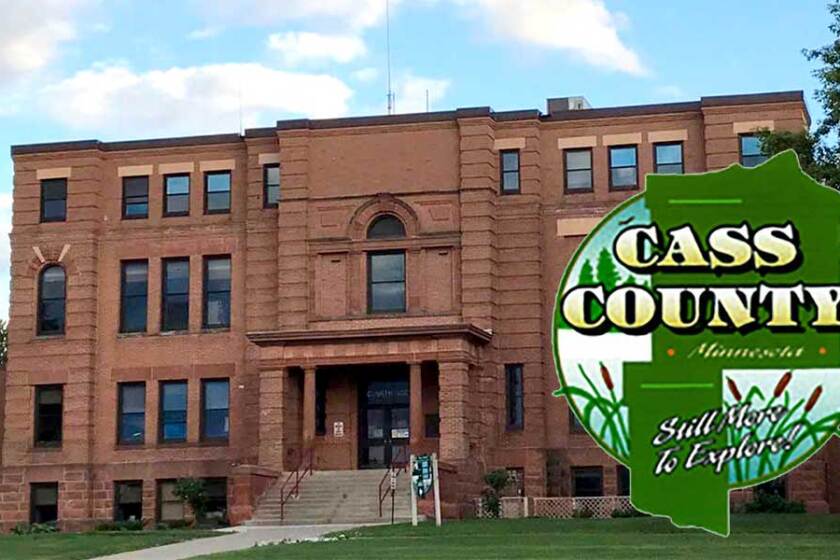 WALKER -- Cass County Board voted Tuesday, Dec. 17, to approve the 2020 levy, budget, fees and most county employee wages.
The $23,193,072 county share of the levy will be 3.01% higher than 2019.
The county is required by state law to include its levy charged only to Longville Ambulance Service District property owners in its total levy. That $503,000 levy is unchanged from 2019.
It brings the total county levy with the ambulance district to $23,530,913, or 2.94% over 2019.
The approved Cass 2020 budget, including state, federal and other revenues, calls for $63,715,761 in revenue and $63,722,907 in expenditures.
Road and bridge expenditures would be the only category exceeding income, but that is because state aid revenue overlaps years, depending upon when a project is done and when state aid is paid to a county.
Total projected 2020 expenditures approved include $22,986,424 for general revenue; $16,535,452 for health, human and veterans services; $15,081,048 for roads and bridges; $4,770,000 for self-insurance; $3,104,500 for the land department; $485,000 for capital projects; $380,483 for Kitchigami Library; $300,000 for unorganized townships; and $80,000 for the environmental trust fund.
The board approved the annual new equipment purchase list, totaling $2,148,596. It includes computer equipment and software, office furniture, vehicles and equipment maintenance agreements.
The main difference from the $2,134,174 approved for 2019 is the sheriff's office asked to increase its rotation of new vehicles from eight per year to nine in order to keep its 40 deputies up to date on vehicles.
Cass commissioners set their own 2020 annual wages at $27,569.73, or 3% above 2019. This follows the same increase being approved in wage agreements with union represented employees. The commissioners also will receive $75 per meeting per diem for approved meetings, the same as 2019.
Administrator Joshua Stevenson said Cass' commissioner wages fall at 94% of the average wages paid to commissioners in surrounding counties.
Citizen representatives to county committees are paid the $75 per meeting per diem with the exception of planning commission members, who receive $150 per diem for each meeting or property tour they attend. Civil Service Commission members, by state law, cannot receive a per diem.
Elected officials -- County Attorney Ben Lindstrom, Sheriff Tom Burch and County Recorder Katie Norby -- will receive 3% increases Jan. 1, 2020, putting Lindstrom at $116,417 per year, Burch at $116,417 per year and Norby at $81,624 per month.
Burch and Norby are already at Step 10 of the county pay scale, so will not receive additional step increases in July. Lindstrom will receive an additional 3% increase July 1 when he moves from Step 6 to Step 7 on the county pay scale.
Also approved for the 3% Jan. 1 wage increase were appointed officials who are not members of a union. If not already at Step 10, they also will receive a step increase July 1.
Those officials include the chief sheriff's deputy and lieutenants, sheriff's administrative secretary, first assistant county attorney and administrative/legal secretary, central services director, environmental services director, land commissioner, health human and veterans service director, county highway engineer, assessor, administrator, chief financial officer, probation director and probation officers.
The board approved an updated personnel policy.
Wage increases Jan. 1 of 2017, 2018 and 2019 were 2.5%. The new agreements unions have approved include 3% wage increases Jan. 1 of 2020, 2021 and 2022. Step increases July 1 on the 10-step pay scale will be paid to those not already at Step 10 and those who have successfully passed their six-month probation period.
Contracts the board approved Tuesday include those with International Union of Operating Engineers, Local 49, for highway employees; American Federation of State, County and Municipal Employees, Local 2195, for courthouse employees; Law Enforcement Labor Services, Local 406, for sheriff's patrol officers; and Teamsters General Local Union No. 346, for sheriff's dispatch and records personnel.
Still to come before the board for approval are contracts for health, human and veterans services employees and for jail employees. Stevenson said HHVS employees have ratified their contract. Jail employees have voted, but the count will not be conducted until after Dec. 25.
The county board hopes to approve those contracts in January, Stevenson said.
New county fees, effective Jan. 1, 2020, were approved Tuesday.
Due to concerns commissioners expressed about enforcement of after-the-fact fees charged when people build without getting a permit first, new language will be added when the board considers adopting a revised zoning ordinance in the spring of 2020 to ensure current owners are not penalized if it was a prior owner who did the construction without a permit.
Stevenson said the county hopes utilizing aerial photos and assessing department inspections every three years will allow them to identify which owner made installations without a permit.