Cass County Board: County, Walker officials looking at reuse options for Ah-Gwah-Ching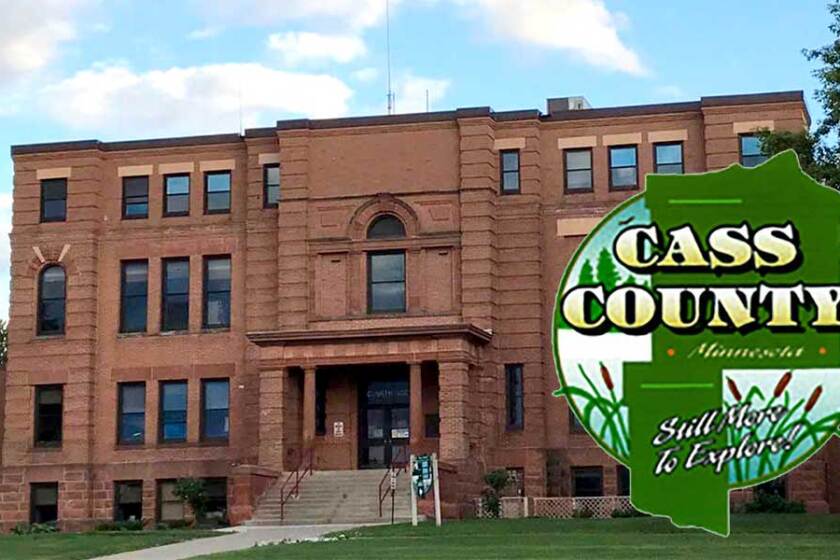 HACKENSACK -- Cass County Commissioners Scott Bruns and Jeff Peterson met with Walker Mayor Jed Shaw Sept. 10 to look at a new overall layout for reusing the former Ah-Gwah-Ching property.
County Administrator Joshua Stevenson, Walker Administrator Terri Bjorklund and Economic Development Director Mike Paulus also attended that meeting.
The layout calls for future county government buildings to be located across a strip of land closest on the bluff to Highway 371 and Leech Lake.
A triangle to the northwest of that would be for proposed residential development. A rectangle west of the county development would be for health care services. There would be a buffer area farther to the west for potential commercial use before reaching the Walker city sewer ponds.
The county's purchase of the entire property from Minnesota Department of Administration stipulates that any resale of land that is not to be occupied by public buildings used for a public purpose must be sold at appraised market value.
Those at the Sept. 10 meeting decided the county might split independent appraiser costs equally with the city and any developer.
BCH Builders must first submit a plan for its development before the county board will authorize any appraisal or consider any further action.
On other issues the county board discussed Tuesday, Sept 17, at Hackensack City Hall the board:
Approved Minnesota DNR plans to purchase three lots on the southwest corner of Kenfield Bay of Ten Mile Lake with Reinvest in Minnesota funds to use as an aquatic management area.
Accepted a $1,206,319 grant from Minnesota DNR Regional Park and Trail Commission for the Gull Lake Trail in Fairview Township. The county is fiscal agent for the project. A $411,581 local match will be required.
Approved a land reclassification from Rural Residential 2.5 to Commercial 2 for Gull Lake Boat Storage on 20 acres in Loon Lake Township. Approval was granted with the stipulation the site can only be used for boat storage.
Approved a land reclassification for Darlene Robinson to reclassify 12.16 acres in Woodrow Township from Water Oriented Commercial to Shoreland Residential.
Cass County Planning Commission had public hearings and approved both reclassifications at its Sept. 9 regular meeting.
Learned the Minnesota State Auditor's Office made no changes to the audit the county prepared for the county's 2018 financial records.
Chief Financial Officer Sandra Norikane said the county's audit costs have dropped a lot since her office began preparing the audit and submitting it to the state for final review. Instead of spending two weeks each spring and each fall, the state auditor only comes to Walker one week a year now, she said.
Appointed Commissioner Bob Kangas to represent the county on the Regional Transportation Coordinating Council.
Authorized paying the budgeted $5,000 to Cass County Agricultural Association (Fair Board at Pine River) for 2019 and referred to the budget committee a request for the same allotment in 2020.
Accepted a $236,131 grant from the Minnesota Department of Transportation local bridge replacement program funds to construct a replacement bridge on County Road 107.
Appointed to the new county garage maintenance foreman positions Luke Abraham at Hackensack and Chad Wellman at Pine River.
Awarded a contract to Schrupp Excavating at $15 per yard for about 40 to 50 yards of Class 5 gravel for Blackberry Trail, a timber access road. The logger working in that area will spread the gravel.
Learned the land department will update the 10 year county Forest Resources Management Plan by 2020 for the 255,000 acres of tax forfeited land the county manages. This is 20% of the county's land area, of which three-fourths is forested.
It will address not only timber management, but also recreational trails, leases, easements, use permits such as for maple syrup tapping, balsam bough and birch bark collection and fire wood cutting.
The existing plan was adopted in 2010.
Approved an agreement with NEPCon, formerly Rainforest Alliance, to conduct an audit of the county's forest management practices to enable the county to continue its sustainable management certification. The audit will cost $8,289.
Approved the transfer of Katherine M. Whitney's portion of an easement over county land to her son, Thomas Hall.
Learned the county sold five of seven tracts offered at an Aug. 29 timber auction or 3,675 cords of wood for $149,738. Aspen sold for $31.59 per cord.
Accepted a $27,142 off-highway vehicle enforcement grant to run through June 30, 2021, from Minnesota DNR.
Learned the county earned $979,522.03 interest on investments through August. That is 103% of what the budget expected for the whole year in 2019 and is well ahead of the $855,649.79 earned through August in 2018.
Approved extending a Minnesota Department of Health grant through Feb. 28, 2022, with $200,319 additional funding for the county's early childhood home visiting program.
Agreed to participate with Morrison, Todd and Wadena counties in the Nursing Family Partnership Program to provide family home visiting services to county residents.
Accepted a donation of food boxes from Hope Lutheran Church to be used for those in need in Walker, Hackensack, Akeley and Onigum.
Accepted $42,634 from Sourcewell for Cass County's portion of the Region V+ Comprehensive Re-Entry Program in 2019 and 2020.