Cass County Board: COVID-19 discussion dominates annual planning meeting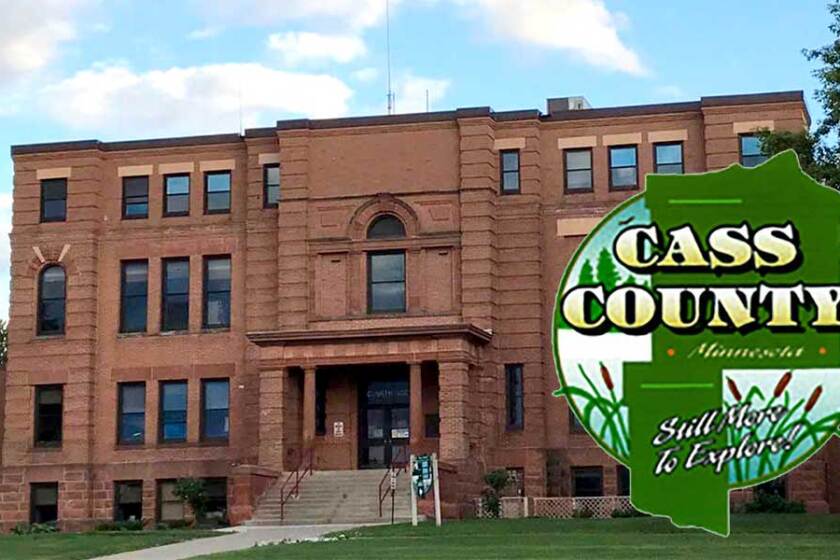 BACKUS — The impact of COVID-19 on county operations was a hot topic Friday, June 26, as Cass County department heads gave reports during the county's annual planning meeting.
All departments stated that having employees working from home during the mandated stay-at-home order is going well. Employees are still conducting business with minimal contact with the public and utilizing methods such as Zoom meetings and conference calls when necessary. County fleet vehicles are still being used to transport people, but larger vehicles are being utilized to accommodate further social distancing in the vehicle.
The following are departmental reports:
Administrator
Joshua Stevenson said due to the pandemic, modifications in service delivery has been made. There have not been any complaints from the public and although business is not being conducted as usual the county is still getting business done. It was noticed that not everybody has a cell phone that has visited the county building, therefore, a telephone and county directory has been placed in front of the building for people to contact the correct department in order to get assistance.
The CARES Act funding is now available, and Stevenson informed the board that the county has sent in a request for $3.7 million. Details on how the county would be allowed to spend this money has not been declared yet, but the county has received COVID-19 relief from other sources.
Commissioner Jeff Peterson asked how the employees were doing. Stevenson stated things were going well with about 20 employees working from home at first and now approximately 70 employees working from home. It was also mentioned that approximately 20 employees have taken advantage of the COVID-19 emergency leave which was set up for employees with day care issues.
Looking forward to issues that may arise is the impact of the 2021 levy with the decline in revenue in 2020. Also, there may be a need to update the courthouse in order to keep people safe when they come in. Currently some departments are doing an "Amazon.com" type of delivery for forms and documents, which may continue into the future because citizens are finding this service very convenient.
Stevenson stated that currently there is a hiring freeze, therefore, if any department is requesting to hire staff it is to replace an existing necessary position. It was brought up that back in the 2008 recession the county cut all non-mandated positions and never rehired those positions. Therefore, any positions currently being advertised are for mandated positions and if they are not filled the county will not get necessary state funding.
Assessor
Assessor Mark Peterson reported property market values continue to rise, with the county's overall estimated market value up about 1.95%.
With approximately 13% more new home starts, the value of new homes is up over 4%, while the number of real estate sales and foreclosures is down approximately 16%.
The Legislature was to make some decisions this past session on short term vacation rentals and how they are to be classified for tax purposes, but due to COVID-19 the Legislature made no decisions on this matter.
Peterson informed the board that the department will be having staffing issues in 2021 due to one employee retiring in September 2020, another moving in a few weeks and the possibility of two more retirements in 2021. Even with the shortage of staff in the near future and COVID-19 restrictions, the county assessors are out driving around, conducting assessments of property and are on track to finish by the December deadline.
Sheriff
Sheriff Tom Burch stated that recreational vehicle use, both all-terrain vehicles and snowmobiles, is up, leading to more accidents due to inexperienced operators and not due to operators being under the influence.
Board Chair Neal Gaalswyk asked Burch his thoughts on the 1033 program and demilitarizing law enforcement. Burch stated that the public already recognize the sheriff's department by their uniforms, as they are not camouflage, and are their own distinct color. He also commented that there would be about a $500,000 impact to the county if this program were to be defunded. With this program the county is able to acquire military surplus equipment at little to no cost to the county.
Burch still sees a potential need for extra law enforcement services if the Enbridge Line 3 pipeline is approved to be installed through the county. Which may be an issue as Cass County is a desired agency to work for, they are struggling to find qualified agents.
County Attorney
Attorney Ben Lindstrom reported that even though we are in a pandemic, cases have not gone away. He stated that a typical Monday would have begun with 100 case files, and the courts processing approximately half of them in the morning. Now they are only allowed to process four cases per hour scheduling a case every 15 minutes. Therefore, there needs to be realistic expectations for when cases can begin being tried again. He also mentioned that cases can't be delayed anymore because there has been an increase in arrests lately.
Lindstrom shared about the recent vacancies in the department and that there was a new attorney that began earlier this month. Also, there was a retirement of a legal secretary and have been numerous qualified candidates.
Central Services
Director Tim Richardson shared with the board that natural gas will be available in Walker for the 2020-21 winter, and noted the highway garage in Walker will be able to access natural gas also. This should all be available by Oct. 1.
Network security is still at the top of the list and will continue for the foreseeable future. It was noted that part of the system was hacked and connection was lost with the deputies. There have been times that connection was only lost for a few hours and other times it has been lost for a few days. This will continue to be something that the staff works on resolving and protecting.
Richardson mentioned that one thing that was brought up in Legislature was HF 3200, which is a part of open meeting law, and may require all meetings to be recorded and accessible to the public. This also would require the meeting to be closed captioned, which would require the county to record a meeting and then send it to a company to have them close caption the meeting. The cost to do this would be $1.25/minute, which for a typical county meeting would cost around $250-$300 per meeting. This would cost the county approximately $50,000-$75,000 annually. The Legislature did not pass this bill, but Richardson predicts that this will come up again in the future.
Chief Financial Officer
Sandra Norikane reported even though property tax collection is down 1.6% from the prior year as of May 15, the county is ahead of where it wanted to be with 61% of taxes being collected. It was noted more people are paying in full and it is believed to be the owners of cabins and vacation property that are making sure their taxes on this property is paid before their actual residential property. There is estimated to be a $16,720 loss with the reduction of the on-sale liquor licenses. This loss was based on all businesses that applied for a license last year applying again this year. It is known that a couple of businesses did not survive the closure during COVID-19 and will not be reopening in the future.
There is push toward absentee and mail ballot voting for the 2020 election amid COVID-19. Currently Cass County still has six voting centers open. One concern with absentee and mail ballot voting is if there needs to be a witness present. As of now the Legislature has not made that a requirement, but it is something that may be decided is required in the future to make sure all voting is done legally and is legit.
Norikane mentioned the county is planning on implementing a paperless voucher system for all departments in 2021. They are in the testing phase of this process and plan on implementing it with a few departments, one being the land department, to begin in order to get input on the process. New payroll software is also being planned for in 2021, and Norikane is looking at little or no change in overall levy requests.
Court Administration
Kayla Litter was unable to attend the meeting due to a trial, so Stevenson shared her report with the board. Stevenson stated that the court has been utilizing Virtual Meeting Rooms and Zoom to conduct hearings. It was noted that before COVID-19, Crow Wing County would house overflow of inmates for Cass County, and when a hearing was to be held Cass County would send a van down to bring those inmates to Walker for the hearing. Crow Wing County still houses the overflow of inmates but with COVID-19 restrictions in place hearings have been conducted by Virtual Meeting Rooms. There have been some challenges with hearings conducted this way as the defense attorney is not in the same location as the defendant.
A couple of issues for 2021 are the continuing improvement of virtual hearing experience and the monitoring of county paid attorney costs.
Environmental Services
Director John Ringle reported planning and zoning activities are increasing. It was also noted that there has been an increase in solid waste activities since March. Typically the county doesn't begin Sunday pickup of recycling bins until the second week of March. This year Sunday pickup of recycling bins began the weekend of fishing opener. This is believed to be due to more people being at home and cleaning out basements and garages.
In the legislative update portion it was noted that there may be a possible 12%-16% decrease in funding from Minnesota Board of Water and Soil Resources and possible funding reductions in conservation related programs but the current funding for the watershed plans are secure.
The biggest concern for the department going into 2021 is the recycling contamination issues. Currently Cass County has 22 recycling sites, with two sites recently requesting to have bins removed. Another issue that will be a factor coming up is the need to replace staff that have recently retired as workload increases.
Health, Human, Veterans Services
Director Michele Piprude reported that staff has utilized videoconferencing and virtual meetings to communicate with citizens needing services. There are times that staff has had to do a welfare visit or extraction and therefore, the department is utilizing the larger vehicles in the county's fleet to allow for social distancing within the vehicle. There is an anticipation of homelessness due to foreclosures and evictions related to COVID-19, but the financial impact is unclear at the moment.
It was noted staff currently working from home rarely went into the field anyway, so it is not an inconvenience to have them working from home. There may be, however, a significant budgeting impact due to extensive unemployment of residents needing assistance with housing, food, insurance, protection and behavioral health. The department has found that business can still be conducted by using technology and may look into utilizing it more in the future to help reduce costs and save time.
Highway
County Engineer Darrick Anderson reported the 2020 county state highway funding program will bring in $296,000 for construction and $222,000 for maintenance, while the 2019 county levy for CSAH maintenance was $713,000 and construction was $183,000.
The Legislature did not implement any gas tax increase and there was no major bonding, which will impact the bridge project that was planned.
There is project development for large projects on CSAH 37 in 2022 and CSAH 70 in 2023, and an anticipated reduction in state aid allocation of 15 percent, which includes construction and maintenance.
The highway department continues to look for ways to partner with the Leech Lake Band of Ojibwe, U.S. Forest Service, townships, cities and neighboring counties, but there has been a change in authority at the Band.
Human Resources
Kelsey Schwartz, payroll and benefits and human resources official, reported labor negotiations were complete and went relatively well.
She stated that the county implemented a voluntary work-from-home in March at the beginning of the pandemic. It was stated that many employees opted for the option of working remotely. Due to COVID-19 the Legislature has created a Families First Coronavirus Response Act which includes establishing emergency paid leave and an expanded Family Medical Leave Act. Schwartz mentioned that the expanded FMLA includes a day care clause to allow for staff to use this if they find themselves in a position where they have no day care available and have to stay home.
Another thing that the Legislature has allowed for the county to do is offer a virtual open enrollment meeting and a pre-recorded benefits meeting. This will allow new employees to learn about their benefits at a time that is convenient for them.
Land
Land Commissioner Kirk Titus reported timber prices are up 60% from last year, but the paper markets are very poor currently. It was stated that a paper mill in Duluth has shut down operations indefinitely, though this does not affect Cass County much because it only utilizes spruce and balsam, which is a small portion of timber sales.
Titus reported he, too, has seen an increase in recreational trails use this year.
The Northern Long Eared Bat population has dropped 98% since its population survey began, Titus said. If it is moved to an endangered species a habitat group would be formed to do formal studies and summer logging would be affected as it would be required to have a 150-foot area around trees that are protected.
Probation
Director Jim Schneider stated that there is a backlog of cases to process due to COVID-19 with the county having over 600 adult and 80 juvenile cases as of June 5. It was mentioned that currently they are not conducting any breathalyzer tests on site due to COVID-19, so they have had to do more blood tests to determine if somebody is driving under the influence. They have been able to continue to conduct drug testing however.
Video conference meetings have been the theme for all departments and the probation department has also been conducting business in this manner. Staff safety continues to be at the top of the department list of concern, while they are also concerned of a potential increase of clients and caseloads becoming unstable and unmanageable.
The bill to increase probation officer funding by 4% during the legislative session failed this spring.
Recorder
Recorder Katie Norby reported document volumes for A & T are up by 164, with e-recording volumes up 48%, an increase of 10%. Passport volumes have decreased due to limited public access. It was noted that it is hard for people to get their picture taken while maintaining 6 foot social distancing.
The Legislature passed a bill allowing counties to accept electronic documents in planning and zoning, land use and vital records during COVID-19. It was unsure at the time of the meeting if Gov. Tim Walz had signed the bill yet.
Norby predicts the number of documents filed will remain level this year, but did mention that if unemployment rates go down the federal fund rates may increase which would possibly reduce the amount of mortgages being recorded. Right now mortgage rates are at really low rates.
2021 budget schedules
Cass County's five citizen appointees and two county commissioners on the budget committee will receive departmental requests and prepare a proposed 2021 county budget and levy this summer.
The county board then sets a preliminary levy in September before the budget committee makes additional budget changes in October. The board will hold a public hearing before adopting a final budget and levy in December.
That schedule is as follows:
Aug. 14, 21 and 28 — Budget committee reviews requests and prepares the preliminary budget and levy,

Sept. 1 — County Board sets preliminary levy,

Oct. 9 and 23 — Budget committee makes additional budget changes,

November — Preliminary levy information mailed to taxpayers,

Dec. 3 — Public hearing on proposed budget,

Dec. 15 — County board sets final levy and budget.