Cass County Board: Department heads receive passing grades during reviews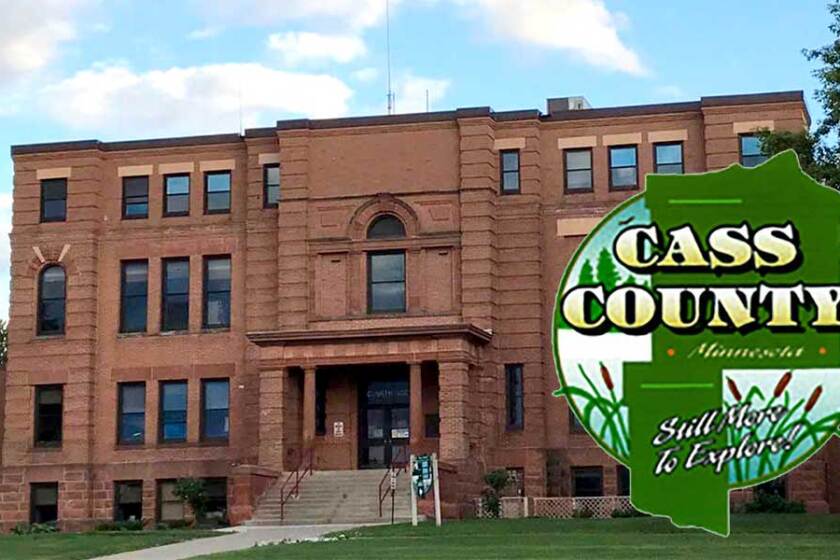 WALKER -- Cass County commissioners conducted department head performance reviews in closed session following board meetings Oct. 15 and Nov. 5.
At the Nov. 5 meeting, the board issued a statement indicating Chief Financial Officer Sandra Norikane, Environmental Services Director John Ringle, Probation Director Jim Schneider, Central Services Director Tim Richardson and Land Commissioner Kirk Titus achieved the requirements of their position.
Cass County Board declared a state of emergency for the damage sustained from a wind and rain storm Oct. 21-22 that hit areas from Longville going north and east the hardest.
There also was damage to county roads throughout the county, according to Emergency Management Director Chad Emery.
Norikane reported the county received $16,063 from the federal government to compensate for underpaying the county in 2015, 2016 and 2017 for payments in lieu of taxes. The county will retain $11,243 of that and distribute the other third of the money to townships inside the Chippewa National Forest.
Norikane will serve as delegate and Commissioner Bob Kangas as alternate to Minnesota Counties Intergovernmental Trust.
Cass County Housing and Redevelopment Authority Director Scott Wilson obtained county board support for his plan to convert the 12-unit public housing apartment building in Backus to Section 8 housing. It is located across the street from the county land department building.
Wilson said a new 20-year contract with federal Housing and Urban Development's Rent Assistance Demonstration program will enable the local HRA to access more funding to improve the property when it needs it, but with fewer restrictions on how the HRA spends the money.
Further, it will enable people who have lived there at least a year to request an option to transfer to another RAD location if they choose to move due to a new job, wanting to be closer to family or other reason without losing their lower rent qualifications.
In other business Nov. 5, the county board:
Accepted a Minnesota DNR grant of $5,147 through June 2010 and another $5,147 through June 2021 for the sheriff's department to provide snowmobile safety enforcement within the county.
Approved canceling 70 checks the county wrote in 2018, which the recipients did not cash. The total value was $4,063.51.
Authorized County Engineer Darrick Anderson to apply to Minnesota Department of Transportation for $135,000 in federal funds to match with $15,000 county money to grind warning messages such as "Stop Ahead" into county highway pavement, so paint on those messages will last longer.
Authorized Anderson to apply to Minnesota Department of Natural Resources for funds to improve gravel roads County Road 161 and a Smoky Hollow Township road (South Little Thunder Drive NE). If approved, the grant would pay 80% of the county's estimated $750,000 cost and 100% of the township's $70,000 cost. The roads will remain gravel.
Approved creating a new technical support technician position for Management Information Systems Department. This will enable the county to consider hiring a computer skills person with a two-year rather than four-year college degree, which is required for a technical support specialist.
Accepted Turtle Lake Township's $500 donation for Sentence to Service equipment.
Learned University of Minnesota Duluth will install nesting boxes on county land for fishers to determine whether these animals will use nesting boxes for a den in areas where natural cavities are rare. The study will be monitored at least two years and up to 10 here.
Fishers need a 20-inch diameter tree for natural nesting cavities.
Learned the county land department will support the American Bird Conservancy application for a Natural Resource and Conservation Service grant to improve habitat by brushing, shearing and timber harvests on private lands to benefit golden-winged warblers, American woodcock and sharp-tailed grouse.
Awarded a contract to GCS Construction Services to deliver taconite tailings to a site in Rogers Township where a logger working in that area will spread the gravel. Cost will be $14.17 per yard for delivered gravel.
Set as public hearing for 3 p.m. Dec. 5 at the courthouse in Walker to hear concerns about improvements needed on 48th Avenue Southwest in Walden Township.
Referred to the Planning Commission a request from Darrell Baty to reclassify 35 acres in Deerfield Township from Agriculture/Forest to Rural Residential 20.
Approved a contract with Meridian Services of Golden Valley to provide home-based family services to vulnerable children and adults. The contract cannot exceed $7,000 this year.
Accepted a $135,304 Minnesota Department of Health Community Health Board local public health grant for calendar year 2020.
Approved paying $186,854 for the second half 2019 payment to Kitchigami Library.