Cass County Board: Limits to public access of county buildings stay to June 16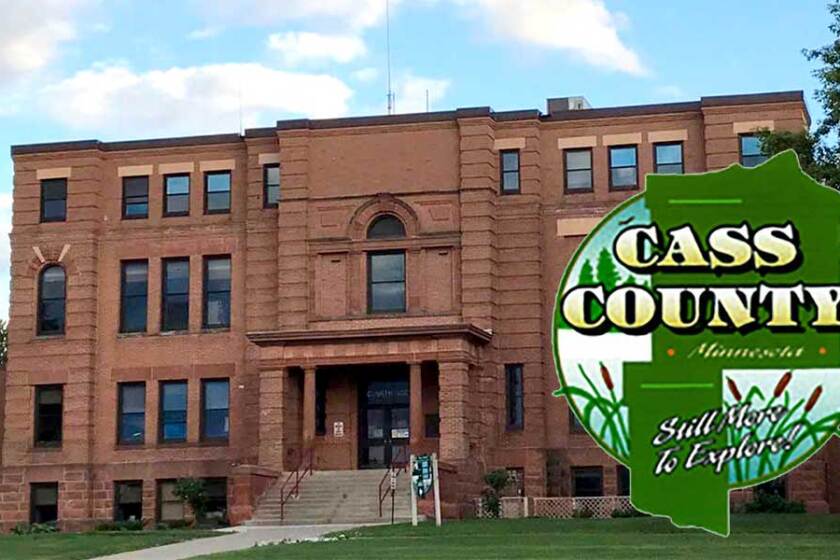 BACKUS — The Tuesday, June 2, Cass County Board Meeting was conducted in the same manner as previous meetings, with commissioners Dick Downham and Scott Bruns joining via phone conference along with presenters.
The meeting began with Cass County Administrator Joshua Stevenson sharing an update on county building operations while following current social distancing recommendations. Stevenson stated they have received many positive compliments from the public on the efforts the county is taking to keep everyone safe while continuing to provide service to the public. It was noted the courts resumed hearings Monday, June 1, and although there was very little traffic, there would probably be an increase in that as more complicated trials begin. Stevenson did make a recommendation to continue limiting public access to county buildings through June 16, with courtrooms and court proceedings remaining open, which was made into motion and approved by all board members.
Stevenson also made special note with the board that Cass County has provided some mutual aid to the Twin Cities by sending area law enforcement for assistance over the past weekend. He stated that the morale of the officers was upbeat and positive.
The meeting was then opened up for the public hearing on the adoption of the County's Capital Improvement Plan. Chief Financial Officer, Sandra Norikane explained that the five-year forecast had changed since the previous approval due to the solid waste committee meeting and scheduling upgrades and related funding for the Pine River transfer station. This project is scheduled to begin in 2023 with an estimated cost of approximately $4.4 million. The estimated grant proceeds are $1,956,500 with an estimated $2,405,000 needed in funding. Commissioner Bob Kangas motioned to approve the updated Cass County Capital Improvement Plan 2020 with five-year forecast, while Downham seconded the motion. The motion was passed unanimously.
In other business, the county board:
Awarded the contract for noxious weed spraying to B & P Weed Control in the amount of $44,070.
Authorized the Highway Department to purchase 5000 Cass County Highway & Recreation Maps from B.I.G. for $6,555 plus shipping. It was noted that only a few highway maps were left in stock and upon further review they were last updated six to seven years ago. In addition the Land Department's maps were also outdated, and as the public does not utilize maps as regularly as they used to, it would be economical to combine the two.
The next meetings are as follows: Board of Equalization meeting, 2 p.m. Monday, June 15, at the Land Department Meeting Room in Backus; commissioner's board meeting, 6 p.m. Tuesday, June 16, at Pine Lake Township, 6724 17th Ave. NW, Walker; annual planning work session, 9 a.m. Friday, June 26 at the Land Department Meeting Room in Backus and commissioner's board meeting, 9 a.m. Tuesday, July 7, at the Land Department Meeting Room in Backus.