Coronavirus impacts delivery of Cass County services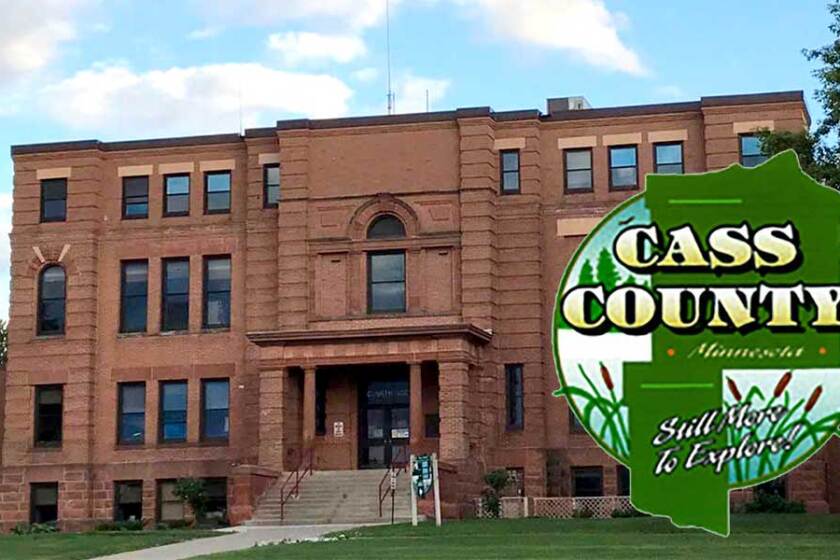 BACKUS — The Tuesday, April 21, Cass County Board meeting had board members Dick Downham and Scott Bruns joining via phone conference along with numerous presenters due to COVID-19 regulations and social distancing.
Cass County Administrator Joshua Stevenson began the meeting presenting the impact COVID-19 has had on Cass County Health, Human and Veterans Services. Although it remains open to serve the public, it is now conducted through telephone, fax, email, U.S. mail and online services available through its website.
Stevenson stated they are still issuing EBT cards for emergency food/cash and have issued three since implementing limited access to buildings. It was also noted veterans' needs are still being met, just in a different means.
There was discussion on whether the board would still be able to have meetings at the various township sites during the summer, given the current situation. The first off-site meeting is May 19 at Poplar Township near Motley. It was decided to table the matter until the May 5 meeting in order to assess the situation at that time as things change on a daily basis.
Stevenson made a motion to continue to limit access to county buildings through May 5, with courtrooms and court proceeding remaining open, to align with Gov. Tim Walz's stay-at-home order. All board members voted to approve this motion.
Environmental Services Department Director John Ringle shared the status of the 2020 Cass County aquatic invasive species inspection program. Ringle said there is going to be some difficulty rolling the program out this summer due to the current restrictions in place from the governor. There is a small group of people previously trained through Penmac, the employment agency used to select AIS inspectors. Ringle said the plan is to engage and equip as many of those trained inspectors as possible to have them ready to start the day before fishing opener May 8.
The number of public accesses will be limited, but there are hopes they will soon be at full capacity once the Minnesota Department of Natural Resources resumes training. There is a possibility training may be moved online and inspectors will be given personal protective equipment and instructed on social distancing.
Ringle also shared that Cass County will offer six half-day household hazardous waste collection sites throughout the county this summer. The county also accepts household hazardous waste at the main transfer station north of Pine River on Highway 371 and at the Walker-Hackensack transfer site during normal business hours throughout the year.
The special collection days include:
June 9 — 1-4 p.m., County Highway Garage on County Highway 12, south of Jimmy's Restaurant in Walker.

June 25 — 1-4 p.m., Lake Shore City Hall.

July 15 — 12-3 p.m., Longville City Hall.

Aug. 7 — 10 a.m.-noon, Remer Do It Best Hardware.

Aug. 7 — 1-3 p.m., Crooked Lake Town Hall.

Aug. 12 — 2-4 p.m., May Township Transfer Station site.
Cass County is conducting this as part of its joint powers agreement arrangement with Northwest Minnesota Household Hazardous Waste Management in Bagley. Its contract transfer station management, Waste Partners, is assisting with conducting these collections as part of its contract. Waste Partners will publicize the dates, times and locations in local newspapers before each event and work with the community to promote.
In 2019, Cass County had 309 participants at these local collections, which was more participants than any other county in the management program. Hazardous waste includes unused paints, stains, varnishes, herbicides, pesticides, some types of cleaners and other materials.
Dale Yerger, director at Deep Portage Learning Center, came before the board to request $22,000 for repairs and maintenance. Yerger said with the current situation, Deep Portage Learning Center has had no income in the past three weeks, but it is fundraising and asking partners for help. With the governor encouraging people to get outside and enjoy nature, Deep Portage will have limited staff employed to keep things running at the main lodge and the grounds groomed.
Yerger said there are some possible repairs that may need to be addressed before next winter and with the uncertainty of what the summer will bring the county's assistance would be appreciated. His hope is to be able to resume normal operations this summer or fall and be able to generate some income.
Chief Financial Officer Sandra Norikane reminded the board that in 2018 it approved a capital improvement fund in the budget. Currently there is only $10,000 in that fund but by the end of 2020 there would be $20,000 in it. It was also brought up if Deep Portage invoiced the county on a monthly basis, the county would be able to keep track of these expenses and may be able to get reimbursement from the Federal Emergency Management Agency at a later date for disaster relief. The motion was changed to be approved to give Deep Portage a maximum of $22,000 through Sept. 1 as needed by monthly invoice.
In other business, the county board:
Awarded the contract to AAA Striping Services with a bid of $143,427.30.
Heard the 2019 Cass County Highway Department annual report from Darrick Anderson, Cass County highway engineer, where he shared an extensive look at the projects finished during 2019 and the new construction/maintenance projects to be started during 2020. One project completed during 2019 that began in 2018 was the construction of the new maintenance shop in Longville. Last year it was estimated the expected cost would be $730,000. The final cost was reported to be $957,847.