DHS chief looks to expand, streamline social services in rural areas. Lourey brings extensive legislative experience, rural background to DHS
Cattle rancher. Newspaper owner. State senator. Volunteer foster care lawyer. Public policy consultant. Township supervisor. Now commissioner for the Minnesota Department of Human Services, Tony Lourey, has worn many hats in his time. Stepping do...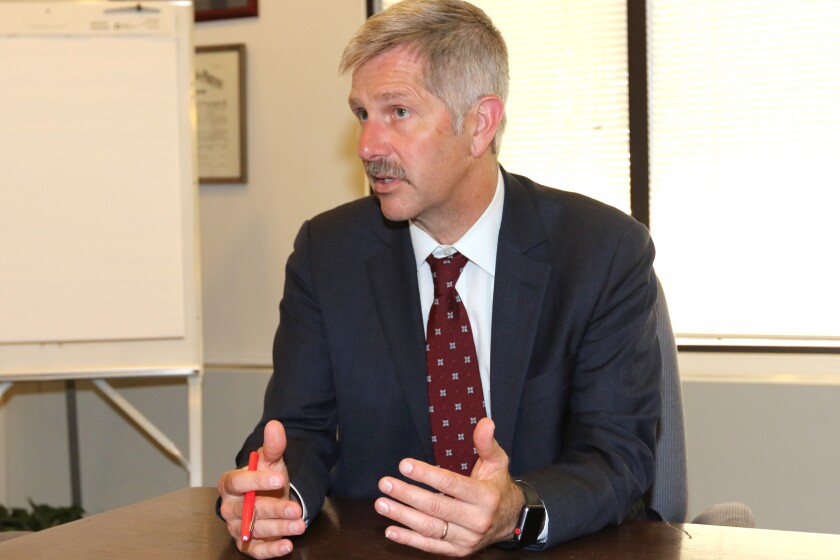 Cattle rancher. Newspaper owner. State senator. Volunteer foster care lawyer. Public policy consultant. Township supervisor.
Now commissioner for the Minnesota Department of Human Services, Tony Lourey, has worn many hats in his time.
Stepping down from the Minnesota Senate after 12 years, Lourey found himself at the helm of an agency in flux, dogged by controversies that extend beyond the usual criticisms leveled at an institution tasked with many subsidies, food stamps and health care initiatives, as well as a whole litany of social programs.
Lourey stopped by the Dispatch Friday, June 28, in what amounted to a pitstop in a multi-county tour of the state where the DHS head has met with community leaders, media outlets and job providers at varying turns. During the sit-down, he characterized himself as a well-seasoned practitioner in government circles pertaining to social services, especially equipped to navigate the often complex and tricky relationship between rural and urban Minnesota communities.
"One of the things I come with is a rural perspective ... I do understand the differences, that the space is different, the work force is different," said Lourey, who noted he still struggles with cellphone reception in his rural homestead by Kerrick and pointed to accessible transportation as an ongoing struggle for many rural residents. "We have to have tools that are sensitive to some of these (challenges)."
Lourey noted social services have to be implemented differently in rural areas than in metropolitan centers like the Twin Cities. Issues of public transportation, cellular service and broadband internet, access to mental health services and child care, among others-all of these factor differently in low-population areas than St. Paul or Minneapolis, Lourey said, and that means there has to be a different approach to regions like the Brainerd lakes area.
With the 2019 legislative session in the books, the former DFL state senator lauded a state budget that, in his estimation, passed with flying colors through the only split Legislature in the nation. Christened with a unanimous 67-vote victory in the Minnesota Senate, he described it as a well-crafted and effective document of bipartisanship.
In particular, Lourey said the 2019 health and human services omnibus bill is a shining example-incorporating a raise in cash assistance (roughly $100 per month) in the Minnesota Family Investment Program for the first time in 33 years, repealing an expiration date for the 2% provider's tax paid by health care providers, provisions including fees to opioid manufacturers to fund addiction treatment, increased protections for vulnerable adults, as well as improved services for child protective services and child mental health care across the state of Minnesota.
"The health and human services bill really stands out as a phenomenal ability to work across party lines and come to an agreement that works for all Minnesota," Lourey said. "These are complicated and often emotional, but important issues."
Institutional integrity
Lourey didn't shy away from addressing the issue of fraud in the Minnesota Child Care Assistance Program, stating Minnesota DHS was taking steps to systematically rectify the institutional flaws that led to abuse of the financial assistance provided.
In May 2018, it came to light that widespread fraud was being perpetrated in the Minnesota Child Care Assistance Program. Subsequent investigations pinned fraudulent activities as significantly lower than the initial $100 million annual estimate, with a low-end estimate of $5 million to $6 million and more "improper" allocations of funds to be determined.
"In terms of program integrity, child care is certainly the biggest one in the news," Lourey said. "But it's not the only space where we need to work diligently and do the best that we can to make sure that every dollar appropriated gets to caretakers and communities where they're intended to support."
That means installing detailed attendance records electronically to track, in part, how these funds are being used, Lourey said, noting that if a child care provider can't provide attendance records to inspectors, they can't be licensed. In addition, Lourey said DHS is hiring more fraud investigators at the county and tribal levels to quickly identify fraud or other illegitimate uses of these programs.
Diligently kept and comprehensive electronic records can serve other purposes, added Lourey, who pointed to keeping tabs on in-home welfare visits for seniors or non-emergency medical transportation as areas that can benefit from 21st century technology.
While plans for regional child care centers in places like Brainerd or Bemidji can alleviate the issue somewhat, rates of funding for CCAP recipients need to be raised, Lourey added, as providers need to have the funds in place to meet the child care slots, regulations and needs of their children, which ultimately goes back to the issue of paying caretakers.
As child care advocates have communicated to the Dispatch, many day cares can't provide a realistic work environment for employees-who, beyond meeting a host of strict standards as caretakers, often come into the worst starting job for a four-year college degree: $12 per hour and no benefits. Lourey echoed these concerns and noted pay rates have to make child care a viable option not only for providers or families, but employees.
"That's been one of the limiting factors getting people to join the child care industry, particularly rural and family providers," said Lourey, who noted that's a point of focus going forward. "We weren't able to get that across the finishing line this year, but we'll keep working at it. We'll need to improve those rates."
Editor's note: In a previous version of this article, it erroneously stated the Minnesota Department of Human Services was the Minnesota Department of Health and Human Services. The Dispatch regrets this error and subsequent editions have been adjusted to reflect the agency's actual title.