Groundbreaking ceremony celebrates new early childhood center
BAXTER — Brainerd Public Schools officials kicked off the next district building project with a groundbreaking ceremony Monday, Sept. 28, at the old Baxter Elementary School site.
With the new Baxter school having opened near Forestview this year, the old building on Fairview Road will house early childhood programs.
Renovations on the Warrior Early Learning Center — or WELC — are expected to be completed in 2021.
RELATED: School board chooses name for new early childhood center
"This early learning center is going to provide opportunities that not all children get," Superintendent Laine Larson said during the socially distanced ceremony livestreamed to Facebook. "We're going to have additional classrooms and learning spaces for our Early Childhood Family Education children, our ECFE-plus kids, our early childhood special education department, our school readiness program, our pre-kindergarten plus and our Kinderclub. What a huge commitment to the education of all of these groups of little ones."
Larson spoke of an enhanced kitchen, off-street parking, updated administrative areas and — most importantly of all, she said — a secure entrance to ensure safety of children and staff.
"That was always the No. 1 goal of this referendum, and so we're just very excited about that," she said.
She thanked school board members, administrators, staff, those on the building and design team, and the community at large for helping the district get this far.
School Board Chair Tom Haglin said the community is blessed to have this space for its youngest learners, a place where many students who go through the district will begin their educational journey.
Baxter Mayor Darrel Olson recalled memories of Baxter Elementary when his kids were in school and said he was glad to see the building being repurposed instead of demolished.
"I'm so grateful for our school board, both current and also past school boards that have been involved in the journey that we've been taking," Olson said, thanking board members for their foresight, courage and stamina to encourage the passage of the 2018 referendum that made this and other much-needed building projects possible.
Though the groundbreaking ceremony could not incorporate the little learners who will use the building, Larson promised they would be there for the grand opening.
Using the letters "WELC," Larson explained what the Warrior Early Learning Center means for the district and the community as a whole.
"First of all, the 'W' stands for 'Warrior.' We are all Warriors," she said. "As you can tell from the unified interior and exterior colors, uniform designs and the decor of all of our buildings, we are showing the public that we are one united school district. We are not a district of schools, but we are one united district. We are the Brainerd Warriors."
The "E," representing early childhood education, Larson said, means more than just preparation. It's looking at the holistic development of a child's social, emotional, physical and cognitive needs in order to build a solid foundation for life.
The "L" stands for the district's love of learning and providing children of all ages with as many educational opportunities as possible.
The "C" represents the center and its position as the first place for many students to experience structured learning with teachers and other students.
"It's a place where they provide opportunities to learn and a place where they learn opportunities to share, where they learn to follow directions, where they interact with other children, and where they soak up the tools that they need for educational success," Larson said.
After the ceremony, staff and board members grabbed shovels, geared up in hard hats and yellow vests, and gathered around a large ceremonious pile of dirt in the construction area to officially break ground for the project.
About the project
Reinventing the old elementary school as the Warrior Early Learning Center includes adding a new secure main entrance on the north side of the building, where parent drop-off and pick-up will also be. Parking will remain on the north side as well and be expanded with the demolition of the two-story fourth grade wing on the northwest side of the building.
Buses will drop students off on Fairview Road on the south side of the building. That entrance will be locked during school hours.
Inside, the current library and media center will be opened up for more hallway space and to help with flow and navigation for the young students.
School readiness areas will be spread throughout the facility, and parent education rooms will be mixed in with early childhood family education spaces.
The "appendix" — a wing jutting out from the northeast side of the building — will house school readiness programs, like Kinderclub.
While there are no plans to add on to the building, Reid Thiesse, buildings and grounds director, said the building's finishes will be state of the art.
"I'm excited to see what we can do with this facility," he said.
1
/
3:
Brainerd Public Schools officials, along with Baxter Mayor Darrel Olson, ceremoniously break ground on the new Warrior Early Learning Center Monday, Sept. 28. Theresa Bourke / Brainerd Dispatch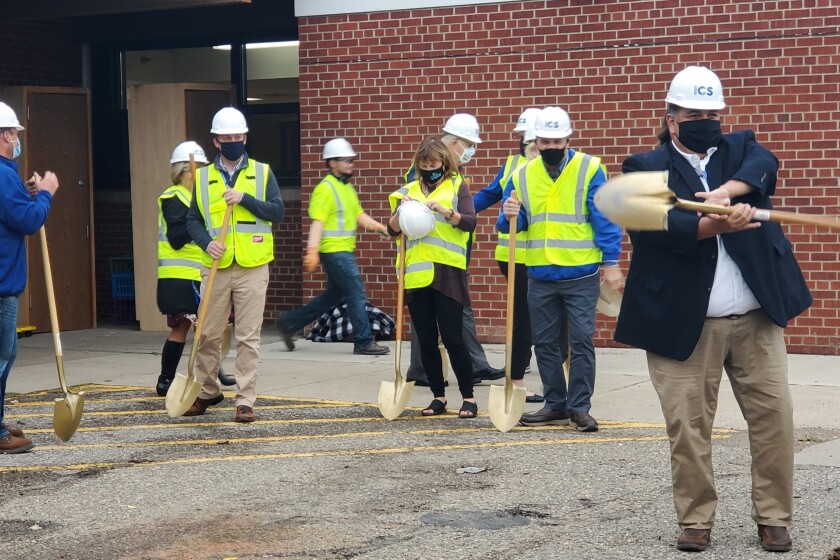 2
/
3:
Brainerd School Board members gear up for a ceremonious groundbreaking for the new Warrior Early Center Monday, Sept. 28. Theresa Bourke / Brainerd Dispatch
3
/
3:
Brainerd School Board members, along with Superintendent Laine Larson, ceremoniously break ground on the new Warrior Early Learning Center Monday, Sept. 28. Theresa Bourke / Brainerd Dispatch
1
/
3:
Brainerd Public Schools officials, along with Baxter Mayor Darrel Olson, ceremoniously break ground on the new Warrior Early Learning Center Monday, Sept. 28. Theresa Bourke / Brainerd Dispatch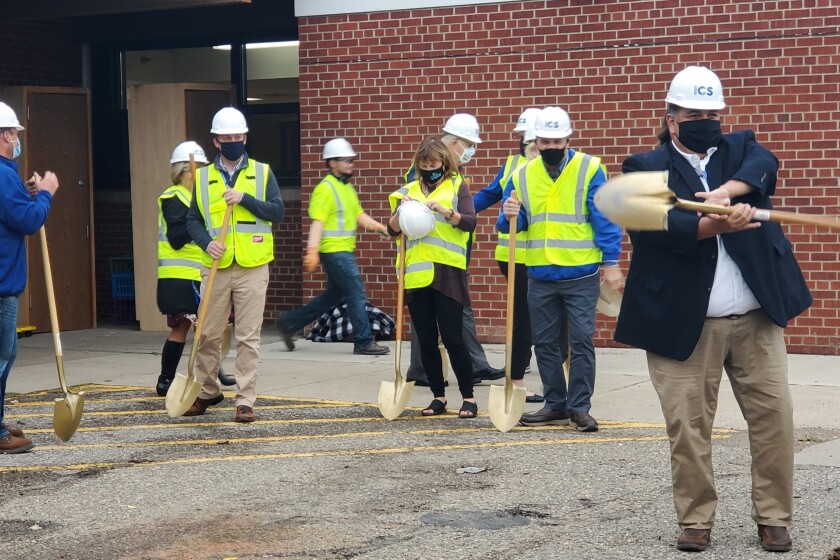 2
/
3:
Brainerd School Board members gear up for a ceremonious groundbreaking for the new Warrior Early Center Monday, Sept. 28. Theresa Bourke / Brainerd Dispatch
3
/
3:
Brainerd School Board members, along with Superintendent Laine Larson, ceremoniously break ground on the new Warrior Early Learning Center Monday, Sept. 28. Theresa Bourke / Brainerd Dispatch