Last plant out the door is the end
Inside the greenhouses, colorful geraniums and petunia and tomatoes laden with blooms wait on wooden tables, but those days are now numbered. In fact, it's down to the last hours for Eagle Landscaping Greenhouse and Nursery south of Brainerd. Aft...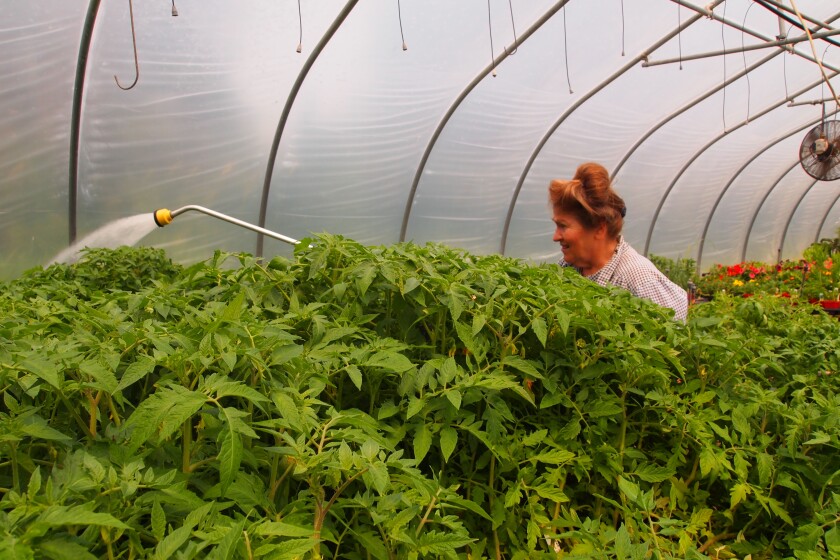 Inside the greenhouses, colorful geraniums and petunia and tomatoes laden with blooms wait on wooden tables, but those days are now numbered.
In fact, it's down to the last hours for Eagle Landscaping Greenhouse and Nursery south of Brainerd. After three decades of growing plants from seed and working long hours at least six days a week, Wes and Carol Urdahl say their bodies are telling them it's time to take a break. Wes Urdahl used to carry three hanging baskets in each arm from one greenhouse to another.
"Now I can barely get one pushed up there," Wes Urdahl said of hanging the plants overhead for display. At the end of the day, tendonitis in his heel makes walking less desireable. Carol Urdahl often spends most of her day watering plants and then is up until 2:30 a.m. doing the paperwork and accounting. One hot day, she was up until 2:30 a.m. and then back up at 6:30 a.m. to water plants.
"I do it for love," Carol Urdahl said and smiled. "He couldn't pay me to do this."
The two have been married 46 years as of this week.
They worked seven days a week when they started. That provided enough to pay the bills, but they said they never made a profit until they actually closed Sundays. It also gave them a day to rest. Their daughters have demanding careers as registered nurses so there was no one to take over the business they built. And since the greenhouses are just yards from their home, they weren't inclined to sell just the business side of it.
So today is the last day. At 6 p.m. they'll have sold their last plant.
The shelves aren't bare, but they no longer resemble previous summers. Gone are the luscious fragrant petunias flowing from hanging baskets. The hand-pulled carts are mostly at rest. The chenille plants, with their red fuzzy, fox tail flowers, no longer hang overhead in a greenhouse overflowing with colorful blooming annuals.
A second career
A customer Monday said she keeps coming back because of Wes Urdahl's knowledge. If he seems to have a number of plant answers, it could be related to his master's degree. The former horticulture teacher spent 17 years at the vocational-technical school in Brainerd. He taught landscaping, plant identification, sales, greenhouse, insects, annuals and perennials.
"I taught everything but construction," Wes Urdahl said.
As fewer students went into agriculture, Urdahl said the program he knew ended in 1989. He looked for another teaching job and considered a move to Pennsylvania for an opening, but their roots were here. They had children, ages 1 and 2, by then.
"So we decided to start our own business," Wes Urdahl said.
The Urdahls started their greenhouses 30 years ago in April. Going into business for themselves wasn't the direction they had planned for themselves. The South Dakota natives met in Brookings. They lived next door to each other and their jobs were across the street from each other, so running into each other seemed as though it was meant to be.
Wes Urdahl was studying for his degree at South Dakota State University as was his future wife. Carol Urdahl earned a teaching degree at SDSU teaching degree, studying sociology and education. Later she worked for IBM across the street from the horticulture department. She put her business and education experience into running the business and writing a business newsletter complete with plant information and recipes.
Hostas were among his favorites with about 100 varieties in his greenhouse for perennials.
A self-described plant collector, Wes Urdahl said when they were able to travel they always stopped at other greenhouses. If they saw something interesting or unusual, it typically ended up back here such as the ground-covering roses from Texas that found their way into hanging baskets.
"We don't get rich at this business but it financed and helped us survive," Carol Urdahl said. "I'm really going to miss the people. We have such nice customers. I just think plant lovers are nurturing type people."
Building and rebuilding after tragedy
They employed up to six at one time with seven greenhouses, growing plants from start to finish. In the early years, resort clients were a heavy part of their business before it transitioned to a mostly retail operation. They always financed themselves, building up the business as it grew.
They were struck by tragedy more than once. The family suffered a terrible blow with the death of their son in 1999. Two years later, their home and business took a direct hit from the June 13, 2001, tornado. Five rows of trees, include a 30-foot blue spruce, were lost.
"It knocked down every greenhouse, our house and the garage," Carol Urdahl said. "Wes rebuilt things all by himself. I don't know how he did it."
Community members helped them dig out and cleanup. Customers overpaid for plants and told them to keep the difference. "I think every nursery in town helped us out one way or another," Carol Urdahl said. "It was just a real kind spirit."
These days customers are bringing happy retirement cards or leaving jars of rhubarb-pineapple-blueberry jam.
Over the years, they said they've enjoyed the work. One of their trademarks was a little broader hanging basket, allowing a little more earth and thus water retention to help the plants look good throughout the summer. They always sprinkled in fertilizer on the hanging baskets at the checkout counter to give the plant a boost as it went out the door. If a child was present, they typically received something extra.
"You go to the bank, kids get a sucker. When they come here, they get a flower," Carol Urdahl said.
Best advice
Wes Urdahl's best advice when starting plants is water them daily so the roots expand, then once a week so they get an inch of water and don't forget to fertilize. And, they said, buy plants from a grower.
In July, what plants they have left will go to nursing homes, Girl Scouts and the Northland Arboretum.
Monday Carolyn Frisch, Brainerd, stopped by looking for red daylilies.
"I'll make room for them," Frisch said. She previously purchased apple trees from the Urdahls, as well as plants and has been a customer since 1989. She, too, spoke of the plant quality and the Urdahls' knowledge. They knew just the red blossom to recommend. "I have a huge interest in plants," Frisch said. "I just can't resist."
On Wednesday, things will be different.
No more retail operation from 9 a.m. to 6 p.m. No need to germinate seeds in the garage in December. Seeds planted with hope in 100 germination trays, where some may grow 50 percent of the time. Seeds so tiny for wax and tuberous begonias, more than two million fit into an ounce. No need to ready tender young plants in the greenhouse in February and March. No worries about a hard, lingering winter or a cold, late spring.
Wes Urdahl plans to spend time getting his own yard back into the shape it once was before they started the greenhouses. He'll be back to growing for his own pastime and his own pace.
"We're going to miss is, but our bodies are telling us we have to quit."
RENEE RICHARDSON, associate editor, may be reached at 218-855-5852 or renee.richardson@brainerddispatch.com . Follow on Twitter at www.twitter.com/Dispatchbizbuzz .
1
/
7:
Carol and Wes Urdahl watch over plants in the greenhouse on one of the last business days. They sold one greenhouse and are working on selling another as they prepare to close their business and retire. Renee Richardson/Brainerd Dispatch
2
/
7:
Carol Urdahl says she enjoys watering and seeing plants rejuvenated each morning. Renee Richardson/Brainerd Dispatch
3
/
7:
A tumbler tomato is loaded with tomatoes and already producing ripe produce. Renee Richardson/Brainerd Dispatch.
4
/
7:
After 30 years in business, Wes and Carol Urdahl are closing their Eagle Landscape Greenhouse and Nursery business. The last day is June 30, 2015. They said they'll miss the business and the people but their bodies are telling them it's time to quit. Renee Richardson/Brainerd Dispatch
5
/
7:
Carol and Wes Urdahl will retire this week after 30 years in business with their landscape and greenhouse business just south of Brainerd on Crow Wing County Highway 45 just past the Crow Wing County Fairgrounds. Renee Richardson/Brainerd Dispatch
6
/
7:
Wes and Carol Urdahl stand in their greenhouse of annuals with the plants that remain before their their final day in business. Plants that remain will go to nursing homes, the Girl Scouts, and the Northland Arboretum. Renee Richardson/Brainerd Dispatch
7
/
7:
Wes Urdahl holds tomatoes from his tumbling, hanging tomato plant loaded with green orbs. The hardy variety is a steady producer. Renee Richardson/Brainerd Dispatch