1-2 storm punch could land in lakes region
2 storm systems expected to bring in measurable snow, cold air, gusty winds and create difficult driving conditions
The Monday morning commute could be a little tricky as the first snowstorm in a two-punch winter hit takes shape, but the midweek storm is expected to be heftier.
So after an active start to winter, snowblowers had a lengthy reprieve of late and shovelers have been more focused on clearing existing snow off roof edges. But It appears that could change this week.
The first of two systems arrives Monday, Feb. 20, with 3-6 inches possible across central and northern Minnesota and into Wisconsin. Locally, snow should start falling about 4-6 a.m. Monday with snow likely becoming moderate to heavy at times before tapering off in the afternoon. The Brainerd lakes area could get 2-4 inches with higher snowfall going to the east and along the North Shore.
The Brainerd lakes area is on the threshold of two air masses with the first storm. Blustery warmer southerly winds will shift to the northwest by the evening hours. The winter weather advisory should end at 6 p.m. Monday. The snowfall may have a little more weight to it but not to the extent of a spring snowfall. Winds could gust up to 25-30 mph leading to blowing and drifting. Consider Monday's clipper system and its snowfall, the smaller of the two storms to deal with this week.
The second storm system is expected to bring snow in waves Tuesday through Thursday. The Brainerd lakes area is on the edge of both storm systems and just how much snow lands in the region will depend on changes in the storm's path.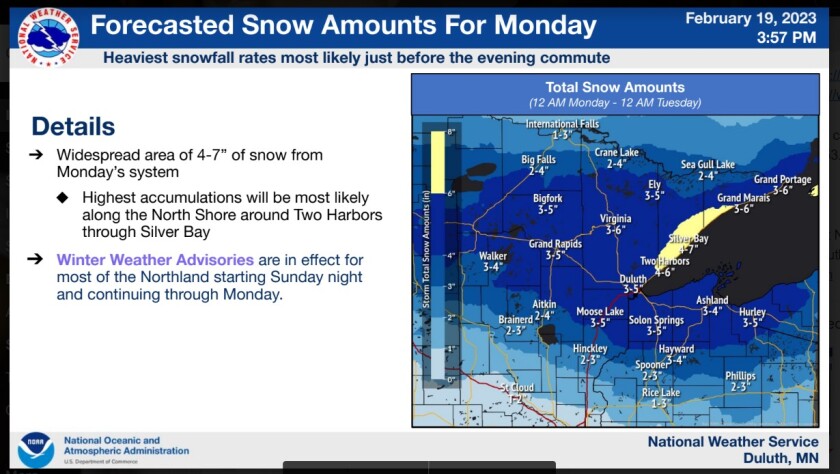 Josh Sandstrom, meteorologist with the National Weather Service in Duluth, said the second midweek storm should pass mostly south of the Brainerd lakes area with higher confidence for heavier snowfall in the Twin Cities. It is expected to have more wind with gusts of 30-40 mph with moderate to heavy snowfall rates.
But right now, Sandstrom said there is greater certainty for less snow to the far north and more snow in the Twin Cities with the midweek storm system. But central Minnesota and the Brainerd lakes area, he said, are in a zone of uncertainty for snowfall amounts.
Proposed development moves to Brainerd City Council
"There's going to be serious environmental impacts," said Kirk Soldner of Emily.
March storm leaves much of the lakes area under fresh blanket of 9-14 inches of snow.
"It's kind of areas in between, which includes Brainerd and then like Duluth, and then up to up the North Shore aways, that are kind of in this Goldilocks zone where if the storm track wobbles just a little bit, it could mean a little more snow or a little less snow for Brainerd," Sandstrom said. "... There's kind of a high probability that 6 inches of snow or more will be possible."
Higher snowfall amounts can't be ruled out depending on how the storm evolves over the next couple of days. Sandstrom said the best advice is to keep an eye on the forecast as it is likely to change, but either way lakes area residents are likely to see snow, gusty winds and traffic impacts.
The Upper Midwest and all of Minnesota was covered in notices of impending weather advisories Sunday evening, Feb. 19. A winter weather advisory is in effect until 6 p.m. Monday with a winter storm watch in effect Tuesday night through Thursday afternoon for southern Cass and Aitkin counties and Wadena and Crow Wing counties. In addition to snowfall and blowing snow, wind chills could be as low as 20 below.
Morrison, Todd and Mille Lacs counties are in a winter storm watch from 6 p.m. Tuesday through 6 p.m. Thursday with total snowfall accumulations of more than a foot possible. Winds may gust as high as 45 mph leading to areas of blowing snow and possible blizzard conditions. The National Weather Service reports travel could be difficult to impossible.
The first storm is forecast to sweep into the state and dump higher snow totals in northern Minnesota and the Arrowhead. Southern Cass and Aitkin counties, most of Crow Wing County, and points south and directly west are expected to get lighter amounts of snow — possibly 2-4 inches with Walker getting perhaps 3-4 inches. St. Cloud may get 1-2 inches.
In the second storm, the lakes area is again on the storm's edge but this time with higher snowfall amounts forecast farther south.
"A large system is expected to impact the region from Tuesday night into Thursday night," the National Weather Service reported. "Significant snowfall accumulations exceeding 8 inches and hazardous winter weather driving conditions are likely, especially from Brainerd to Duluth and southward, and over northwest Wisconsin. Make sure to stay up to date with the latest forecast as exact timing and snowfall amounts are still subject to change."
Here's a look at the timing for the two wintry systems arriving this upcoming week. This first round of snow will be a Clipper on Monday. The second, and more impactful, round of snow arrives Tuesday night into Wednesday. #mnwx #wiwx pic.twitter.com/gjALnGG4ug

— NWS Duluth (@NWSduluth) February 19, 2023
The massive system is arriving from the southwest and extending all the way to the East Coast. Because the air temperatures will be so cold, expect this snow to be drier. Sandstrom said there should be a break in the snow Monday night and into Tuesday. For the Brainerd lakes area, the second storm should move in Wednesday morning with the brunt of the storm Wednesday night into Thursday before it tapers off.
With the second storm, the weather service reported widespread snow accumulation of 3-6 inches is expected.
"The second, more impactful, system will arrive Wednesday and continue into Thursday night," the National Weather Service in Duluth reported in an update Sunday. More than 6 inches of snow is likely for a large portion of the area, the weather service stated.
With the second storm, the potential for higher snow totals goes from a low chance in northern Minnesota to a better than half-chance across most of the central part of the state, including the lakes region and then goes up considerably south of Morrison County and across the southern two thirds of Mille Lacs County.
For Todd, Morrison and Mille Lacs counties, "the first Tuesday evening through Wednesday morning will see totals of 4 to 8 inches of snow," the weather service reported. "There will be a lull before snow picks up again Wednesday evening where an additional 8 or more inches of snow could fall."
How likely is the heavier snowfall?
Probability for receiving 8 inches or more of snow from 6 p.m. Tuesday to 6 p.m. Thursday: The lines aren't absolute or straight but cover a gradient across area counties.

26% for northern Cass County.
39% for central Cass County and northern Crow Wing County.
58% for much of Crow Wing County and southern Cass County.
61% for western Aitkin County.
78% Todd County,
80% for Morrison County,
97% for southern Mille Lacs County,
Probability of getting more than a foot of snow from 6 p.m. Tuesday to 6 p.m. Thursday goes from about 12% in northern Cass County to about 31% in central Crow Wing County to 46% in much of Morrison County and up to 72-87% in Mille Lacs County.
Confidence continues to increase in a significant winter storm impacting the Northland mid to late this upcoming week. Accumulations of 8" or more are likely across a large portion of the area, especially in northwest Wisconsin #mnwx #wiwx pic.twitter.com/YmYt1a2o5V

— NWS Duluth (@NWSduluth) February 19, 2023
Once the snow does fall, strong winds could cause blowing snow late Wednesday through Thursday and make for difficult driving conditions. Brainerd is forecast to experience maximum wind gusts of 38 mph. Gusts could be stronger in parts of southern Crow Wing County and in western Morrison County. The weather service stated there could be widespread gusts from 30-35 mph.
"Dangerous travel conditions will be possible, especially on Thursday," the weather service reported.
The weather service will update its storm outlook Monday morning.
Keys with the forecast from the National Weather Service include:
Widespread snow is expected on Monday with accumulations ranging from 3 to 6 inches. Higher amounts of 5 to 7 inches will be possible along the North Shore around Silver Bay due to lake enhancement.
Confidence is increasing that a significant winter storm will impact the region from Tuesday night into Thursday night.
Snow accumulations of 8 inches and more are becoming increasingly likely from the midweek system, especially over northwest Wisconsin and Pine County.
Exact timing, location of the heaviest accumulations, and snow totals are still subject to change between now and midweek.
Significant snow accumulations in excess of 8 inches from the midweek system could lead to dangerous winter driving conditions. In addition, gusty winds could also produce blowing snow and reduced visibility.
After the storms move out of the area, expect cold air while digging out. The forecast calls for mostly sunny skies Friday but cold air with a high near 11 degrees and breezy conditions will give the cold even more bite. The weekend calls for partly to mostly sunny skies and highs in the mid-20s and continued breezy conditions. The longer outlook indicates a return to more seasonal temperatures in the 20s.
Before traveling, check on the latest road conditions by calling 511 or go online to www.511mn.org .
How many days until spring you ask? The good news is that it is getting ever closer. The first day of spring is March 20.
Renee Richardson, managing editor, may be reached at 218-855-5852 or renee.richardson@brainerddispatch.com. Follow on Twitter at www.twitter.com/DispatchBizBuzz.