$1.8M budget deficit continues to plague Brainerd Public Schools
School Board members approved a preliminary budget Monday with a $1.8 million deficit.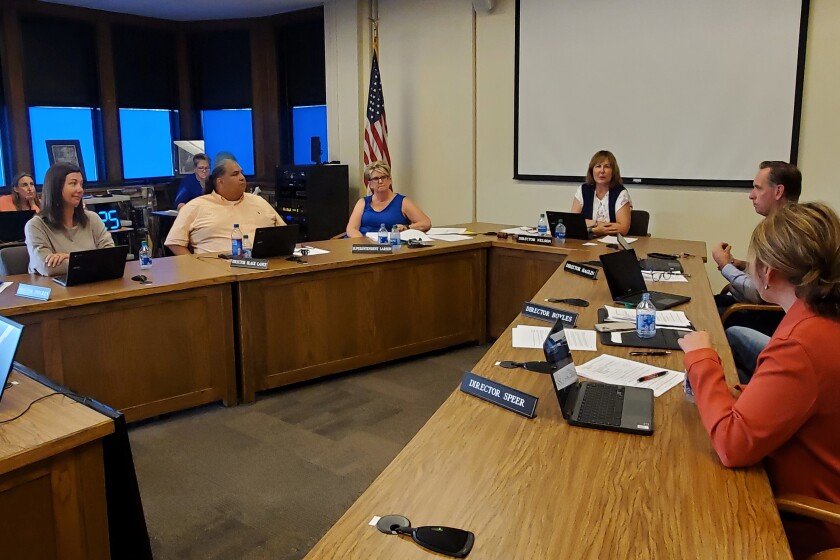 We are part of The Trust Project.
BRAINERD — Brainerd's status as one of the only Minnesota school districts without an operating referendum is becoming more and more apparent.
The approval of a preliminary 2022-23 budget with a nearly $2 million deficit Monday, June 13, prompted School Board members to throw around ideas like a hiring freeze, staffing and program cuts and an operating referendum.
"We can't keep cutting our way out of this," Superintendent Laine Larson said. "We are one of the best school districts in the state of Minnesota, and we can't keep cutting our way out of this if we want to stay there."
Larson, who is set to retire at the end of June, said Monday the saddest part of her six-year tenure in Brainerd was the inability to turn the budget around and add new programs. The district was on the verge of doing just that in 2020, she said, but the COVID-19 pandemic hit and threw all those plans out the window.
Declining enrollment, an increase in salaries and benefits for negotiated labor contracts and higher transportation costs are large factors in the deficit, which is roughly equal to the deficit seen in the 2020-21 school year.
While there are several unknowns that could still affect the final budget, board members Tom Haglin and Charles Black Lance said they were not comfortable with that sort of deficit and voted against the preliminary budget.
"We're kind of hanging our hats on hoping we get more students, hoping the state might give us some more dollars and hoping our current fiscal year comes in better than anticipated," Haglin said. "But what happens if none of those come around? What's the backup plan? What's the plan of the board then so that we don't go down to this kind of large deficit spending?"
Even though the roughly $1.82 million deficit in the district's unassigned general fund seems large, Business Service Director Marci Lord said it only equates to about 1% of the operating budget. Money in the unassigned general fund is essentially the district's rainy day fund and can be used for anything without restriction. The district ended fiscal year 2021 with $10.8 million in that fund. That dropped to $8.9 million the following year and is expected to sit at about $7.09 million in fiscal year 2023, which is the 2022-23 school year.
Worst case scenario, if the deficit stood, Lord said, staff would plan the following year's budget around that and determine what kinds of reductions would have to be made to overcome the deficit.
Haglin then asked about reversing the process, assuming the unknowns won't pan out.
"Do we adjust according to what the knowns are?" he asked. "And if we're blessed with student enrollment, current fiscal year coming up better than what we thought, then we look at adding a program or something like that. I'm concerned about spending money that we don't have."
The major unknowns that could still affect the budget include enrollment for the upcoming year, the cost of meals, state funding and how coronavirus relief funds can be used.
The preliminary budget projects an enrollment decrease of 69 adjusted pupil units. Adjusted pupil units are calculated based on student attendance and weighted based on grade level. Students in seventh through 12th grades are weighted as 1.2, while younger students are weighted as 1.
The district ended the last school year with 6,667.2 pupil units, which translates to 6,075 average daily membership, a calculation used by the state to determine funding amounts. Average daily members equates to the total number of students' attendance days divided by the number of school days in a year. The total student count in May 2022 for the 2021-22 school year was 6,402, compared to 6,483 at the end of the 2020-21 school year.
In her enrollment report last month, Lord showed board members how many school district residents were enrolled elsewhere. Measured in average daily membership, there were about 812 enrolled outside the district in the 2020-21 school year, the result of a steady increase from 532 in 2011-12. Assistant Superintendent Heidi Hahn told the board Monday the district lost 64 students to online options between spring and fall 2021 for various reasons.
With the enrollment decline, board member Jana Shogren asked about the status of the district's online curriculum program, as some students lost over the past school years moved to online learning options.
Board members approved an online learning plan in 2020, adding online options for both core and elective classes for high school students. There were six online courses available last fall and 10 in the spring semester.
Hahn said 69 high school students were enrolled in online classes this past spring, ranging from American history to video game design to college-level accounting. The ultimate goal is to have a fully comprehensive online learning option for high school students by 2024, but Hahn said that will mean extra staff, as right now many current teachers are working beyond their contracted hours to provide the online courses.
While meals for students were free during the past two school years, whether that will happen again is uncertain. The free meals are built into the budget right now, but if that isn't the case, costs could increase, as Lord said the district's reimbursement for the free meals is greater than the price students would pay. Superintendent Larson also noted the cost of food and transportation has increased and could amount to a huge cost for the district.
The state's budget surplus could help with the deficit, but unless the Minnesota Legislature calls a special session, the district would not see those funds.
During the last session, legislators announced an education spending and tax relief package with the state's surplus funds. In the package is $1 billion for early childhood through 12th grade education. Lord said Brainerd's share of that could be around $2 million, but that amount isn't certain. Legislators did not approve the bill during their session, a move board member Kevin Boyles said Monday was ridiculous.
"To be sitting here in the middle of June with no idea what our funding is is unconscionable, and our entire state Legislature, in my opinion, should be held accountable for it," Boyles said, later adding: "If you can't call a special session on account of, or for the benefit of the children of your state, there's something fundamentally wrong with you as a legislator."
The last major unknown is coronavirus relief funding, some of which is already built into the budget. The district also has $2.2 million from the state to use to combat learning loss by 2024. Lord said the district's plan is to use $1.1 million of that this year and again next year for current staff members who are doing targeted teaching, but she is still waiting to hear back from state officials on whether that is an acceptable use.
Board members approved the preliminary budget 4-2, with Black Lance and Haglin opposed.
Board Chair Ruth Nelson said she isn't happy with the deficit spending but understands things could change. Shogren said board members need to support their administration, as district leaders have done all they can on the budget, and it is now up to the board to make difficult decisions going forward.
Boyles said he wasn't necessarily happy with the preliminary numbers either but was able to rationalize his yes vote.
"The fiscal conservative inside me is screaming a little bit right now," Boyles said. "... I think ordinarily kicking the can a year is a bad idea, but in this particular year, in this particular time, with all these particular variables, with a transition of leadership, with the pandemic, with all of these things, I can rationalize it to myself."
The preliminary budget is due to the state by June 30. Lord will bring revisions to the board in the coming months as more concrete numbers come in.
THERESA BOURKE may be reached at theresa.bourke@brainerddispatch.com or 218-855-5860. Follow her on Twitter at www.twitter.com/DispatchTheresa .