Council reviews plans for future Baxter park overlooking river
Overall, the public preferred light development, educational opportunities for local schools and colleges and amenities complementing other local amenities. There was also a desire for silent sports, extended camping and park accessibility.
BAXTER — After conducting a long study, SRF Consulting Group hopes to implement silent sports, educational opportunities and much more into plans for the Mississippi River Overlook master plan.
Baxter City Council met in a work session on Sept. 6 to discuss and review the Mississippi River Overlook master plan.
The Mississippi River Overlook Park is a city-owned open space in southwest Baxter. The area spans over 880 acres and the city plans to turn it into park space.
A study this year resulted in two master plan ideas presented to the council. The study included a review by the Project Advisory Committee, which met four times: a neighborhood meeting, two open houses, and a pop-up meeting at a local farmer's market. There is also a Wiki map available for online comments throughout the study at bit.ly/367oS4T .
Based on public feedback, SRF Consulting Group gathered a list of priorities to consider when developing a master plan.
Overall, the public preferred light development, educational opportunities for local schools and colleges and amenities complementing other local amenities. There was also a desire for silent sports, extended camping and park accessibility.
Some of the amenities proposed on the master plan include soccer fields, a dog park, an outdoor education area and more.
In addition to being presented to council members, the master plans were also presented to the Parks and Trails Commission and the Long Range Planning Commission. Both groups leaned toward Master Plan A.
The main difference between the two master plans concerns the future Camp Ripley Veterans State Trail. On the favored Plan A, the trail heads north near Island Lake and provides more land to be leased to third party organizations. The trail continues westward in Plan B and cuts the amount of outsourced land in half.
The Parks and Trails Commission went over the plans during its Aug. 22 meeting and members noted Master Plan A was their preferred plan. Commission Chair Melissa Barrick said she liked the idea of a dog park on this land.
Commissioner Mari Holderness asked if the only way to get to the park is Oakdale Road. Community Development Director Josh Doty said yes, noting it is a long hike to the river. He said getting a new parking lot closer to the river would help with people who can't take that long of a walk.
The Long Range Planning Commission also reviewed the plans during its Aug. 22 meeting and noted it preferred Master Plan A.
Council member Mark Cross said the city should be careful when thinking about leasing the land. He added it might seem like a lot of acreage now, but in the future it may not be considered a lot of land and the city could regret giving too much away by leasing to third parties like the DNR. He mentioned this in both park meetings he attended.
"We're not getting any more park land and it's hard to establish a park when we aren't getting any park dedication fees," Cross said. "That's the only way that you're potentially going to buy more land, with park dedication funds. Where are we going to be in 50 years?"
Cross voiced his concern over the idea of leasing land, what the lease would contain, and how the city would get that land back if it ever decided it needed to. He also raised questions about where the plan locates the recreational area.
Cross questioned if an active recreational area should be next to a wildlife management area. He said the need for (athletic) fields is now, not down the line, and the north area may be needed for a sports center of some type.
Barrick reiterated what the Parks and Trails Commission discussed about creating one area for all of the soccer and baseball fields or complex in one location.
Barrick said a potential lease was unknown and access was questionable unless additional funding became available for Paris Road. She added a lot of people would like to see a dog park and the location is very conducive to that type of use.
Cross reiterated wanting to keep a majority of the land.
Cross and Barrick agreed there is not a lot of park land out there and the only way of getting additional park land is with development.
The Parks Commission ultimately decided to recommend Master Plan A to the council.
After hearing the presentation during the meeting, council members had time to discuss their own feelings on the project.
Council member Zach Tabatt said he thinks the plan is excellent and thorough, but has some confusion on the history of the conversation.
"I remember before I was on the council, I was in the audience and I think there was a 4 to 1 vote on accepting the Island Lake property," Tabatt said. "I remember wondering why that one person stated that we shouldn't take this land because there's hidden costs every time you accept free land."
He said he remembered being told over and over the land would not cost the city any money and he was under the impression it would have been taken over by another entity by now.
"I'm a little bit wary about putting this in a solid, written plan that this will happen at a price tag of about $8 million after just remembering the conversation that we had," Tabatt said.
Tabatt said the proposed plan is great but he believes the council should take more time to discuss the plans before they vote to approve anything.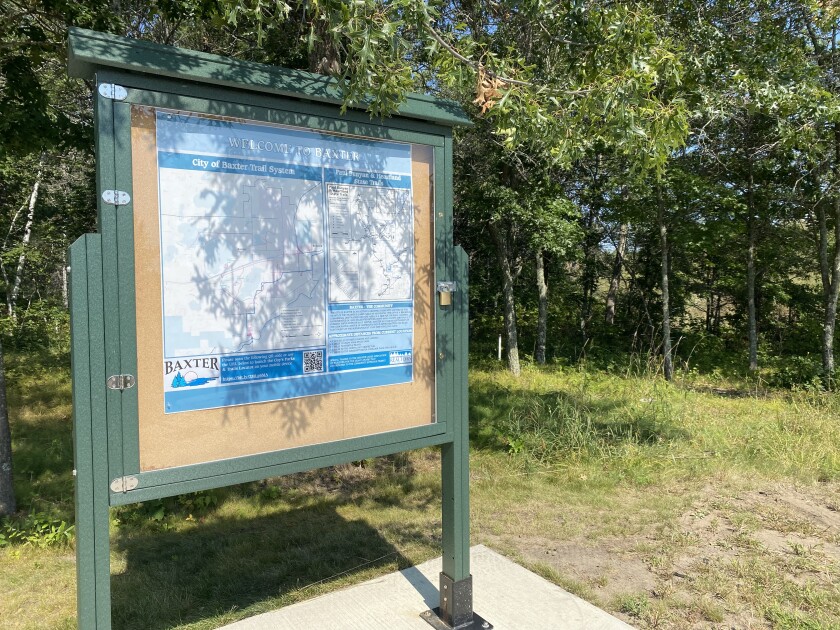 Mayor Darrel Olson also mentioned he would like to potentially hear from the DNR.
Later, during the regular council session, Tabatt said he is looking forward to the next Economic Development Authority meeting.
"I think that it would be nice for us to talk through the EDA options to move some land and try to move forward with being a little more active," Tabatt said. "I think tonight's conversations on all levels kind of convinced me that if there's something that we can do to spur new development or offload land that is just sitting right now that we could use for economic development. I think that would be worth looking into again, and more actively."
The work session closed with the consensus the council members would need further discussion before they felt ready to vote on anything.