Brainerd council sends zoning code back to planning commission
The rewritten code is a culmination of nearly a year and a half of work in which city officials and staff, along with consultants, have worked to simplify the code and make it more user friendly.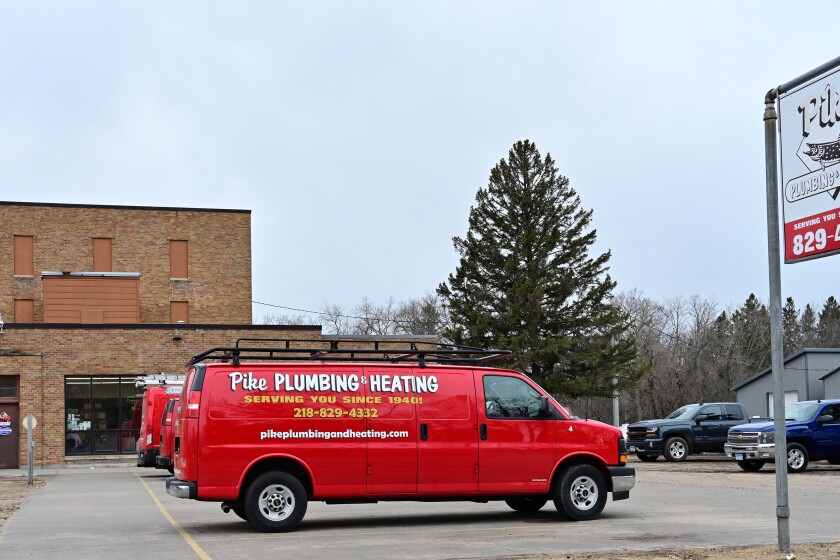 BRAINERD — Brainerd's rewritten zoning code will undergo more scrutiny before final approval after concerns were brought forth during a public hearing.
Half a dozen people spoke against some of the changes in the new zoning code during a City Council public hearing April 4.
The rewritten code is a culmination of nearly a year and a half of work in which city officials and staff, along with consultants, worked to simplify the code and make it more user friendly.
Among the changes are the consolidation of zoning districts and an allowed use table, which consultants said would help reduce non-conformities in the city.
But non-conformities were precisely the issue many of the speakers had, as parcels of land with businesses on them currently zoned industrial would see changes. One area is a small strip of land in south Brainerd along Brook Street that includes businesses like Pike Plumbing and Heating and Gull Lake Sandblasting and Powdercoating.
Under the new code, that land would change to CN-2 for contemporary neighborhood use, which is intended for predominantly single-family detached residential uses and associated accessory uses.
Robert Despot, who owns the land where Pike Plumbing and other businesses sit, said the changes would make those properties non-conforming.
Gull Lake Sandblasting owner Jeff Strobel said he doesn't understand that change, as residential zoning would not do him any good and would essentially put him out of business.
Despot said he only realized the zoning changes were happening by taking a magnifying glass to the new map, as he was never directly approached about the change.
"I believe the goal — any goal — of city planning is to encourage more development and more employment in the city, and the easiest way is by keeping the existing businesses that we already have and not trying to get them to move out of town. So I'm asking the council, whatever you do, at least leave these two parcels zoned industrial so that we can continue employment in Brainerd," Despot said, speaking of his parcels on Brook Street and Washington Street, where Brainerd Hydraulics/Air is located.
While the change would make the Brook Street businesses and Brainerd Hydraulics legal non-conforming lots, Community Development Director David Chanski said during a phone interview this week that would not mean the businesses would have to move or change. They would be able to continue on in those locations as they currently operate and even sell their companies to a new owner with a similar use in the future. What they could not do as a legal non-conforming property is expand the existing footprint of the business at that location or sell to a different type of commercial enterprise.
Chanski said the reason for the change is because staff took into account the future land use map that is a part of the city's comprehensive plan. The land use map sets forth the parameters of what kinds of development the city wants to see in certain areas of the city.
Mike Higgins, owner of the Brainerd Industrial Center and the Northern Pacific Center, also spoke out against the process of changing the code.
"To be honest with you, I don't even know what is being changed with my properties. I've heard rumors," Higgins said, noting he was in meetings all day up until the council meeting. "… But I'm very disappointed in the process because from what I understand, my properties are going to change under this new zoning code. I could be wrong, but there's something wrong with the process here because these two properties total about 140 acres. They're two of the oldest industrial properties in the city of Brainerd, and I can't believe that somebody wouldn't have been calling me and sitting down with me and talking to me about these changes."
Both of Higgins's properties are currently zoned I-2 for general industrial use. Under the new code, the Brainerd Industrial Center would move to general industrial, while the Northern Pacific Center would change from mixed use to town center.
"If (Brainerd Industrial Center) goes to a general or an I-1 or gets changed away from I-2, and I have to go through a CUP process, I'm going to be upset. We're going to have a problem," Higgins said. "So I don't like the fact that there's major changes like this going on and somebody hasn't sat down face to face with me and talked to me. I've put a lot of money into this town, both those properties. And I want to put a lot more into them, but if I have to start going through planning and zoning to do stupid little stuff that I've been zoned for, I'm not going to be happy about it."
I-2 under the current zoning code and general industrial under the new proposed code are defined in the same manner — to provide for the establishment of heavy industry and manufacturing development and use which, because of the nature of the product or character of activity, requires isolation from residential and commercial uses. The use, then, of the land with the Brainerd Industrial Center would not essentially change under the new code. Chanski said there is so little difference between the city's two industrial zones right now that staff felt it best to combine them into one industrial zone.
The town center zoning district, which would encompass the Northern Pacific Center under the new code, is meant to encourage the continuation of a viable, traditional downtown area by allowing retail, service, office and entertainment facilities and public and semi-public uses as well as multi-family dwelling units.
The mixed use zone the Northern Pacific Center is currently in encompases both business and industrial uses, while the town center zoning would also allow a variety of commercial and light industrial use, as well as residential if desired. Manufacturing and warehousing would be an allowed industrial use, Chanski said, though uses like raw materials and other heavier industrial uses would not.
Chanski said staff tried to fit the new code to the vision Higgins has for the Northern Pacific Center.
Council member Kevin Stunek said he thought there were some legitimate issues brought up that he would like the Planning Commission to address before the council approves the new code.
Council member Gabe Johnson agreed, saying the council was told the new code would mean fewer non-conforming lots in the city but were never told how many currently conforming lots would become non-conforming.
The council will host a public hearing on the new code at its next meeting.
Council member Dave Pritschet said new non-conforming properties are definitely an issue. But he added he felt city staff did a fairly good job disseminating the information to the community, though there was a lot of information to go through, and the public needs time to be able to look through it all.
After running his campaign on being business friendly, council member Mike O'Day said the council should not be changing zoning for any existing businesses. While he thinks the new code is essentially fine, the council needs to slow down a little bit, he said.
Mayor Dave Badeaux said he appreciated the council member's thoughts, as this process has been a long one with a lot of information to sift through, and he wants to make sure the council gets it right.
Council member Tad Erickson, who is the council liaison to the planning commission, spoke in favor of the new code and the process to create it but added that he, too, wants to get it right and is OK with sending it back to the Planning Commission for further review.
"I think the updated document is very good," Erickson said. "Does it need some tweaking? Every plan does; every ordinance does, so I think it'll be a positive development to send it back, address these concerns, do some further outreach."
The Planning Commission's next meeting is at 6 p.m. April 20, during which commissioners will look at the specific areas brought up during the public forum and any other areas that would see significant zoning changes under the new code.
THERESA BOURKE may be reached at theresa.bourke@brainerddispatch.com or 218-855-5860. Follow her on Twitter at www.twitter.com/DispatchTheresa .