Brainerd lakes area hit with multiple storms Monday
As of Tuesday evening, area emergency personnel reported no injuries as a result of the storms.
We are part of The Trust Project.
Cleanup continued and thousands of people remained without power Tuesday, May 31, after two powerful storms rolled across the Brainerd lakes area the day before, damaging power lines, trees and property.
The hardest hit areas in Crow Wing County from the Monday afternoon storm were to the north and east of Brainerd, said John Bowen, Crow Wing County emergency management director. Also impacted was Brainerd, with Lum Park reporting damage, Bowen said.
"We're currently still doing damage assessments and I'm collecting information from the cities and townships and from our co-ops," Bowen said. "Yesterday morning we had a storm come through primarily in the southern part of our county, kind of the South Long Lake area, Fort Ripley and Deerwood; kind of central, south-central and southern part of the county."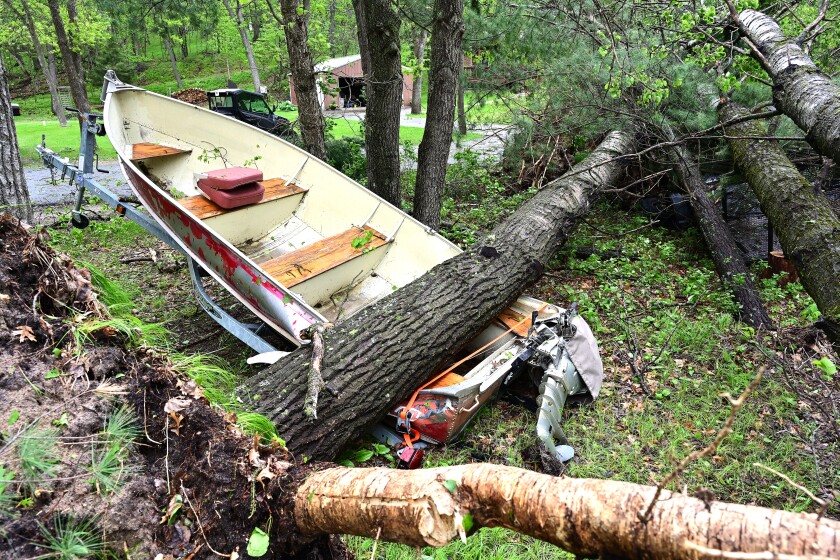 As of Tuesday evening, area emergency personnel reported no injuries as a result of the storms.
Char Kinzer, public relations manager for Crow Wing Power, said power will not be fully restored for multiple days — the first multi-day outage event for the company since 2016, she noted. At the peak Monday night, about 11,000 customers were without power, representing more than a quarter of the electrical co-op's customers. Visit bit.ly/3GDj3dn to view Crow Wing Power's outage map.
"That's the biggest number I've seen in all my years here, at one time," Kinzer said. " … The storm damage is tremendous out there."
About 10,000 Crow Wing Power customers remained without power as of Tuesday afternoon as transmission companies, such as Minnesota Power and Great River Energy, also work to repair lines and restore electricity.
"It's a frustrating day for people out there," Kinzer said. "It's a good lesson learned that we all need to be more prepared for this where we live."
Minnesota Power reported assessments of storm damage made it clear the company also faced restoration spanning multiple days. As of 4:30 p.m. Tuesday, a total of 4,126 customers were without power across 143 active outages.
"As our crews fully assess damage from Monday's storms, it's clear from amount of damage to infrastructure it will be a multiday power restoration effort for the hardest-hit areas. The worst damage is in the area of Little Falls N. to Coleraine & from Eagle Bend to E. of Crosby," a tweet stated. "We understand the inconvenience & appreciate customers' patients & understanding as we restore power safely & as quickly as possible."
Visit mnpower.com/OutageCenter to report an outage, view the map and view information about what to do if power was lost and a guide for how the company restores power.
At the height of the storm, more than 1.36 inches of rain were reported to have fallen in less than one hour at the Brainerd Lakes Regional Airport, accompanied by strong winds. The National Weather Service in Duluth also received reports of 0.7-inch hail up to an inch in diameter in Hackensack, and other hail reports in Breezy Point and Pine Center.
The city of Eagle Bend in Todd County experienced extensive property damage, including destroyed grain bins and other structures as shared in drone footage on the Todd County Sheriff's Office Facebook page. The sheriff's office warning people Monday night to stay away from the city as emergency crews worked to clear buildings and assess damage.
"There was extensive property damage as a result of the storm however no injuries or fatalities were reported," the sheriff's office stated in a Facebook post late Monday. "Emergency personnel and power company crews have the majority of roads cleared in Eagle Bend. The power company has a lot of work to do yet and power could be out to the area for up to 48 hours. Please check on your neighbors, especially the elderly in the coming days."
In a news release, Cass County Sheriff Tom Burch said during Monday evening's storm the sheriff's office received notice from the National Weather Service in Duluth concerning a tornado warning for west-central Cass County and dispatchers activated the emergency sirens and other warnings.
Radar indicated a tornado was reported in the Backus area, Burch said. The National Weather Service will conduct an assessment to determine if damage in the area was from an actual tornado.
The most extensive damage in Cass County occurred in Poplar and Byron townships, according to the sheriff's office. Several structures were damaged, along with a grain silo and two center pivot irrigation systems, the release stated. At this time, early damage estimates to public infrastructure in Cass County were approximately $120,000 but quickly growing, Burch said.
Crow Wing, Morrison and Aitkin counties continued receiving preliminary damage reports and did not have monetary damage assessments as of Tuesday afternoon.
The winds accompanying the storm were strong, with gusts of close to 70 mph reported in some areas. On North Long Lake's Merrifield Bay, former Brainerd science teacher Dave Tuchscherer reported his boat lift was damaged after winds picked it up, carried it over a pontoon and two dock sections, and dropped it back into the lake about 20 feet away.
Crews across the region worked throughout Tuesday to clean up tree damage.
"I've seen the trucks out and they were already getting power on," said Rob Birkeland, Ideal Township fire chief. "We had our full department out with township equipment and then we had some of our firemen bring in their personal equipment. It took us about three hours to clear and make all of our roads passable last night."
Birkeland said most of the roads were open in Ideal as of Tuesday afternoon, though he was expecting more trees down throughout the day with the high winds coming into the area and the soil already saturated with water.
Though Nisswa didn't get much rain Monday morning, Nisswa Fire Chief Shawn Bailey said his city was hit hard by the late afternoon storm.
"We went out and cleared roads, found numerous power lines down, cleared numerous trees off of the roads — I think 17 total is what we came up with," Bailey said. "We did have one tree that hit a propane tank. AmeriGas stepped in and took care of that problem."
Crosslake Police Chief Erik Lee said his city had extensive tree and power line damage, and he asked the public for patience as crews work to clear and make repairs.
"There is damage all over town with trees and power lines tangled up," Lee said. "The public works crew can't get to them right now due to Crow Wing Power having so much damage that they can't get to everything as quickly as they want to. So we still have some roads that are closed and we just gotta be patient and let the crews do their job."
To the east of Brainerd in Aitkin County, Sheriff Dan Guida said they did not receive as much of the damaging winds as Crow Wing County but still had power outages for a significant portion of Aitkin and a few trees down throughout the county.
Guida said he couldn't remember getting severe storms this often and early in the season.
"I don't ever remember a May where we had weather like it's July," Guida said. "You know we get some severe thunderstorms and stuff in July and June, yes, but this early."
County officials also reminded everyone to remain vigilant while traveling over the next few days.
The U.S. Department of Agriculture Farm Services Agency asked for any reports of damage to agricultural structures, crops or livestock to provide accurate information on disaster events. Reach the Baxter office at 218-829-5965 or the Wadena office at 218-631-2876.
Billie Ray Clark was convicted of sexually assaulting a 14-year-old girl in Brainerd in 2020.
TIM SPEIER, staff writer, can be reached on Twitter @timmy2thyme , call 218-855-5859 or email tim.speier@brainerddispatch.com .