Carr announces reelection bid for Wadena County sheriff
Mike Carr has served as sheriff for 15 years.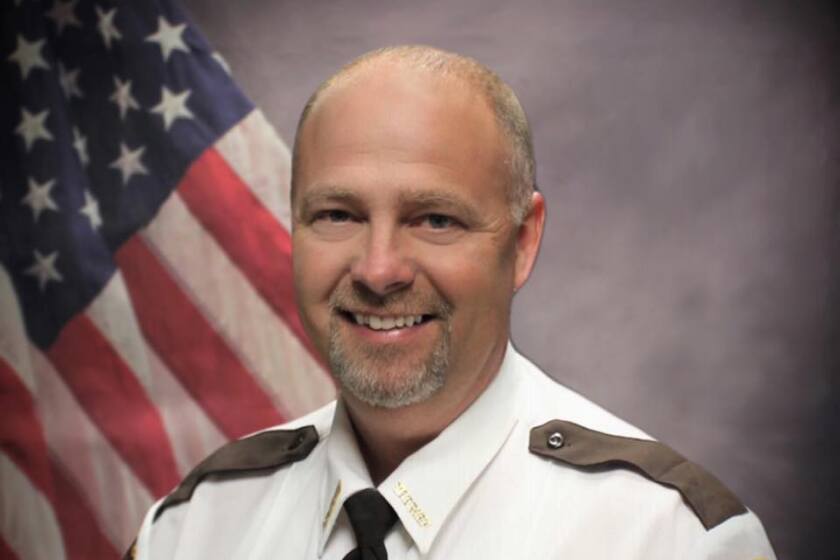 WADENA — Wadena County Sheriff Michael D. Carr Jr., a 28-year veteran in law enforcement, announced Thursday, May 5, he will be seeking reelection in November.
Since becoming sheriff 15 years ago, Carr, in a news release, said he worked to enhance his leadership skills and grow in the position. He graduated from the National Sheriff's School, is past president of the Minnesota Sheriff's Association and is currently serving as a member of the Minnesota Sheriff's Association's Legislative Committee. Carr said he believes "every voice counts" at the Capitol when it comes to state leaders implementing change, especially changes that affect rural areas, and specifically Wadena County.
Closer to home, Carr also serves on the board of directors for the West Central Drug and Violent Offender Task Force and on the Todd-Wadena Community Corrections Board.
The decision to seek another term was not one that Carr said he took lightly.
"I appreciate all the support I have received and continue to receive as your sheriff," he said. "This is a position that cannot be taken lightly, and I have made it my priority to take every day seriously as I work for the people of this county."
Law enforcement as a whole received a lot of negative publicity in the past several years, Carr said, but he has seen firsthand the support that law enforcement receives from residents in Wadena County. That support, he added, comes in many forms, from simple "Thank yous" shared with deputies out in public, to personalized cards delivered to the sheriff's office.
"It may not seem like a big deal to some, but it can absolutely make the day of those who receive it," Carr said.
Carr said he is committed to keeping Wadena County's law enforcement innovative, progressive and proactive. He believes he and his dedicated staff have done a good job of meeting stated goals and they continue to set higher goals. Carr said he is proud of his staff, and hopes the public they serve are, too.
"Each time we have been faced with a major incident, we have answered the call and persevered," Carr said.
With 25-year veteran Joe Schoon as his chief deputy, Carr said he feels strongly his team can overcome any adversity they face. In times of crisis or a major incident, proven leadership and experience plays a big role, he added.
"Unfortunately, Wadena County has seen a number of major incidents during my career, but each one has made us stronger, and brought the county and all of its communities closer together as a whole," Carr said
The sheriff credits his mentors, along with current and former staff, for his success in the role. "Without them, this is all for nothing," Carr said. Each member of his staff is sworn to protect citizens' liberties and rights, just as he does as sheriff, he said.
The sheriff's deputies patrol thousands of miles per month collectively, working to be visible in all corners of Wadena County. In addition to its patrol division, the sheriff's office is also responsible for a 27-bed correctional facility and the county's 911 answer point. Oversight of a correctional facility is not a task every sheriff in Minnesota has, but Carr said he is proud of the work his staff does to maintain an aging jail, all while being responsible for the well-being of up to 27 inmates.
As important features of the public safety system, there are no "days off" for the jail or dispatch center. "The lights are on 24 hours a day, 7 days a week, 365 days a year," said Carr.
Carr also prides himself in building and maintaining good working relationships with all the communities in Wadena County.
"Positive working relationships are the cornerstone of public safety," he said.
Carr said he strives to maintain a positive relationship with all the fire departments, first responders and EMS crews in the county. His staff also works collectively with police departments in Wadena, Verndale, Sebeka, Menahga and Staples, as well as with the Minnesota State Patrol and DNR, to maintain public safety at all levels. And for the communities of Aldrich, Nimrod, Oylen, Bluegrass and Huntersville, which do not have their own dedicated police departments, Carr and his staff work to ensure the citizens of those rural communities can sleep peacefully at night, knowing their public safety needs are covered.
"There are still a few bad apples among us, but we will not rest until those who commit a crime in Wadena County are identified and prosecuted," said Carr.
As sheriff, Carr said he has proudly issued thousands of permits to carry firearms during his career.
"I was sworn to protect the constitutional rights of Wadena County residents, and will continue to protect and fight for them, including your Second Amendment rights," he said.
In addition to his firm belief in and support of the tenets of the U.S. Constitution, Carr said his core values start with his faith.
"God, family and freedom are my foundation," he said.
"To say my experience as your sheriff has been humbling would be an understatement; it has been the opportunity of a lifetime to serve as Sheriff in the county I was raised in, and in which I raised my family," Carr said. "I will continue to honor my promise of being fiscally responsible with your hard-earned dollars, while continuing to be tough on crime. I will make sure that Wadena County's roads, parks and communities are safe for everyone to enjoy — both residents and visitors.
"I want to thank everyone for their continued support while I have served as your Sheriff these past 15 years. More than ever before, proven leadership is essential for strong law enforcement, especially in the office of Sheriff."