City officials continue debate over alcohol usage in Brainerd's parks
A joint workshop between the Brainerd City Council and Parks Board Monday, Feb. 27, furthered discussion on the topic of allowing alcohol in city parks.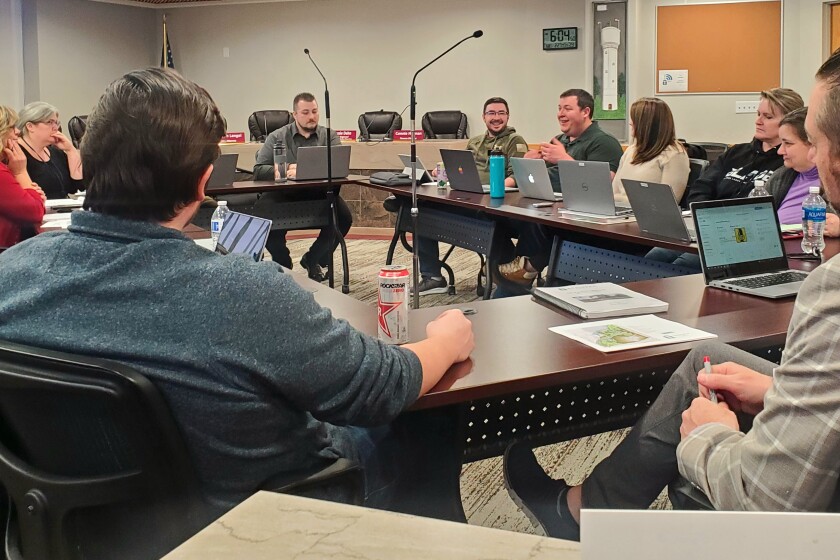 BRAINERD — Discussion continues on allowing alcohol under certain circumstances in Brainerd's parks.
While alcoholic beverages are often seen at adult softball games at Memorial Park and around campfires in Lum Park, those who bring their own drinks into city parks are technically violating code. City officials are looking to update their code to both reflect what's already happening in the parks and allow wider consumption of alcohol.
Discussions have been ongoing for months, and officials came to somewhat of a consensus during a joint City Council and Parks Board workshop Monday, Feb. 27.
"We either need to shut down a lot of things that are happening or change the ordinance," council member Gabe Johnson said.
Right now, alcohol consumption is not allowed in city parks, with the exception of Memorial Park, where city code allows limited on-sale liquor licenses to be granted to professional baseball organizations and concession stand vendors. The consumption of alcohol under that provision is limited to vending structures and seating areas on the premises and only during scheduled adult activities. Spectators and players, however, are not actually allowed to bring their own alcohol into the park for consumption, even though many do so without consequence.
Council and Parks Board members have generally agreed they want to allow alcohol during softball games and during permitted events in certain parks.
Some concern on the issue has come from council member Kara Terry, who has said more than once she is not in favor of a blanket allowance of alcohol in all the parks but could get on board with certain parks or events.
Officials agreed they don't want alcohol around scheduled youth events but expressed interest in allowing alcohol consumption to be tied to an application for a specific event or a reservation of a pavilion or other park facilities.Conversation Monday night revolved around which events could fall under acceptable uses and how to enforce the code requirements, especially with informal events, such as family reunions or other parties that might reserve a park pavilion.
"I'm beginning to think that we're just making this vastly too complicated," Parks Board member Kevin Yeager said. "I'm beginning to come around to the mindset of either we say 'no alcohol' or 'alcohol open' and then just deal with bad behavior on a case-by-case basis."
Johnson said he likes the simplicity of Yeager's binary options but does not want to keep usage illegal and believes there still needs to be some sort of framework for enforcement purposes.
Later on, Yeager said he could also be on board with allowing alcohol consumption in some parks while designating others as alcohol free.
Board member Johnathan Miller said that idea could work, as certain events are tied to certain parks. For example, adult softball takes place at Memorial Park, so officials would likely not want to designate that one as alcohol free.
To recap Monday's discussion, city staffers noted the following takeaways:
Alcohol consumption would be tied to permitted events and reservations.
Event permits would go through the Park Board.
Facility reservations (like pavilions) would be approved administratively.
The sale of alcohol could be allowed during larger events with the proper licenses.
Staff members felt they could draft proposals based on those guidelines and recommended Parks Board members begin discussions about which parks they would potentially like to see remain alcohol free.
THERESA BOURKE may be reached at theresa.bourke@brainerddispatch.com or 218-855-5860. Follow her on Twitter at www.twitter.com/DispatchTheresa .