Dispute drags on over Crow Wing County hunting land access
As the township officials for the Unorganized Territory previously known as Dean Lake Township, Crow Wing County Board members must eventually act on the petition, having determined Middleton and his ownership partners qualify for the cartway they seek.
BRAINERD — More than three years have passed since John Middleton began the petition process to set a permanent route to his landlocked hunting land, and the clock is still running.
Crow Wing County commissioners expressed frustration over how long it's taking to reach a conclusion during a special meeting Tuesday, April 19, with a contested hearing on the cartway petition as the only agenda item. The nearest public road does not allow access to the property and a dispute among neighbors means using the private road crossing others' properties is no longer an option.
"I don't understand why we're treating this person that has petitioned us this way," said Commissioner Paul Koering, who attended the meeting virtually from Florida. "And you know, I'm going to be home tomorrow, and I'll tell you what, I'm gonna be pretty damn fiery if we don't get this taken care of pretty soon."
The County Board — acting as the township board for the Second Assessment District on this issue — did accomplish two things: it set dates in May to achieve the next steps and voted to reduce an estimated damages deposit expected of the petitioner to allow the process to move forward.
Commissioners did not, however, choose the proposed route they believe would provide meaningful access to the 63-acre property known as Nelson Preserve, located on Nelson Lake in northeastern Crow Wing County. The board refrained from taking this step at the advice of County Attorney Don Ryan, who is shepherding the legal wrangling between attorneys representing the petitioners and the landowners impacted by the petition's goal.
Ryan explained the affected property owners did not receive notice of Tuesday's proceeding, for which he took the blame. Nor did the county have cash in hand from the petitioner to cover any costs the government incurs along with the eventual payouts to those whose land will be taken through eminent domain as part of the cartway process.
In October 2020 — the last time discussion occurred as an official agenda item — the board unanimously passed a resolution setting the petitioner's estimated damages required for deposit at $70,000. After hearing arguments on both sides, commissioners made a unanimous decision Tuesday to drop that amount to $20,000.
As the township officials for the Unorganized Territory previously known as Dean Lake Township, board members must eventually act on the petition, having determined Middleton and his ownership partners qualify for the cartway they seek.
"So I guess if there's two things we can accomplish today, it would be take a look at the damages and determine if that number should be revised and to set a damn date so that this thing can be done," said Chairman Doug Houge. " … This thing has been over two years. For God sakes, we can trial a murder case quicker than this. And I just cannot continue to watch this thing get kicked down the road."
Tuesday's meeting on the cartway did occur earlier than originally expected after commissioners urged Ryan to encourage the lawyers involved to align their schedules and make it happen. Middleton brought attention to the ongoing matter during the March 8 County Board meeting, imploring commissioners to help move the issue along.
"Basically, we've been without access to our property for about seven years now, and I'm not getting any younger," Middleton said. "I used to enjoy duck hunting and deer hunting out there. And that's what we have it for."
Ryan assured commissioners at the March meeting both the petitioner's lawyer and the landowners' lawyer contributed to the delays — not simply one side or the other. And he warned commissioners if they pushed forward with a decision without allowing each side to make their case, they would likely set themselves up for a successful appeal by whomever was dissatisfied.
Middleton and the others who own the Nelson Preserve property prefer a route they said they historically used to visit their land. Their chosen route also allows them to access the larger, southern portion of the property split by a wetland. The property owner most affected by the petition — Keith Unger, who owns a cabin on the adjacent land — prefers a route to the north, which would not utilize his personal driveway. At least one other route is in play and commissioners referenced other proposals they've seen.
Commissioners are expected to decide on the route at their May 10 meeting and establish damages at the May 24 meeting.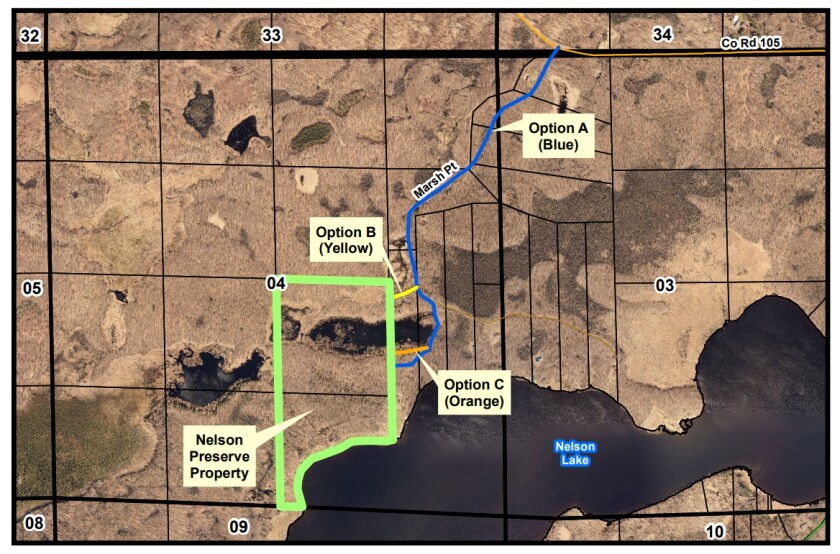 Middleton estimated he and his partners have owned the Nelson Preserve property for about 35 years, before which he hunted on the rural land since high school with permission and later under a lease with the previous owners.
He told commissioners Tuesday at the time of purchase, they believed it included an easement across what, at the time, was one other person's property. They cannot prove this, however, as Middleton said he was told the documents were lost in a fire. The property next door was later sold and subdivided into several smaller parcels in the early 2000s, then sold again to individual owners.
Since that time, the existing road was upgraded and named Marsh Pit Road by a combined financial effort of most of the property owners who used it. The cost, according to those opposing Middleton's efforts, was $250,000, and the Nelson Preserve owners did not contribute. The cost of the road improvements is another item that has not been verified, as no documentation thus far presented backs up this claim.
According to the attorney representing Unger, his client offered good access to Middleton and the others and they refused the offer. Middleton, meanwhile, said Tuesday he did not view the offer as acceptable, given it involved giving some of their property to Unger.
"We have 63 and a half acres out there right on the lake, and we can't access it, so that's the problem," Middleton said in an interview after Tuesday's meeting. "So it's something we've been struggling with and it's just been something that we've worked on over time. And finally, I came to the county as our last resort and tried to work it out."
Unger, who was not present during the meeting, said by phone Tuesday he never wanted to end up in a long-standing dispute with his neighbors and he gets along with everyone else on the road. He bought the land on Nelson Lake and eventually built a cabin there with tranquility and privacy in mind, and he wanted to retain that by offering Nelson Preserve access farther away from his dwelling.
"They want to go in literally my backyard," Unger said. "And I'm like, 'No, I don't want you here, I want you as far away as possible, and I'll give you an easement.' They said, 'No, we do not want that.' … And these guys just plain want to get all this for nothing. This is the problem that I'm having."
Unger said his concerns also stem from the possibility his neighbors have bigger plans, including potential development, for the land next door — further carving into his privacy should their desired route be granted.
"That's one reason why I bought the very farthest one. … I was the first one to buy a lot in this development," Unger said. "And it's just to get away. If I want people, I'll go to Minneapolis, you know."
Unger said he understands state law requires access be granted eventually to the Nelson Preserve owners.
"I'm the first to admit there's always two sides of the story," he said. "But this is mine."
CHELSEY PERKINS, community editor, may be reached at 218-855-5874 or chelsey.perkins@brainerddispatch.com . Follow on Twitter at twitter.com/DispatchChelsey .