Embracing equity on International Women's Day
Women of all ages gathered at Central Lakes College Wednesday, March 8, to celebrate International Women's Day.
BRAINERD — While on her way to an event on campus Wednesday, March 8, Central Lakes College student Emily Roberts and a friend overheard a conversation that reinforced the importance of where she was going.
"Behind us was guys saying that this is stupid and we didn't need an event like this," Roberts said.
That event?
An International Women's Day celebration.
"So obviously there's still discussion on the inequality of women, as they were talking about, and in the younger generation of men there's also a discussion that needs to be had there," Roberts said.
For anyone interested, one of those conversations took place at CLC's Brainerd campus Wednesday, when women of all ages gathered to celebrate the holiday.
Dotted with bright yellow roses and cupcakes, the room filled up with both women and a few men who gathered to recognize the holiday and share stories of female empowerment.The theme for the global recognition day was "Embrace Equity."
"I want to live in a world where we have true equality — where every person, every group has the same opportunity, influence and power. Wouldn't that be beautiful?" CLC President Hara Charlier said. "We do not live in that world. And until we live in that world, we use equity as a tool to take one step forward."
Wednesday's theme fit in well with CLC's culture of caring, Charlier said, praising event organizers and all those who came to celebrate.
After Charlier's address, CLC student Gracie Johnson recited Maya Angelou's poem, "Still I rise," with a message of perseverance and determination.
"You may write me down in history / With your bitter, twisted lies, / You may trod me in the very dirt / But still, like dust, I'll rise," Johnson read from Angelou's 1978 volume of poetry.
Julie Despot, of the American Association of University Women, spoke to the audience about pay equity, noting how women, on average, earn about $0.80 for every $1 earned by men with the same jobs. She compared this phenomenon to receiving a cookie with a bite taken out.
March 14 is Equal Pay Day, denoting the two and a half extra months it typically takes women to make as much money as men did during the previous year. That timeline is even longer for women of color and women in the LGBTQ+ community.
That wage gap, Despot said, extends beyond just a paycheck to Social Security and retirement payments later in life.
"We really need to look at this and find out what we can do to promote fair pay for women of all races … all the time," Despot said. "Now, I'm going to ask you — I know today they're serving cupcakes, but in my example, I talked about cookies. Would any of you like to have a cookie — a full cookie? Speak up. You deserve more than crumbs."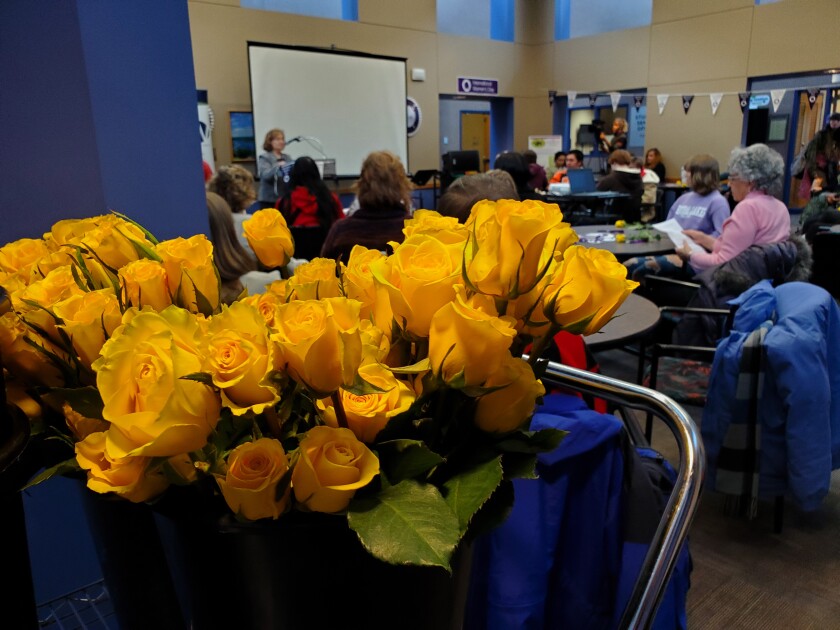 The cupcakes Despot spoke of were bright yellow, as were the roses handed out to every woman present. Colleen LeBlanc, of the American Association of University Women, explained the significance of the yellow rose to the women's suffrage movement in the early 1900s. During that time, yellow roses were used as a sign for support for women's right to vote.
Among other speakers Wednesday was Krystal Brodeen, head women's basketball coach and interim athletic director at CLC. Brodeen spoke about the history of Title IX, the 1972 federal civil rights act that prohibits sex-based discrimination in any school or education program that receives funding from the federal government, and about gender inequality in the coaching and athletic professions.
"I didn't have a lot of female coaches growing up — or positive ones, at that," Brodeen said. "So I am always trying to be the coach I wish I had and try to set confidence in girls and have them be their genuine selves."
CLC Law Enforcement Coordinator Gae Davis talked about women in her field, while Chloe Baker, of the WeAre clinic, discussed female health care needs and struggles.
Roberts and two other CLC students — Nina Nguyen and Elena Kahler-Sinotte — spoke of women in their lives and local organizations who inspire them.
The three students were excited to see the turnout of Wednesday's event.
"I thought we were gonna have like 10-15 people, but there's a room full of women who are inspired and are inspiring other women," Nguyen said. "I think it's so cool that they came together just to prove our strength."
Kahler-Sinotte thought it was cool to see men come out for the celebration, too, and the students lauded Student Life Director Erich Heppner for organizing the event and using his platform to lift up women at CLC.
She also appreciated all the influential women in attendance.
"I'm looking over there right now, and I'm seeing so many people that I recognize who are prominent in the community," Kahler-Sinotte said. "So it's good for people to know, like, 'Oh yeah, these are people that I can go to.' And also it's just another way to inspire people to act."
And that inspiration, according to Nguyen, is still needed.
"I feel like people take for granted the progress that we've made today," Nguyen said. "And although it's something to be very proud of, you can't forget the fight that it took to get here, and you can't forget that there's still a fight to be had because we still need to go so much further."