Father of Brainerd Lyman P. White Sr. helped shape the city
Lyman P. White Sr. was called the father of Brainerd. White came to Brainerd from St. Cloud in 1870. He built the first frame house in Brainerd, with lumber coming by team, about 60 miles away from Sauk Rapids.
We are part of The Trust Project.
BRAINERD — It is perhaps fitting this recent Father's Day weekend the residents of Brainerd thoughts turn to Lyman P. White Sr.
White came to Brainerd from St. Cloud in 1870. He built the first frame house in Brainerd, with lumber coming by wagon from about 60 miles away in Sauk Rapids.
"L.P. White came to Brainerd by stage at the age of 60 … even before it was named Brainerd, then known only as 'The Crossing' … signifying the intended location of the crossing of the Mississippi River by the Northern Pacific Railroad," according to Carl Faust, a local historian.
As an agent of the Lake Superior and Puget Sound Land Co., White was responsible for platting railroad towns and selling lots to new residents. Originally from Whiting, Vermont, he worked from Brainerd.
"With him, he brought his wife Jennie Knight, who was 'the first white woman to enter Brainerd.'" Faust said. "White built the fourth building in Brainerd, which was also the first frame private residence."
White's job was to buy land and develop town sites along the railroad line. His name is on the land deeds for early homesteads in Pillager. He even platted and tried to sell lots in Whitesburg, across the river from Motley. But the town site never sold well.
"The railroad established its headquarters and general offices in Brainerd, which quickly drew thousands of workers to the new town, known as the 'City of Pines,'' according to the Crow Wing County Historical Society. "Many boardinghouses, saloons, churches, homes, and businesses quickly sprang up to accommodate them."
Lyman White's son Almond donated a triangular piece of Mississippi riverfront property in 1921 to the city, and it was called Lyman P. White Park, later Tourist Park.
"Now it is that old parking lot that was just torn up by the high school athletic field and will be a park," Faust said.
Crews are now working on the new park, green space with trails and pathways, a community amphitheater, an outdoor classroom, steps down to the river and other amenities are planned along the shores of the Mississippi River on East River Road, replacing the existing parking lot in that area.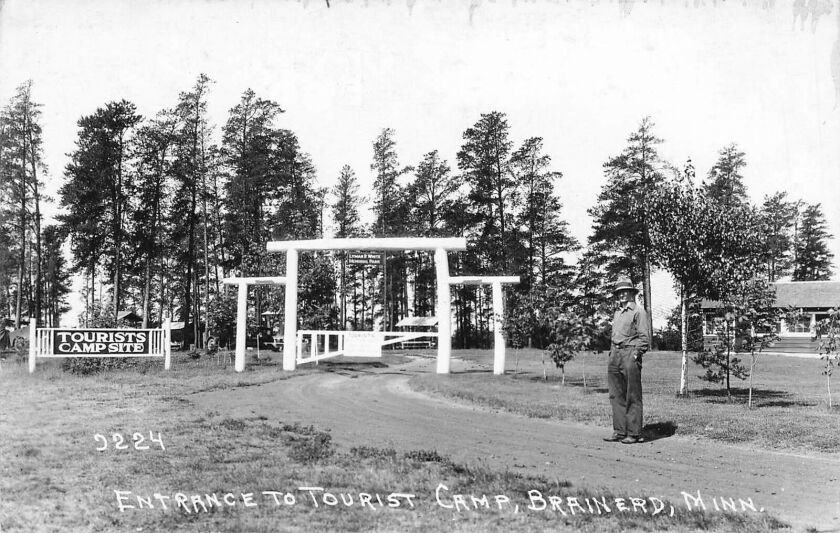 When White moved to the region, the Native Americans, who dominated the region, called him "Big White Father," according to his obituary in the Brainerd Dispatch.
"He was a man in those days, though 60 years of age, of fine physique, almost 6 feet tall with broad shoulders and a powerful frame," according to the newspaper. "He never knew what a day's sickness was, and never contracted a disease, not even up to the hour of his death."
One of 11 children, the ambitious pioneer is to thank for being instrumental in the procurement of the "Central Park of Brainerd," more commonly known as Gregory Square, or now Gregory Park, according to Faust.
"He also arranged for the donation of land for St. Paul's Episcopal Church, and in fact, built his house on the diagonal corner from it, a location at the time a long ways away from the rest of the fledgling town's buildings," Faust said.
According to his obituary, "The first religious service in Brainerd was attended by Mr. White, which was in 1870."
A Michigan resident with ties to the Brainerd lakes area kept his earlier promise to donate $2,500 to construct a roof over a locomotive engine at the Crow Wing County Fairgrounds because his relatives were employees of Northern Pacific Railway.
In 1871, the contract to build the first jail and courthouse in the area was awarded to White, according to his newspaper obituary, and later that year, a charter was obtained authorizing the organization of the city of Brainerd, with White as council president in 1873.
White was mayor of Brainerd from May 1874-75. Not everything White did stands the test of time for the best or enlightened treatment of people who already called this area home. His obituary noted while he was mayor, he had an ordinance passed that all Indians found within the city limits after dark should be locked up.
He was active in organizing First National Bank, the first school district and the Episcopal Church. He died at age 91 in 1902.
"Up to the time that the old gentleman died, his mind was very clear and he took particular interests in the events of the day," according to his Brainerd Dispatch obituary. "He also inquired about his friends and conversed in a most rational manner."
FRANK LEE may be reached at 218-855-5863 or at frank.lee@brainerddispatch.com . Follow him on Twitter at www.twitter.com/DispatchFL .