In fear for her homeland
Ukrainian teen adopted by Brainerd area family raises money for humanitarian relief in war-torn country
NOTE: Anastasiia, or as friends and family know Nastya, is the author's great niece as the daughter of her nephew.
There are a lot of things Anastasiia Biermaier never expected to do before an adoption brought her to a new family in the Brainerd lakes area.
She never expected to own her own car.
And she never expected to be working to raise funds to help her friends in her hometown escape a war zone. She did expect to be able to take her new family back to Ukraine and show them all the places they weren't able to visit during their adoption process, which was additionally complex by occurring during the height of a pandemic. Once here, she focused on making Minnesota home and continued to work on adding English to her fluent Russian and Ukrainian.
Now she worries those places she wanted to take her new family may not even exist in the future.
A lot changed in the pre-dawn darkness of Feb. 24.
Anastasiia grew up in Kyiv, Ukraine. The nation's capital city is full of history with its churches, museums and parks. It was a place where one could feel the connection to the past, to people who previously walked those same streets. Growing up there was good, Anastasiia said. She lived in a center with other children that most Americans would recognize as an orphanage. As a teenager, she came to spend time with Chris and Christina Biermaier and their two sons, Arlo and Finn, staying for the summer. The connections forged that summer, as they used technology to help translate conversations, were deep.
An adoption process was started and completed just days before Anastasiia turned 16, an age where a single child is not adoptable in most circumstances. For Chris and Christina, the adoption process meant 17 flights, nine airports, six COVID-19 tests and lots of passport stamps. All worthwhile to gain a daughter who expanded the entire extended family's horizons. A teenager who loves to bake, who runs on the school track team and who now finds her heart and head torn between here and an unimaginable reality in Ukraine.
Now a sophomore at Brainerd High School, Anastasiia, 17, said it can be hard to think about.
"My brain like doesn't work," she said. "My heart is broken. And I mean I can't fix this. All we can do just pray for these people. Well, yeah, I'm kind of like here, kind of like there at school and I feel like this is just like a one long dream."
Everyday she was sending messages to her friends in Kyiv, who were hearing air sirens and spending their nights in an underground bunker to be safe. One of her friends told her he woke to the sound of shooting at 4 a.m. Feb. 24 hearing planes that seemed to be on top of their house and at first no one could understand what was happening, but soon it was obvious the Russians were attacking.
Everyday getting the news from friends and seeing it in news coverage was like living in two places for Anastasiia — back in Kyiv and here with her family near Merrifield. The children from her center were sheltering in a bunker under a garage where food was stored in a cool place. In early March, 23 children and five adults sheltered in that bunker.
In Ukraine, Anastasiia said the war brought everyone together like one family with everyone doing what they can to help the soldiers and protect the people.
"This is so impressive," she said. "I mean when I hear this, when I see the president, like how he said like I don't want a ride, I need the ammunition. That was impressive."
Anastasiia follows Ukrainian President Volodymyr Zelenskyy on Instagram, where he posts updates and messages. At school, Anastasiia said she is now from a country everyone knows with other nations lighting up national monuments in Ukraine's national colors. So thinking what she could do to help, Anastasiia and her mom started the process to create stickers and sell them to raise money to do what she could on the ground to help those in need in Ukraine, especially the children from her center and other orphanages.
The stickers in many shapes and sizes include hearts, a map of Ukraine, peace signs, pray for Ukraine messages and multiple varieties in blue and yellow. Help to take the vision to actual stickers came from her uncle Dan Lundberg at Studio Wraps near Brainerd. Studio Wraps creates wraps for personal and commercial vehicles, provides wall wraps and floor graphics. So that skill was put into practice to make stickers. But then came the task of getting the word out. Anastasiia set up a booth at school, and the family took orders through social media but keeping up with all of it, orders and mailing out stickers, was a challenge. Some people just sent donations via Venmo.
Christina Biermaier reached out to someone she knew was already involved with helping Ukraine and who had established connections in the country to assist people in Seth Neistadt.
Neistadt first went to Ukraine on a mission trip.
Minutes after they met to talk about helping to raise funds, Neistadt, who has a number of ties in the business community in the lakes area, set up a website for the effort — www.ukrainestickers.com — and in short order they had sticker sheets available to purchase, small, medium and large sticker packs for purchase. Stickers and decals have been added to vehicles, hats, water bottlers, laptops, smartphone cases, coats, windows. There are mega sticker packs for businesses to order to share with staff or customers. All in support of Ukraine. The website allows easy purchase of the stickers and also provides a place where people can simply make a donation.
The money raised so far has been able to purchase shoes for the children from Anastasiia's orphanage. The children were evacuated to Poland, but with the winter conditions they walked out in winter boots but had no other shoes. Other funds have gone to provide textbooks and school supplies and toiletries for the children.
Neistadt, through Impact Ukraine, was already working with churches, pastors and other organizations in support of humanitarian efforts with 100% of funds going to their ministry partners. Neistadt is board chair for the Brainerd-based organization. He said the funds raised are able to help multiple orphanages.
Neistadt felt the call to go on a mission trip, which took him to Ukraine in 2016 and the work of establishing churches. He found a beautiful country and a welcoming people. His own heritage provided a link to the country and the food was just what his grandmother used to prepare. The trip, he said, was amazing, and he felt so strongly about it that he returned a second year and ended up being in charge of the trip. He enjoyed Kyiv, the small villages and historic places.
He got the domain name to Impact Ukraine early without a clear idea of how that would ultimately be used. He created the nonprofit Impact Ukraine in 2019. Before the war began, their ministry had six churches and another church later joined them.
Now those contacts are helping to evacuate people and provide food and shower facilities for soldiers. Neistadt said he always wanted to be able to support people who were already doing good work and help. Now those relationships are creating the avenue to put funds directly into helping Ukrainians on the ground.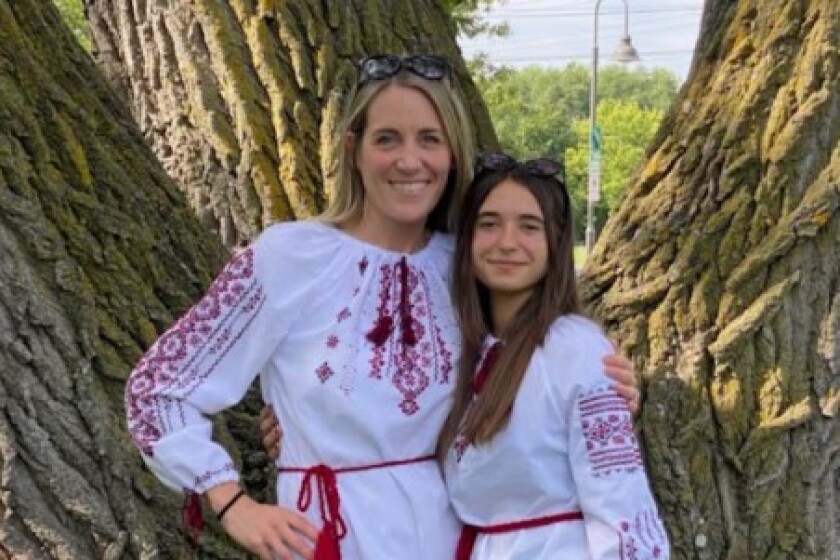 1
/
2:
Anastasiia Biermaier poses in photos with her newly adopted parents with mom Christina Biermaier in Ukraine.

2
/
2:
Anastasiia Biermaier poses in photos with her newly adopted parents with dad Chris Biermaier in Ukraine.

They've raised $200,000 since the war started, helped evacuate more than 1,000 people, worked with a refugee adoption agency, and purchased buses and vans with a network of drivers to evacuate people. He's been on video calls as people drive in Ukraine and close enough to see troop movements and bombs exploding. The technology provided a more immediate link to give him a glimpse at what it is like to be there.
Neistadt said Minnesota was a big part of missionary work in the 1980s to establish a network of churches in the country.
A community gathering to share the stories with people who are donating and share information on what is happening in Ukraine is part of a community gathering and fundraiser for Ukraine set from 6-8 p.m. Thursday, April 7, at The Gathering Event Center, 34212 County Highway 3, Crosslake.
After meeting with Christina Biermaier, Dan Lundberg and Anastasiia, Neistadt said the teenager was thinking of her friends and wanted to see them in a safe place. Anastasiia was passionate and poised, Neistadt said.
"I'm very impressed with her," he said.
Looking at the money that will be needed to help refugees pay for rent and food and help their host families, Neistadt said there is a large and continuing need for support for Ukraine. And while the numbers can seem overwhelming, there is an opportunity to make a real difference for those displaced, even if by a smaller number.
Fundraiser set in Crosslake
A fundraiser with Impact Ukraine is set from 6-8 p.m. Thursday, April 7, at The Gathering Event Center, 34212 County Highway 3, Crosslake.
To RSVP or make a donation, go to www.impactukraine.com/gathering
Renee Richardson, managing editor, may be reached at 218-855-5852 or renee.richardson@brainerddispatch.com. Follow on Twitter at www.twitter.com/DispatchBizBuzz.