Morrison County GOP faces scrutiny amid caucus fracas
Despite calls on the Republican Party of Minnesota from some GOP gubernatorial candidates to halt conventions until completion of a review of caucus documentation by an independent third party, a number of local gatherings have already occurred while leaders of others have yet to set dates.
BRAINERD — Accusations of improper handling of delegate selection at the Morrison County Republican caucuses — amid the bungled release of data by state party officials — continue to reverberate well into the local GOP convention season.
Despite calls on the Republican Party of Minnesota from some GOP gubernatorial candidates to halt conventions until completion of a review of caucus documentation by an independent third party, a number of local gatherings have already occurred while leaders of others have yet to set dates.
Dr. Neil Shah, a physician seeking the Republican endorsement for governor, said he views the ongoing issues as not only limiting the ability of statewide candidates to campaign but also discouraging participation in the political process among people who may be engaging for the first time.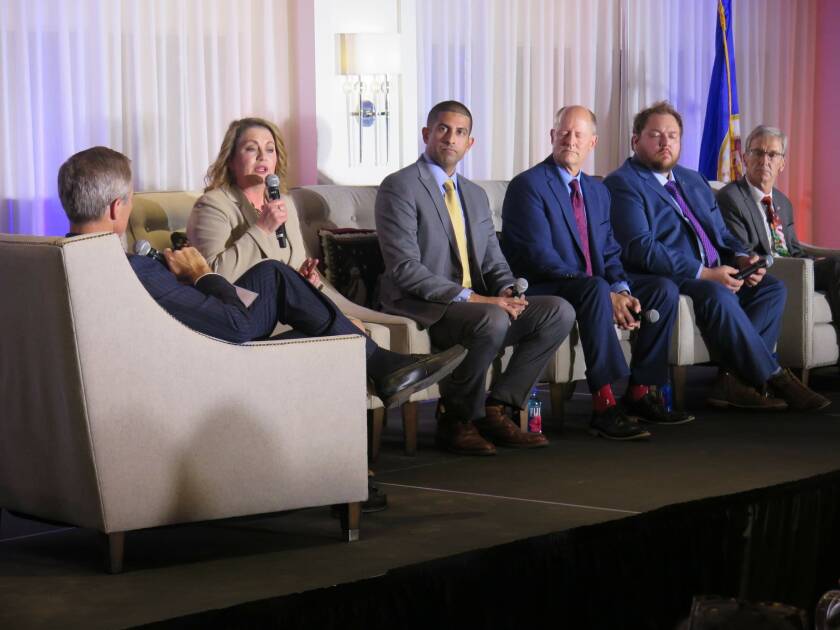 "We should make it easy to get involved with this process on either side of the aisle. We should make it — we should reward people for getting involved, so it's not the same people year after year," Shah said during a phone interview Thursday, March 3.
" … If we're telling them like, look, we're gonna throw up roadblocks, we're gonna lose your name, we're gonna have difficulty getting in contact with you — it just, even if it's all honest errors, it just reflects so poorly on the Minnesota GOP. And I think that we have to hold ourselves to a higher standard."
How the process works and where it may have gone awry
Precinct caucuses are the first step for those engaged in party politics toward the eventual endorsements of candidates for various offices. They serve as the grassroots level of involvement for those seeking to become delegates to county and state conventions and provide residents the opportunity to give input on party platforms. Those voted as delegates at the caucuses are invited to attend the county convention, where some will move on to the state convention as delegates.
Volunteers on the local level organize and lead these gatherings, which are usually attended by a small percentage of people who align with either political party. In Minnesota, caucuses for the DFL and Republican parties took place Feb. 1.
State Party Chairman David Hann acknowledged errors in caucus data in a statement last month after former GOP operative Michael Brodkorb noted a major discrepancy in the number of reported caucus attendees (35,196) and the number of people who voted in the straw poll for governor (17,801).
Hann said the errors came from the mistaken inclusion of attendees of previous caucuses in the data by those leading the basic political organization units, or BPOUs — the lowest level of party political organization. Delegate and attendee information from those found to be erroneous were in the process of being corrected, Hann said Feb. 15.
"Those submissions, made by local volunteers, were not intentional, malicious, or related to any campaign. They were also limited to a specific geographic area," according to the statement.
Hann also specifically mentioned Morrison County and said a data entry was corrected and re-sent to campaigns. Requests for comment on the issue from the state party were not returned.
NEW: The @MNGOP has released a statement tonight about the problems with their precinct caucus data. See below. After speaking with numerous campaigns today, I guarantee this statement doesn't go far enough to resolve this issue, nor does it reflect the reality of the problem. pic.twitter.com/fNXVH7hQNe

— Michael Brodkorb (@mbrodkorb) February 16, 2022
Critics raise questions about Morrison County
Among swirling accusations of potential fraud perpetrated by Morrison County GOP Chairwoman Mandy Heffron, a paid staffer for state Sen. Paul Gazelka's gubernatorial campaign, the 8th Congressional District Republican Party announced six days after the state party statement it would take over all further business related to the Morrison County convention. It would also "review the delegate election documents and the Morrison County caucus process," a news release stated.
"The fact that the Morrison County BPOU chair is working for the campaign of a statewide candidate has raised questions among some of the statewide campaigns about the ability of Morrison County to restore confidence in the integrity of the process. However, our Party constitution and bylaws do not prohibit a local BPOU chair from working for a campaign," stated Ted Lovdahl, 8th District GOP chair, on Feb. 21.
Neither Lovdahl nor Justin Krych, the executive board member who took over as Morrison County convention arrangements chair, returned repeated requests for interviews. Fletcher Karper, Shah's campaign manager, said Tuesday the Morrison County convention was rescheduled to take place 10 a.m. Saturday at Little Falls Community High School.
NEW: The 8th CD #MNGOP announces they will "...conduct all further business with respect to calling the Morrison County Convention." This comes admit questions about "...the ability to Morrison County to restore confidence in the integrity of the process." pic.twitter.com/qT5gXLpE3b

— Michael Brodkorb (@mbrodkorb) February 21, 2022
What do those accusing Heffron of fraud say she did? People in attendance at the caucuses in Morrison County told the Shah campaign as well as the group Action4Liberty they or a spouse were elected as delegates on caucus night, but are no longer listed as such. They said others — such as Wendy Kresha, the wife of state Republican Rep. Ron Kresha — were elected as alternates, but were later switched to delegate status. And the names of those who weren't elected as delegates at all that night also appeared on the list, according to multiple accounts.
Attempts by the Dispatch to contact a number of these individuals through social media and the Shah campaign were unsuccessful, and one who did respond to an emailed interview request — Little Falls Ward 3 Precinct Chair Dan Schilling — refused to participate.
Nathan Wesenberg, a Little Falls man running as a conservative candidate for state senate, told Action4Liberty he turned out many activists to caucuses but his requests for the delegate lists from Morrison County have not been fulfilled. A Feb. 16 post on the Nathan Wesenberg for Senate page on Facebook showed photographs of manila folders allegedly containing evidence of caucus fraud held up outside the Little Falls Police Department and the Morrison County Government Center.
"We can not have free and fair elections, if illegal activities are taking place at the local or any level of voting," the post stated. "I have turned over some of the information I have on the fraud that took place during the caucusing process. We will get this corrected. We will keep fighting for what is right."
When contacted by the Dispatch, Wesenberg asked for questions to be sent by email but did not respond to those emails.
Shah — who described himself and fellow candidates Mike Murphy, Kendall Qualls and Scott Jensen as political outsiders — said unanswered questions surrounding the caucuses give the impression of a concerted effort to keep out conservative activists who pose a political threat to party insiders.
"If you look at the leadership of the Minnesota GOP, it's a mix, but there's quite a few party insiders," Shah said. "And so that's our biggest concern is they're trying to stack the deck for a preferred candidate. And that's not why we have this process. We have this process so that everyone should have an equal chance to win or lose, based on their merits as a candidate. And we just want a fair and transparent process."
Honest mistakes or fraud?
A Feb. 16 statement posted to the Morrison County GOP's Facebook page sought to explain the discrepancies. Some of those left off the delegate lists failed to provide contact information on caucus night, according to the statement, and five people added to lists contacted Heffron before the caucus expressing the desire to be delegates.
"No one was intentionally disenfranchised," the statement read. " … The allegation from a statewide campaign that stated that there were discrepancies in the Morrison County Republican delegate list is because of a clerical error from the State Party."
The county party stated in almost every precinct, participants who wanted to be delegates were able to be delegates, and including those not present was based on a precedent set long before the current board.
"It is customary to let the leadership know so they can verify the person is in the correct precinct, is willing to be a delegate, and agrees to the principles of the Republican Party," according to the statement.
Heffron did not return repeated requests for comment on what occurred at the caucuses and in the days after. Kresha and Gazelka, who represent Morrison County in their respective legislative bodies, both came to Heffron's defense.
Gazelka sent a campaign email March 1 calling for party unity and defending fellow GOP legislators and caucus volunteers from political attacks. He cited the recent difficult major transition at the state party as the reason for mistakes in the timely recording of delegates but said these mistakes weren't fraudulent.
"The narrative that virtually every Republican legislator is part of the swamp is disgusting to me. These are the men and women that answered the call to save our state. They are the ones that are on the front lines battling for all of the things that conservatives hold dear," the news release stated.
" … When the state leans left, it is very difficult to hold the line, and yet republican legislators did just that. So when bloggers and new, inexperienced candidates speak ill will of all of these people that have been engaged in this fight for a while, we all need to speak up and say it's time for that rhetoric to stop."
Gazelka specifically defended Heffron as a longtime Republican volunteer and a young Christian woman who is always trying to do the right thing. And while the email began with a call for unity, it ended with Gazelka's own accusations against the Shah campaign for alleged improper behavior.
"I'm particularly angered that one of the campaigns would constantly declare that the volunteers were doing something wrong when it appears that their campaign is the one that was writing in names down to be delegates, without permission, who were not at the caucuses," the release stated. " … I am offended that the Shah campaign would go after volunteers like her. You can spew lies about me, but when you mess with the volunteers it is very, very inappropriate."
Gazelka did not return multiple requests for an interview on the issue.
Kresha said he and his wife Wendy Kresha attended the GOP caucus in Little Falls, as they have for the last decade. He said while state party officials did release incomplete and inaccurate delegate lists after caucus night — which sparked confusion — everything at the local level was above board and ordinary caucus practice.
"What was happening was people were just putting family and friends' names down without actually verifying that they wanted to be delegates or not. You can't do that," Kresha said during a phone interview March 2. "And so when the chairs reached out to verify, there was no phone number, there was no contact information. So, therefore, they couldn't verify that they actually wanted to be a delegate.
"So yeah, it's a basic verification. You have to confirm that you want to be a delegate and the people's names that were removed, they couldn't be reached."
He described the events as a non-story and said those accusing local leadership of impropriety are using the state party's bungled lists to spin a false narrative. He said the only difference between this year's caucus and any others he's attended was a concerted effort by some campaigns to use dishonest tactics."I've never seen this before. We've always gone through this process. But when I see groups like Action4Liberty and the Shah campaign, and others using these, frankly, political backhanded tactics, that's the difference here," Kresha said. "They're dragging good people's names down that did nothing wrong."
Kresha rejected the notion party leaders are repressing those outside the Republican establishment from participating.
"I've been doing this for over 10 years. I've been in parades. I've been at city council meetings. I've been 100% active," he said. "And suddenly these people are showing up saying they don't have a voice. Where have they been? You know, they've had the same opportunities that everybody else has had. It's just, they're claiming a story of victimhood that doesn't exist."
Action4Liberty encouraged caucus attendance
Action4Liberty, which published a post on its website characterizing the caucuses in Morrison County as corrupt, is an organization based in Minnesota. It describes itself as a grassroots effort seeking to stop the governor's shutdown powers and vaccine mandates. The group pushed caucus attendance as part of its strategy, hosting trainings to encourage people to become delegates and introduce resolutions available on Action4Liberty's website.
One of these training sessions, dubbed a "Patriot Meetup and Caucus Training," took place a week before caucuses at the Veterans of Foreign Wars Post No. 1112 in Little Falls. A slideshow presentation prepared for the trainings is available on the group's website. The second slide, featuring a photoshopped image depicting Gov. Tim Walz as Chairman Mao Zedong of the Chinese Communist Party, sets out the objective for the gathering.
"Why are we here? Tyrant Timmy has used COVID as an excuse - to grab power," it states. "And our weak-kneed legislators didn't have the GUTS to STOP HIM."
In a YouTube video titled "Biggest Impact YOU Can Make in Politics - Attend MN Caucus on Feb 1," Action4Liberty President Jake Duesenberg tells viewers all politicians pay attention to what happens at the annual gatherings.
"Normally the cronies, lobbyists and politicians stack these caucuses, but we can displace them because there are more of us than there are of them," Duesenberg said. "We the people have the power, if we show up."
He told people to sign up as delegates at the caucuses, noting it would amplify the voices of those seeking to oust "Republicans in Name Only," or RINOs.
"This is your chance to decide who represents you in St. Paul before Election Day. Want to hold radical leftists or RINOs accountable? Here's where you have the power to do that," he said. "Usually, all you have to do is write your name down on a piece of paper saying you want to be a delegate and you're in."
'Access to good, clean data'
Shah said he named Heffron in his news release calling for an audit because she admitted to attorneys associated with his campaign she added names to the delegate lists after caucus night, meaning they were not elected by fellow Republicans, along with omitting other names.
But he acknowledged it's difficult to disentangle the state party's erroneous lists from alleged wrongdoing on Heffron's part, as well as to discern whether caucus attendees who favored more traditional GOP candidates also fell off delegate lists. The fix for that is greater transparency, he said.
"We do know this process has been an absolute mess. The Minnesota GOP has had little clarity and transparency on their willingness to address very reasonable concerns that are shared by our campaign and other campaigns, and they really have yet to adequately address them," Shah said. "And what we're asking for is, again, just some source data to look at and confirm, and they refuse flat out to provide that. So you know, what that's gonna unfortunately lead to is some people will speculate and we try to limit that.
"We just want — we have enough problems as a campaign just to try to actually make it through this process. We really don't have time for that. We just want to be able to compete and we want access to good, clean data so that we can try to make our case to involved Minnesotans."
CHELSEY PERKINS, community editor, may be reached at 218-855-5874 or chelsey.perkins@brainerddispatch.com . Follow on Twitter at twitter.com/DispatchChelsey .