Nevis Muskie Days includes celebration of Native culture
Annual festival includes drum group, dancers and making dream catchers and chokers.
NEVIS, Minnesota — The annual Nevis Muskie Days celebration this weekend includes many fun events for the whole family.
In addition to a packed schedule that includes kids games and a fishing contest, a run down the Heartland trail, a parade, a variety of food and music and much more that are listed on the Nevis Chamber of Commerce website, there is a celebration of the cultural heritage of the native people who have called this land home for thousands of years.
In recent years, there has been a movement to revive the native language and traditions and share them with the wider community, and Nevis Muskie Days has been a part of that effort for several years.
Nancy Lewis of the Nevis Civic and Commerce Association said in partnership with Niijii Radio located on the White Earth Reservation they have featured several native bands in addition to drum groups and dancers. "We're promoting the native culture," she said. "It's nice that we can highlight that history at this event. We've been doing this for a few years now."
Faith Ahlgreen has worked at Niijii radio for seven years. The word Niijii means "friend" in Ojibwe.
"This is the first year we've been incorporating Ojibwe crafts into Muskie Days," she said. "Nevis is such a great community because they're sandwiched between Leech Lake and White Earth areas. They are so open to having us participate in Muskie Days."
"Ojibwe Arts Rising" is a project that features Ojibwe artists.
"We need to help preserve that culture because if it doesn't get passed down, it's going to be forgotten," she said. "Niijii Radio is a sponsor, paying for all the musicians who mostly come from Minnesota."
Ojibwe craft making will be featured Saturday from noon to 4 p.m. Both youth and adults are invited to participate.
"These activities are free because the Minnesota Arts, Cultural and Heritage Fund is using a grant to pay for the materials," Ahlgreen said.
Alizia Avila from White Earth teaches culture and language at the Circle of Life Academy on the White Earth Reservation. She will share the cultural history of dream catchers and show participants how to make one of their own to take home.
Teresa Rojas has been a cultural advisor and teacher at Detroit Lakes schools and other locations. She will be teaching how to make the traditional chokers worn with regalia at powwows. The chokers are made with beads, leather and longer beads called hair pipes.
Activities take place at Shenanigan's stage under the water tower.
Native Harvest from the White Earth Land Recovery Project will be selling wild rice, syrups, jams, jellies and soups. Money raised will go to help with getting land back that originally belonged to the tribe.
Friday's musical lineup will kick off at 4:30 p.m. with Waubun nu anaung Norcross and Cameron Dewey entertaining and teaching the crowd about native hoop dancing.
According to indiancountrytoday.com, the hoop is symbolic of the never-ending circle of life that has no beginning and no end, and many tribal groups across North America used the hoop in traditional healing ceremonies.
Saturday at 4:30 p.m. the Buffalo River Drum group will play as dancers in their colorful regalia will share what each dance represents in the Anishinaabe culture. "They may have fancy dancers, traditional dancers or jingle dress dancers and talk about the regalia that goes along with each," Ahlgreen said. "This is a regional group."
The complete musical lineup for Muskie Days is listed on the music festival tab under Muskie Days at the Nevis Chamber of Commerce website. Admission to all musical performances is free.
Fire performer, Calaib Heiderich, will take the stage to close out the festival around 10:30 p.m. "He makes something that looks like a sparkler inside of a ball that he spins around," she said. "That's the grand finale which I think is fitting because he's amazing."
Legend of the dream catcher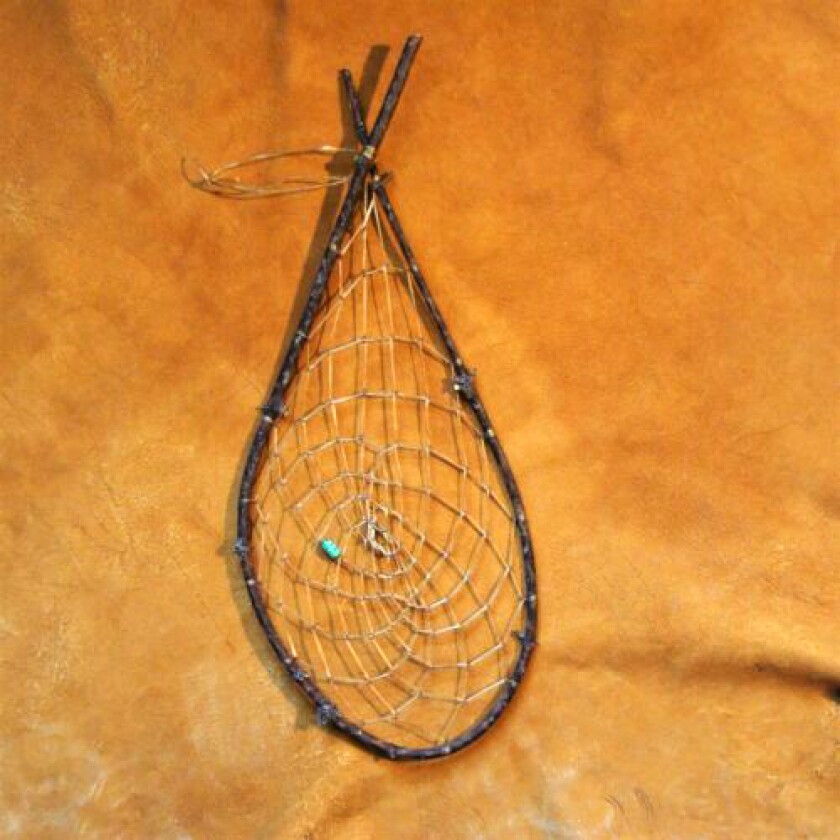 The Ojibwe legend is that dream catchers are attributed to Spider Woman, the spiritual protector of the youngest members of the tribe. In the early days, Spider Woman could easily protect the children in the tribes. But over time the tribes grew in number and expanded to far away lands. Spider Woman couldn't protect as many people over such a large area, so she spun dream catchers to hang over sleeping children and protect them from afar. They believed that the night was filled with both good and evil spirits which often manifested in dreams. The dream catcher lets the good dreams in and keeps the bad dreams out.