Progress Edition 2022: Nature Link Resort helps guests unplug
Nature Link Resort sits on Nisswa's Clark Lake, in the spot of the former Minnesota Hockey Camps.
We are part of The Trust Project.
NISSWA — Winding walking trails, outdoor reading nooks, lake views and rustic but modern cabins merge together on the shores of Clark Lake, to create one of the lakes area's newest resorts.
Nestled back among the trees but only minutes from downtown Nisswa, Nature Link Resort sits just off the Paul Bunyan State Trail and aims to connect guests with the natural world around them.
The resort with its attached event venue — Catalyst by Nature Link — came to be out of a mutual desire between couples Kate and Tony Becker and Ben and Zoie Vanden Wymelenbergs to open new businesses.
The Beckers sought a location for a wedding venue, while the Vanden Wymelenbergses wanted a place to build a resort.
"When we connected on this, we knew it was the perfect opportunity to team up and combine the two since our vision for what we wanted to create was so aligned," the owners said in an email.
That vision includes a significant focus on nature, as the name implies. Nowhere on the 14 wooded acres will visitors find a television, and the outdoor amenities are plenty. Complimentary bikes, canoes and kayaks await guests, who are encouraged to make use of the lake or hang out on the beach, sitting around the fire pit and making use of the s'more kits they received upon check-in.
Five finished cabins stand ready for guests, with full-sized kitchens and sleek marble and metal finishes in neutral shades of black and white. Wooden accent pieces give the structures an outdoorsy, northwoods feel, perhaps tempting guests to explore the grounds and acquaint themselves with the surrounding environment.
Remodeling efforts of existing cabins are ongoing, as the Nature Link crew seeks to hold on to the historic buildings that were a part of Minnewawa Lodge, one of the state's oldest resorts that operated on the property decades ago. Upon the lodge's closing, the land played home to Minnesota Hockey Camps for more than 40 years before selling to the Nature Link owners.
"So we're excited to restore it back to its original intent as a resort," said Olivia Goskey, venue operations manager at Nature Link.
After a soft opening April 1, the owners are planning a grand opening celebration in September, when the resort's event space is complete and open for business.
Still under construction, Catalyst by Nature Link is booked for its first wedding in mid-September. Goskey can't wait for the first party to set foot in the brand new venue and take advantage of the inviting light brought in by floor-to-ceiling windows, sweeping lake views and outdoor patio space.
The Sky Suite and Lake Suite will offer comfortable accommodations for brides, grooms and wedding parties to get ready on the big day, with kitchenettes, bars, makeup mirrors, handy storage cubbies and comfortable couches. Arcade games and access to lawn games on the patio are meant to help those involved in the proceedings destress before the event.
A grand staircase will stretch from the lobby to the upstairs area, which includes the main event space, where couples can get married in full view of Clark Lake.
The downstairs reception room and outdoor space will be ideal for dinner, dancing and any other festivities guests have in mind.
A vendor suite will be available for photographers, coordinators or anyone else integral to the day's event who needs a place to set up or store equipment.
A separate catering entrance will allow for food and beverage set up without disturbing those in the rest of the venue.
The Beckers' background in wedding photography gave them unique insight into the needs of everyone on the day of the wedding, and they designed Catalyst to make the day stress-free for all involved — not only the couple and their families, but also the vendors and guests.
"They really tried to think of everyone who would be using this space rather than just focusing on one area," Goskey said.Weddings aren't the only foreseen use of Catalyst, though.
Retreats are already booked for the space, as is a nonprofit gala later in the fall. Goskey also sees holiday parties, conferences and several other types of events in the space's future. A local school has inquired about hosting prom at Catalyst, and a yoga retreat could be in the cards, too.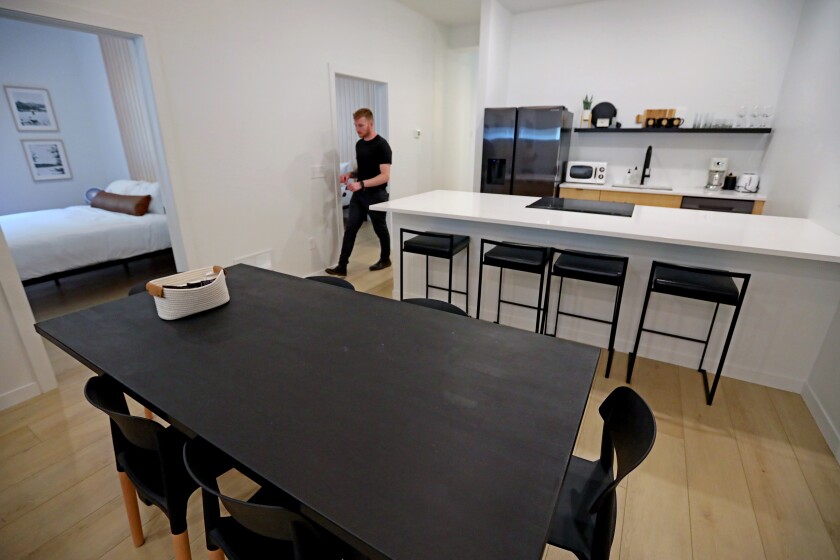 "We'd love to be able to work with different businesses in the area and host some community events," Goskey said. "We also want to host an open house event this fall once everything is complete so we can invite the public and all of our booked couples and interested couples to be able to come check everything out once it's built."
The space can hold up to 225 people and is meant to have a modern look and feel without seeming out of place next to the lake and among the other natural elements in and around the resort.
"There's lots of clean lines, lots of bright, natural light, and a neutral color palette, too, like black, ivory, white, wood metal leather. Just a lot of nature elements but not rusticky," Goskey said.
But if Catalyst clients want to get a little closer to nature itself — and the weather cooperates — they can make use of the outdoor ceremony space, perfect for weddings and other gatherings. Benches set back in a clearing among towering pine trees pair with different archway options for couples getting married to feel like they're one with nature on their big day.
"We're trying to keep as many trees as possible because we don't want to cut them down," Goskey said, noting the event space was moved over a few feet from the original blueprint so that two of the biggest trees on the property could be spared.
"We're definitely trying to preserve all of our beautiful pines," she added.
And if guests need to pass time between events, they're free to walk along the trails throughout the wooded area, stop to take a load off on one of the seating options or relax with a book in any of the trails' reading nooks.
Nature Link can currently accommodate 40 guests in its five cabins, but owners plan to have 12 complete by the end of the year. A lakeside sauna and boutique motel are on the list of future projects, too, aiming to give guests a luxurious experience.
The small staff of eight will undoubtedly grow in size with the completion of Catalyst, and owners foresee a boom in business for local caterers, florists, photographers, bridal shops and other wedding vendors.
Nature Link already partners with The Chocolate Ox to offer complimentary chocolate truffles for guests and provides visitors with lists of other local hotspots to check out during their stay.
"We want our guests to be able to experience nature inside and outside," resort owners wrote in an email. "Our staff will also focus on helping you get out into nature. Whether that's showing you things to do in the area or on site, they are here to help you disconnect."
Unplug for a spell by booking a weekend in Redwood Cabin, planning a party at Catalyst or visiting the private island in Clark Lake to experience what the great outdoors has to offer at Nature Link Resort.
Business: Nature Link Resort.
City: Nisswa.
Number of employees: Eight.
Interesting fact: There are no televisions at Nature Link Resort, as the owners' goal is to help guests unplug and enjoy nature.
THERESA BOURKE may be reached at theresa.bourke@brainerddispatch.com or 218-855-5860. Follow her on Twitter at www.twitter.com/DispatchTheresa.