Second chances: 'Give God a chance'
Peder Thusholt, a soon-to-be father of four, celebrated six years of sobriety in March is grateful for getting a second chance at life.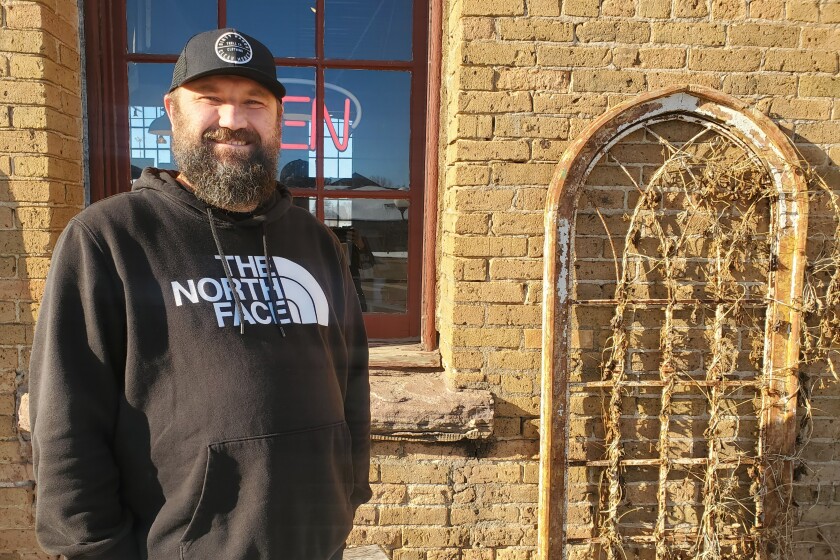 BRAINERD — Almost 20 years after a crash that could have killed him, Peder Thusholt doesn't remotely feel like the same person who drunkenly stole a car and ran it off the road.
"I'm looking back on who I used to be, and I feel like that is a complete stranger that I just met on the street — someone I would see but I would not get along with," Thusholt said during an interview Wednesday, March 29, at Loco Espress in Brainerd.
That person was a kid from Bloomington who started using methamphetamine at 14 after moving and making a new group of friends.
That person quickly became addicted and lived the party life while in a death metal band.
That person ended up homeless on the streets of St. Paul, and in 2004 — after being awake for about a week — he drank heavily, stole a car and crashed it while going 100 mph.
"I don't remember a whole lot, but I do remember the crash very distinctly," Thusholt said. "That was the first time I realized that God was real."
The tree he hit came through the driver's side door, and Thusholt was thrown to the passenger's side.
"And as I tried to brace myself on the ceiling and on the floor, I remember I couldn't touch anything," he said. "This presence wrapped around me and kept me in one place as the car flew out of control."
After that death-defying experience, Thusholt sobered up for the first time in his life — out of fear — and stayed that way for about three and a half years.
In that time, he met his future wife, Amber, held down a full time job and began going to school for heavy construction equipment and mechanics.
A month after the couple was married, Amber became pregnant.
"And I panicked, I did," Thusholt said. "I freaked out. I'm sitting here thinking, 'I've never held a job for more than two years in my life, and now I'm married for life, now I'm having a child. I'm going to be horrible at this. What if I fail?'"
All that stress pushed him back to drug use.
And to compound that struggle, Thusholt couldn't find a job in his field, despite finishing his degree and earning an academic achievement award for going from the lowest GPA in the building to a 4.0 and being second in his class.
In 2009, a third-round interview with Palmer Johnson Power Systems, which would have seen him traveling to places like Florida and the Caribbean to service engines on fishing boats and cruise liners, had Thusholt especially excited.
"I was on my third interview, and the guy says, 'I really want to hire you, but I can't,'" Thusholt said. The car theft from five years prior, along with some felony theft charges from 1998 when he was 18 came back to haunt him. Although he completed his probation and was getting his life back on track, Thusholt was told the company couldn't take any chances with their quarter-million-dollar machines.
"I stopped filling out applications," he said. "I was discouraged."
A few months after becoming parents, the Thusholts learned they would have another baby, which meant they exceeded the maximum family size for their one-bedroom apartment. Finding another landlord to rent to someone with a criminal history was no easy feat, even though it had now been seven years since Thusholt's last offense.
Their last hope seemed to be a condo in Eagan with a lease that only had Amber's name on it.
"We lived there in a situation where I knew that me being there could get us kicked out if they found out," he said. "But I didn't have a choice."
Nor did he have many employment options and thus found himself working 10-hour shifts at least five days a week as a forklift driver through a temporary job service.
"I knew that I had much more potential, but no one was letting me use it, so I gave up," he said.
More drug use landed Thusholt in a treatment program at Minnesota Adult and Teen Challenge the day after Easter in 2012. He tried 10 other programs before that, but Teen Challenge was where he finally came to know Jesus.
Even after treatment, though, it still didn't feel like anything was working jobwise, as all he could find were things that would just barely cover the cost of child care for his two kids.
Thusholt then became a stay-at-home dad and eventually started his own painting company, which worked for a while until another relapse happened.
Another stint at Teen Challenge saw him complete the organization's ministry program and intern there at the same time. He eventually landed an on-call position with Teen Challenge and then started filling out applications to work for the program in California, thinking it might be the fresh start he needed.
But as he was driving up to Brainerd to attend a Teen Challenge graduation, Thusholt had a conversation with God that changed his way of thinking.
"I hear God say, 'If you go to California, you won't be able to pick agates anymore,'" And I just started laughing," he said. "For me, when I find an agate, it's usually when I'm having a conversation with God. And it's like he's saying, 'Yes, you're right about that.' It's like a confirmation."
As if right on cue, the staff at Minnesota Adult and Teen Challenge in Brainerd took a chance on Thusholt, offering him a job in the short-term program in 2019.
After looking at eight houses to rent in the area with no luck, the ninth happened to be just what the family of five was looking for, and the landlord also took a chance — despite his criminal background — because of where he worked.
"Because of that, we were in a great place, and I was able to move forward," he said.
The couple went on to buy their own home in north Brainerd, but tragedy struck in June 2022 when a house fire destroyed most of their possessions and took the lives of their two dogs, Lizzy and Chloe.
It was hard for Thusholt to understand God's plan for him when so much still felt like it was going wrong.
But then he learned the rest of the staff at Teen Challenge in Brainerd had been praying for him to take the job long before he moved north.
"I knew that it was gonna be OK," he said. "My second chance doesn't come from everybody else. It comes from Him."
Today, after living in a rental since last year's fire, Thusholt and his family were told the remodel on their house was taking too long, and their rent would no longer be covered.
Another obstacle, another ultimate triumph.
They sold their house as is, and the family is getting ready to move into their dream home in Little Falls.
And just in time, as baby No. 4 is coming in August. Learning he'd become a dad again at 42 was a bit of a shock, but the family is embracing just one more change as Thusholt becomes further and further removed from that person in the car wreck 19 years ago.
He just celebrated six years of sobriety in March, all thanks to a newfound relationship with God and a few people who gave him a second chance.
But that doesn't mean the struggle doesn't still exist for many with criminal backgrounds.
"When you change, and you've done your time and your probation and made efforts to change and people still treat you like dirt, it makes it really hard to stay changed," Thusholt said.
Putting a little faith in God, though, is key.
"Give God a chance, and then be patient and sit still long enough for him to help you. So many people don't see results real quick and they run right back," he said. "If you do that and listen to people who care about you, then eventually that door with a second chance will open for you."
April is Second Chance Month
April is known as Second Chance Month, both nationally and in Minnesota, reaffirming the importance of helping those with criminal backgrounds re-enter society and have a second chance at a better life after paying their debts.
THERESA BOURKE may be reached at theresa.bourke@brainerddispatch.com or 218-855-5860. Follow her on Twitter at www.twitter.com/DispatchTheresa.