Should the School Board have a primary? Candidates, members weigh in
After 16 candidates competed for the five seats on this year's ballot for Brainerd School Board, some brought up the idea of a primary.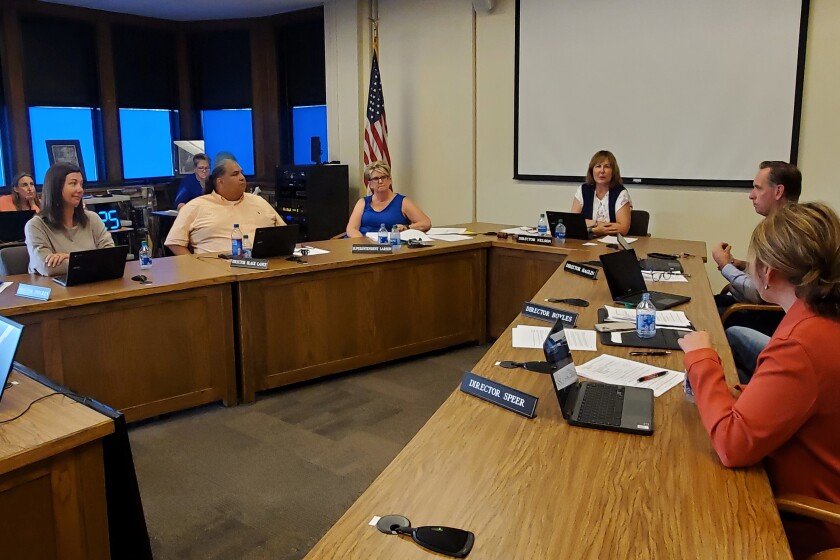 We are part of The Trust Project.
BRAINERD — More than 80,000 votes were cast in this year's Brainerd School Board election, split among 16 candidates.
The long list of names on this year's ballot prompted discussion on whether fewer choices would be better in the long run.A primary election, some said after the fact, might be the way to go so as not to overwhelm voters or split votes among like-minded candidates.
"Because everybody got votes, and there were some in there that didn't deserve a damn vote, but they got like 1,500 votes," candidate Tony Bonsante said after the Tuesday, Nov. 8, election. "So I think a lot of people went there and didn't really do any research and just voted."
Bonsante received the fourth-most votes in the race for two special two-year seats on the board. In a pool of nine candidates, voters were allowed to choose up to two options.
If the district had decided to do a primary election in August, that list would have been whittled down to just four. According to state statute, districts that allow primary elections can decrease the number of candidates to twice as many as the seats that are listed, meaning five candidates would have fallen off in the two-year race. Those who finished in the bottom five garnered 11,456 votes Tuesday.
The potential difference of going instead to the top four — John Ward, Michelle Brekken, Mike Stanek and Bonsante — will never be known. Ward came out on top with 21% of the votes, followed by Brekken with 17%. Stanek finished with 700 fewer votes than Brekken, while Bonsante was 1,267 votes behind Stanek.
"I do think that would be a great option," Stanek said of a primary in an interview with the Dispatch after Tuesday's election. " ... There was a lot of candidates, and the votes were diluted because of that."
Out of 331 school districts in Minnesota, just eight have primary races, according to Greg Abbott, communications director for the Minnesota School Boards Association.
Abbott attributed that low percentage to a couple reasons. For the districts with elections in off years, a primary doubles the cost, as it is an extra election in a year when there are no other primaries already happening.
For those running their elections along with the general state election, the early filing period triggered by a primary is off-putting to some, he said.
Races with a primary open their filing period in May, as opposed to August for races without.
Because everybody got votes, and there were some in there that didn't deserve a damn vote, but they got like 1,500 votes.
Tony Bonsante, School Board candidate
"People just don't think about filing for a November position in May," Abbott said during a phone interview Thursday. "And then when July comes and it's the normal filing period, and it's not there, they go, 'What?'"
To have a primary, a district's school board must pass a resolution by February of the year of the election, Abbott said. If that resolution is in place, a primary would be triggered only if the number of candidates is more than double the number of seats available. While the rule would have dropped off five candidates in this year's two-year seat race in Brainerd, it would have knocked off one person in the four-year race, as seven people filed for the three seats.
Abbott said he only recommends a primary for districts that consistently have a double-digit number of candidates, as a primary could be a lot of added time and expense to eliminate one candidate.
The Brainerd district had the resolution in place years ago, Crow Wing County Administrative Services Director Deborah Erickson said. Shortly after the district moved from odd year elections to even year — perhaps around 2010 or so — Erickson said the board approved the primary resolution. But during that time, she said there were never enough candidates to trigger the primary, and the district got pushback on the early filing period.
Because there will always be at least three seats up for Brainerd's board each election, seven or more candidates would have to file to trigger the primary. This year's election was unique, in that there were two special two-year seats up because two board members resigned partway through their terms.
One of those members was Bob Nystrom, who stepped off the board in October 2021, after having been elected for four years in 2020. Nystrom sat on the board for 17 years beginning in 2001, with a break from 2010-12. He recalls the board setting a primary after an election with several candidates and said he thinks there should be a primary again, though it's up to the discretion of the board.
"It's just too many people," Nystrom said, recalling a year with around 10 candidates when the district didn't have a primary and the candidate who came in fourth thought he would have won with a primary.
"And he made a good point," Nystrom said.
Brent Yaunick — another candidate for the two-year seats this year — said he could see the benefit of a primary as well so candidates with the same ideals are not pitted against one another.
Sitting board member Kevin Boyles — the only one whose seat was not up for election this year — likes the idea of a primary, too.
"I think when you get to a general election of any kind — or any elected office — less is more, to a certain extent," Boyles said. "And I know for sure that certain folks across town felt like their candidates didn't get a great shot on Tuesday because there were so many candidates that the votes were sprayed all over the place."
Boyles said he also thinks there could be some sort of voter paralysis for those who get to the polling booth and see such a long list of candidates. He said he would absolutely be in favor of a primary as long as the district could balance the cost and make sure it's fair to every candidate who wants a shot.
Current Board Chair Ruth Nelson, who did not run for reelection, said she thinks a primary is something future board members should look at depending on how many openings are on the board.
Tom Haglin, who decided not to run for reelection as well, said a primary might make sense if there are this many candidates. This was a unique year, though, he said, with the two special seats up, and the multitude of candidates could have been because people were fed up with the current board or because they knew he and Nelson were not running to retain their seats.
Some candidates, however, are not in favor.
Sitting board member Charles Black Lance, who did not retain his seat this year after coming in fourth in the four-year race, said he doesn't think it's the fairest way to go. While a primary makes sense in a two-party race, because the School Board is nonpartisan, he said he doesn't see a need for a primary and believes it would give an advantage to those with more resources for campaigning.
"I would want everybody that wants to be considered to be given an opportunity to be able to run a full campaign to be able to be considered come Election Day," Black Lance said. " … I would never want to limit somebody the opportunity to have their name on the ballot."
And as someone who has both won and lost an election with seven people on the ballot for three seats, he said he thinks the point is moot and does not think a primary would have changed the outcome. Whether all the voters understood the difference between the two elections, though, he said, might be a different matter.
Two other candidates who ran for the two-year seats this year don't think a primary is a good idea either. Tris Cluever said she doesn't think a primary would have made any difference, while Jessica Forsberg said it doesn't give voters as much time to learn about the candidates. Issues can change quickly, she added, making a longer campaign time more beneficial for both voters and candidates.
"I'm not sure that a primary would make the outcome better," Forsberg said.
Another topic of discussion brought about by this year's election and recent events in the school district is the idea of increasing the board size from six to seven.
State statute says school boards must have at least six members, though they could be increased to seven with voter approval.
The Dispatch will explore that idea and thoughts on the issue from candidates and current and past members in an upcoming story.
THERESA BOURKE may be reached at theresa.bourke@brainerddispatch.com or 218-855-5860. Follow her on Twitter at www.twitter.com/DispatchTheresa .