Stienka brings a whole latte love to Coco Moon coffee shop
Dawn Stienka took over as the new owner of Coco Moon in downtown Brainerd at the beginning of the year.
BRAINERD — Dawn Stienka knew when she was just 15 she wanted to own a coffee shop someday.
More specifically, Coco Moon in downtown Brainerd.
Today, that dream is a reality.
"It feels amazing," she said Thursday, March 10, while sitting in a sun-filled booth at the coffee shop.
The new year brought a new adventure for Stienka, who took over Coco Moon from previous owner Lorie Brown Jan. 1 and has loved every minute of it. After all, not everyone can say they've achieved their dreams.
"There's only so many businesses in the area, and this one is the one that I fell in love with," she said. "Connection, community, people in general — making people happy by something as simple as drinks, that's pretty rare."
Stienka has worked at Coco Moon on and off for the past 15 years, but she's been around coffee for much longer."My dad worked a manual labor job my whole life, so that's what I would start my days doing is making his coffee," she said.
Now Stienka brings home Coco Moon coffee for her dad and shares interesting facts about the different brews.
"So now he drinks light roast coffee, which has more caffeine, and it gets the job done," she said.
Stienka clearly gets the job done, too, as business continues to grow since she took the reins. A combination of a bounce back on the heels of the COVID-19 pandemic, extended hours a few days a week and live music draws in new customers and enhances the Coco Moon experience.
"Getting artists back in here was my No. 1 objective. Just to have that live music here, bringing people in," Stienka said, noting the shop is now open until 6 p.m. three nights a week, and she plans to extend those hours even further once summer hits.
Music was such an important factor for Stienka because she remembers listening to bluegrass at Coco Moon as an 18-year-old working there, and that stuck with her, becoming one of her go-to genres of music.
"We are so talented in the Brainerd lakes area," she said. "... And we have had nonstop calls about people playing live music here. It has been truly a blessing."
Stienka is already taking artist bookings for May. And to get the word out, she's working to increase the coffee shop's social media presence on Facebook so customers can always know what kind of brews are fresh each day and when they might find some live entertainment.
Despite everything new, those regulars who have stayed loyal to the coffee shop and still come in day after day, year after year, can rest assured the core of the business remains the same.
The solid foundation, built up over the last 28 years by first owner Rod Opp and then Brown, has weathered its fair share of storms, is still in good working order and is something Stienka would never want to change.
"The fact that a small business can make it through, like the 2008 crash, and then now with everything going on — I mean, wars are constant, gas prices are increasing constantly. And to be able to feel at home in a coffee shop, to be yourself, to have somewhere to go and just say hello. We can make or break people's days," she said.
Specialty lattes, unique coffee creations and a multitude of sweets and pastries from Fancy Pants Chocolates just down the street go a long way in making those days for anyone who needs a quick pick-me-up. The turtle, mongoose, cinnamon roll, bullwinkle and car bomb are some of the most popular drinks, with flavors like chocolate, caramel, banana, Irish cream, English toffee, butter pecan, brown sugar and hazelnut.
There's also the coco puff, a drink with milk chocolate, white chocolate, hazelnut and espresso that Stienka created herself during one of her stints as a barista and was amazed to see remained on the menu.
"That really gave me a sense of pride because I made that at 5:30 in the morning like 12 years ago, so that was really exciting," she said.
But supplies don't last long. Stienka can't keep the pastry case full and constantly runs out of various coffee brews.
But it's a good problem to have because it means business is booming and the community is supportive.
"All the businesses downtown come here, and this is probably what gives me the most pride — being able to support them making their dreams come true," Stienka said, gushing about how much energy there is in downtown Brainerd right now and how happy she is to be a part of it.
"There's so much pride and joy and fulfillment," she said.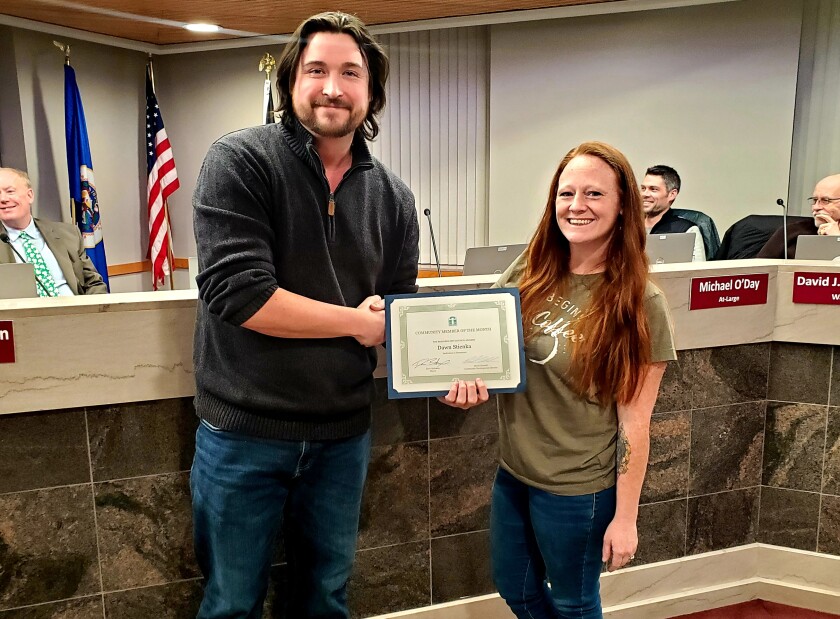 And those feelings aren't lost on the rest of the city either, as evidenced by Stienka's recent recognition as the Brainerd Community Member of the Month for February. The honor from the mayor and City Council was bestowed upon her a little late, due to recent snow, but she finally accepted her certificate Monday, March 7.
"The biggest thing about this award and why we've selected you, Dawn, is because this is about dedication to our downtown," Mayor Dave Badeaux told her last week. "And this is about stepping up and looking at a business and saying, 'I think I'd like to take that on.' And one of the biggest things I think we as a city could help do for our downtown is really start focusing on succession planning and working with our businesses so that as business owners are moving on, as people are ready to start the new portions of their lives … we as a city should be keeping an eye out and trying to help as much as we can to have the next people step up and to make sure that we have a plan."
Stienka is one of those people with a plan.
Along with the expanded hours and periodic music, she has local artists on hand ready to paint the last of the tables that don't already have designs on them, and eventually she envisions a showcase for student artists from the high school.
"We've been on the same corner for 28 years," she said, "and I really cannot wait to see what the next 20 years of operation brings."
THERESA BOURKE may be reached at theresa.bourke@brainerddispatch.com or 218-855-5860. Follow her on Twitter at www.twitter.com/DispatchTheresa .