Tech Savvy: Could Apple be releasing a VR/AR headset soon?
It's a wide prediction, but Apple did announce rollouts in classical music and a new buy now, pay later option with the WWDC coming up in June for more updates.
BRAINERD — Apple will have its Worldwide Developers Conference June 5 showcasing the latest tech and software, operating system upgrades and perhaps a few surprises.
There is a lot of buzz about a possible augmented reality or virtual reality headset.
" Apple's long-anticipated mixed-reality headset could finally make its debut in June, according to Bloomberg , marking Apple's first major expansion into a new product category since the Apple Watch," CNET reported. "The headset is expected to blend elements of augmented reality, which lays digital graphics over real-world environments similar to the smartphone game Pokemon Go, and virtual reality, which envelopes users in 360-degree graphics like the $400 Meta Quest 2 ."
Cost for this potential device, according to multiple reports, could be $3,000. So while this product may not be one that is mainstream, the talk in tech circles is that — just like other Apple products from the iPod to the iPad and Apple Watch — this could be an entry that opens the doors to updated versions down the pike.
"But there's an expectation that Apple's first VR product could popularize the technology, since the company has a long track record of doing so with other products," CNET reported, meaning a more affordable and enhanced mixed-reality headset may be in many more hands in the not too distant future.
While the move to AR/VR is still speculation, Apple did make two announcements Tuesday, March 28.
Apple launched an option to purchase items in installments with Digital Wallet.
"Apple Pay Later allows users to split purchases into four payments, spread over six weeks with no interest and no fees," Apple reported. "Users can easily track, manage, and repay their Apple Pay Later loans in one convenient location in Apple Wallet. Users can apply for Apple Pay Later loans of $50 to $1,000, which can be used for online and in-app purchases made on iPhone and iPad with merchants that accept Apple Pay."
Apple reports over 85% of retailers in the U.S. accept Apple Pay.
Apple Pay uses a device-specific number and unique transaction code for purchases and the company reports the card number is never stored on the user's device or on Apple servers and card numbers are never shared by Apple with merchants.
Apple Pay allows payment using the user's choice of card in the Digital Wallet, whether that is a debit card or a credit card, from an iPhone, iPad, Mac or Apple Watch.
If a birthday sneaks up on you, Apple Cash allows you to send money in the Messages app. If you've paid for a co-worker's Fantasy Football entry fee, you can send them a request for repayment in Apple Cash as well. The money can be used there and spent with Apple Pay or transferred to a bank account or debit card.
I use Apple Pay all the time, from a vending machine to paying for groceries with my watch at checkout and Apple Cash, while it isn't something used frequently, is a great and easy way to send money fast.
Apple reports over 85% of retailers in the U.S. accept Apple Pay.
As for Apple Pay Later, users can also apply for a loan right in the Digital Wallet without impacting their credit score, Apple reported. Once approved, the Pay Later option will be available at checkout using Apple Pay and the money can be used on the purchase.
"There's no one-size-fits-all approach when it comes to how people manage their finances. Many people are looking for flexible payment options, which is why we're excited to provide our users with Apple Pay Later," said Jennifer Bailey, Apple's vice president of Apple Pay and Apple Wallet, in a news release. "Apple Pay Later was designed with our users' financial health in mind, so it has no fees and no interest, and can be used and managed within Wallet, making it easier for consumers to make informed and responsible borrowing decisions."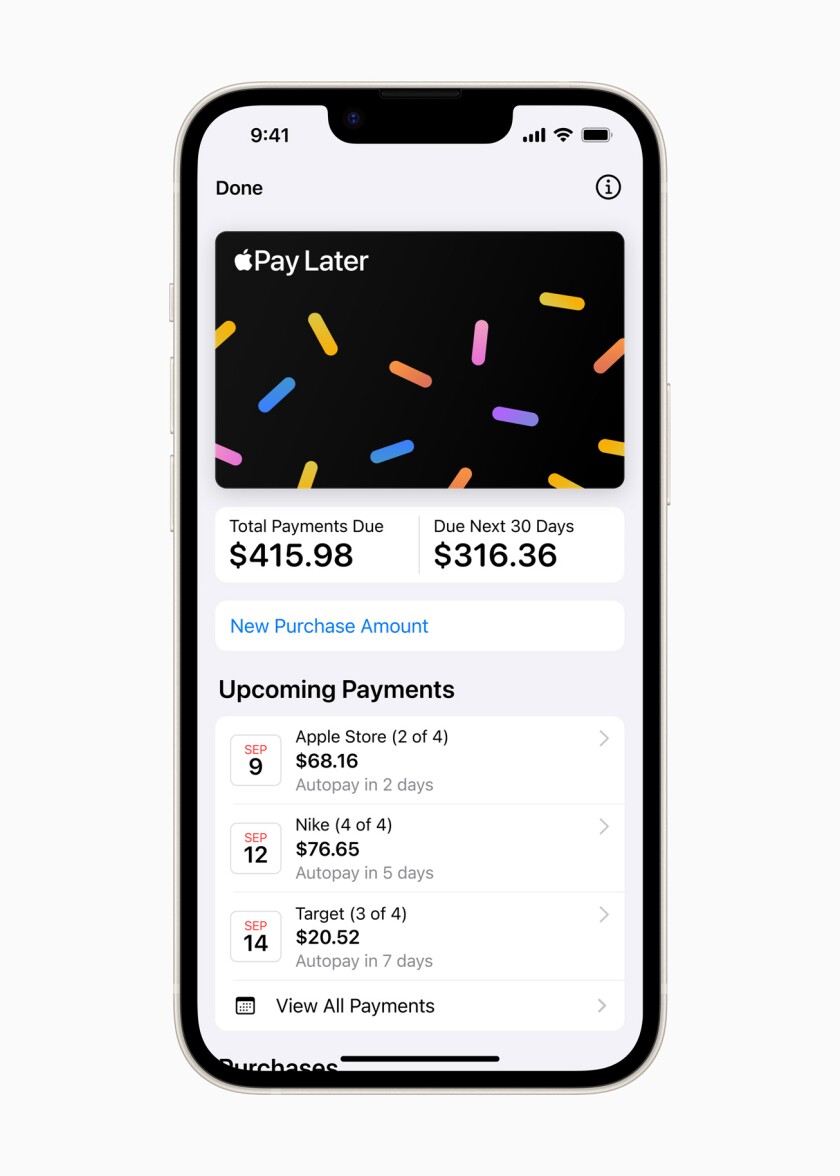 Apple Pay Later is going out to select users with a wide release to all eligible users expected in the coming months, Apple stated in a news release.
The option is rolling out to randomly selected users to start for the pre-release and isn't expected to be available to all eligible customers until late spring or early summer.
In addition to purchases
"Apple Pay Later is built right into Wallet, so users can seamlessly view, track, and manage all of their loans in one place," Apple reported. "With Apple Pay Later in Wallet, users can easily see the total amount due for all of their existing loans, as well as the total amount due in the next 30 days.
"They can also choose to see all upcoming payments on a calendar view in Wallet to help them track and plan their payments. Before a payment is due, users will also receive notifications via Wallet and email so they can plan accordingly. Users will be asked to link a debit card from Wallet as their loan repayment method; to help prevent users from taking on more debt to pay back loans, credit cards will not be accepted."
Apple also released Apple Music Classical March 28. Apple reports the standalone music streaming app will allow Apple Music subscribers to find and experience classical favorites in a new way. Tabs help people look for music by genre, composers, orchestras, soloists, conductors, periods and more. Apple Music Classical has more than 5 million tracks.
"We love music — that's really what we're all about — and classical music is foundational to music of all genres," said Oliver Schusser, Apple's vice president of Apple Music and Beats, in a news release. "Apple Music Classical is a dedicated app that is great for classical experts as well as anyone who is new to classical, with the largest classical music selection in the world, the very best search and browse capabilities, the most premium sound experience with Spatial Audio, and thousands of exclusive recordings. We believe this is the very best classical music streaming experience available anywhere, and for us, this is just the beginning."
Renee Richardson, managing editor, may be reached at 218-855-5852 or renee.richardson@brainerddispatch.com . Follow on Twitter at www.twitter.com/DispatchBizBuzz .