What to fund? Variety of options available for Brainerd's COVID-19 relief money
Brainerd is set to receive just under $1.5 million from the American Rescue Plan Act.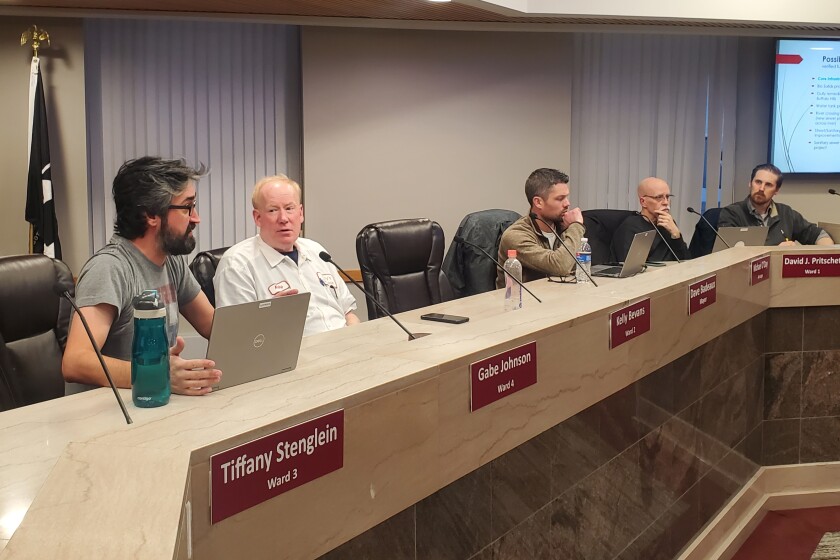 BRAINERD — Park updates, public safety equipment and child care aid are just a few of the initiatives the Brainerd City Council could choose to fund with the city's latest allotment of federal coronavirus relief money.
The 2021 American Rescue Plan Act established the Coronavirus State and Local Fiscal Recovery funds for state, local and tribal governments. Brainerd's allocation is $1,468,097.58, doled out in three installments between July 2021 and summer 2022. The funds can be used on costs incurred on or after March 3, 2021. They must be allocated to specific uses by Dec. 31, 2024 and spent by Dec. 31, 2026.
There are four eligible use categories for the money, Finance Director Connie Hillman explained to Brainerd City Council members during a workshop Monday, Feb. 28.
Those categories are:

Responding to public health and negative economic impacts of the COVID-19 pandemic,
Providing premium pay to essential workers,
Providing government services to the extent of revenue loss due to the pandemic, and
Investments in water, sewer and broadband infrastructure.
City staffers suggested focusing on the third category, using the money for government services, which Hillman said allows for the most flexibility. The main restrictions do not allow governments to use the money to offset a reduction in net tax revenue or to bolster pension funds or debt service funds.
After a brainstorming session, staff members came up with three categories of their own for the funds to go toward: Core infrastructure, future capital and "but for." The last category includes projects that would not be done if it weren't for the relief funds, like broadband extensions to the parks, business and nonprofit grants or extended leave and benefits for city staff. Core infrastructure could include projects surrounding the gully in southeast Brainerd , the city's water tanks or the sanitary sewer system, while capital projects could include police and fire equipment, the air handling system at the police department, park improvements and technology updates in the fire department training room.
Council member Mike O'Day asked what economic relief to residents would look like if the City Council were to go that route. With the city's population at 14,395 as of the 2020 census, each resident could theoretically receive roughly $100, though council members agreed they would rather use the money on projects taxpayers would eventually be funding anyway.
The "but for" projects would also be fun, O'Day said, but he would rather see the funds go toward things the city will already have to spend money on, like future capital expenses.
Along with capital needs, Council President Kelly Bevans specifically mentioned three projects he could see spending at least some of the money on: fixing up the Gregory Park fountain, repairing the historic water tower and addressing the gully in southeast Brainerd. The sandy soil in the southern part of the city, combined with stormwater runoff and wetland drainage, created the perfect storm of events to form the gully, which is roughly 40 feet deep and 40 feet wide in some areas. Erosion in the area quickened pace last summer in the Buffalo Hills neighborhood.
Council member Gabe Johnson said he also leaned toward funding capital projects and would especially like some of the money to be dedicated to park projects — like revamping the beach at Lum Park or adding a soccer field at Jaycees Park — and outdoor activity opportunities for kids. Those are projects that would likely be done down the road but could be expedited with this money, Johnson said.
"Getting it done now is, in a sense, a way to fight COVID or illness or sickness. We're getting kids outside. We're giving them exercise; they're being physically fit, they're being healthy," he said. "This money came from a COVID relief grant, so let's spend some of the money making the kids in our community healthy so when they get an illness in their life, their body is better ready to fight."
Mayor Dave Badeaux agreed, saying it would behoove the city to spend money on initiatives exposing kids to healthy habits.
Council member Dave Pritschet said he would be interested in exploring how to support the child care industry, as that was an area significantly impacted by COVID-19, though he isn't sure what that kind of support would look like. Hillman said the city could partner with Crow Wing County on that initiative.
County Board members agreed in January to allocate $456,978 of the county's American Rescue Plan Act funds to the Brainerd Family YMCA, which announced plans last fall to purchase another building to expand its child care offerings. An expected 74-85 infant and toddler spots would result from the expansion.
Other educational and child care facilities receiving county grants included the Ashdown Forest School in Breezy Point ($100,000); Monarch Beginnings in Emily ($80,000); Teeny Bubbles Childcare & Learning Center, north of Baxter ($30,000); Trinity Children's Center in Brainerd ($29,995) and Stepping Stones Childcare in Brainerd and Baxter ($26,229). Another 19 providers received grants ranging from $1,824.99 to $10,000, with the majority of those receiving $2,000 grants.
Council members generally agreed they would like to see the money go toward capital projects and other expenses the city is already going to incur down the road. Council member Kevin Stunek was absent Monday but passed a message through City Administrator Jennifer Bergman that the city has plenty of time to spend the money and shouldn't rush into any decisions.
Bergman said the direction Monday was helpful and agreed to bring the topic before the city's Personnel and Finance Committee for further review.
THERESA BOURKE may be reached at theresa.bourke@brainerddispatch.com or 218-855-5860. Follow her on Twitter at www.twitter.com/DispatchTheresa.