Aili wins Beargrease Sled Dog Marathon
The nearly 300-mile race ended Tuesday in Grand Portage.
GRAND PORTAGE — Keith Aili's dogs stopped a few feet short of the John Beargrease Sled Dog Marathon Finish Line — a fluorescent-orange spray-painted line in the snow.
After a bit of coaxing, the eight dogs finally pulled Aili, of Ray, Minnesota, and his sled across the line at about 2:59 p.m., winning the nearly 300-mile race.
Aili, who also won the race in 2006 and has been racing it since the 1990s, said this year's team is incredibly young. So when they saw and heard the crowd, they hesitated.
"I wasn't quite expecting (the team) to win this year because most of these dogs but one have never finished a long race before," Aili said. "This is pretty exciting for the future."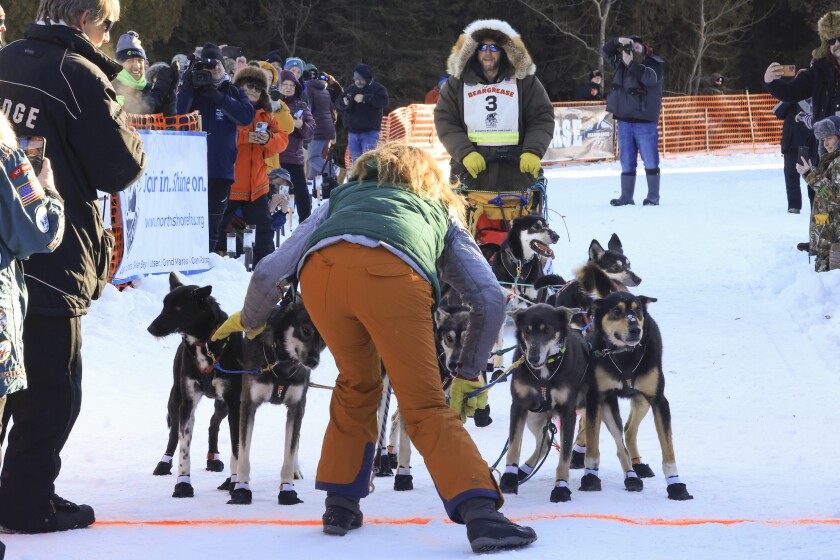 Aili managed to take the lead after catching up to defending Beargrease champion Ryan Anderson, of Cushing, Wisconsin, late Monday.
Anderson, who left the last checkpoint 12 minutes behind Aili with nine dogs, finished about eight minutes after Aili.
Knowing Anderson was behind him made Aili a little nervous during the race's final leg.
"I wasn't too worried, but still I looked over my shoulder a few times," Aili said.
Sarah Keefer, of Burnsville, Minnesota, finished in third with 10 dogs, about 42 minutes after Aili finished.
The marathon began Sunday at Billy's Bar in Duluth and followed snowmobile trails along the North Shore and Gunflint Trail. It finished along Lake Superior at the Grand Portage Lodge and Casino.
This year's race began in frigid conditions and was often run through below-zero temperatures. But when the sun came up Tuesday, so did temperatures. The high in Grand Portage reached 10 degrees.
"When the days are cold, too, and it doesn't warm up and there's wind, it gets a little bit tiring after a few days, so this nice break in the weather today was beautiful for us," Aili said.
And it wasn't too warm for the dogs, which thrive running in subzero conditions.
Anderson, a four-time Beargrease champion, led the race through the Trail Center checkpoint on the Gunflint Trail, the race's midpoint.
Then, the next two segments were rough, he said.
First, Aili caught up to him. Then, one of his dogs was sore, and the 70-pound dog had to ride the rest of the way to Mineral Center in the sled.
And the final segment seemed like it was going to be rough, too.
Seconds after pulling away from Mineral Center, the race's final checkpoint, Anderson had to stop his sled and untangle some of his dogs. He had to stop again a few hundred feet down the trail.
"We didn't leave the best up there because I knew they were going to be tired from having to haul that dog for three and a half hours, but after about 20 minutes, they loosened up real nice and they came home strong," Anderson said.
For Keefer, Tuesday marked her second time placing third in the Beargrease. She also finished third in 2021.
"But it's still a personal best," Keefer said. "Because last time I had a longer trail time and I finished in the dark. So I knew I was ahead of my own schedule because I got to see the last segment of the trail in the daylight."
Crowd favorite Wildfire — a 3-year-old Alaskan husky that was injured last year when a snowmobile hit him on a Wisconsin trail, breaking his leg in three places — was running on Keefer's team. Having recovered from multiple surgeries, he managed to finish the entire race. Now, Ryan Redington, the two-time Beargrease champion from Skagway, Alaska, might include him on his Iditarod team.
As of 8 p.m. Tuesday, 12 of the 15 remaining mushers had crossed the finish line:

Keith Aili, Ray, Minn.
Ryan Anderson, Cushing, Wisconsin
Sarah Keefer, Burnsville, Minnesota
Matthew-Karl Schmidt, Grand Marais
Nick Vigilante, Ely
Jesse Terry, Sioux Lookout, Ontario
Katherine Langlais, Glenwood, New Brunswick
Ero Wallin, Two Harbors
Peter McClelland, Ely
Colleen Wallin, Two Harbors
Jennifer Freking, Finland
Laura Neese, Newberry, Michigan
Mushers Daniel Klein, of Eagle, Wisconsin, and Martin Massicotte, of Saint-Tite, Quebec, dropped out earlier Tuesday.