Will Lum Park be home to a new children's museum?
The Brainerd City Council heard a proposal on the proposed amenity, the location of which has been narrowed to Lum Park and a site in Baxter.
Brainerd's Lum Park is one of two finalists for the future Region Five Children's Museum, and city council members learned what the project might look at their meeting Monday, Nov. 4.
If Lum Park is ultimately decided on, the 25,000-square-foot museum would likely sit in the clearing near where the current campground is, north of the intersection of Highway 210 and Wonderland Park Road Northeast.
The initiative to establish a children's museum began in 2015 by foundational activists at Sourcewell (National Joint Powers Alliance at the time), inspired in part by similar programs in Mankato.
Sourcewell then established a planning group that worked alongside the community to develop the idea and come up with a master plan for the museum.
Project Director Peter Olson told the council Monday about his vision for the museum as a place to support 21st century learning for children of all abilities through hands-on exhibits in an immersive indoor/outdoor environment. It would create an interactive learning center for teachers to bring students.
"There's no instructions. There's no playbook to follow. There's no immediate gratification like a video game. This is all about creating a disposition for children to be able to direct their own learning throughout life," Olson said. "And beyond that, it creates a regional sense of identity so children growing up in this region know what it means to be from such a special place."
After nine locations in Region Five -- which covers Cass, Crow Wing, Morrison, Todd and Wadena counties -- were proposed, the board narrowed the pool down to two. Lum Park in Brainerd and the Potlatch property off Highway 371 in southwest Baxter are the two finalists.
Should Lum Park be chosen, Ashley Martel of Widseth Smith Nolting said the campground could shift to a more wooded area of the park for better seclusion.
Along with the building itself, the museum would make use of the adjacent Rice Lake and include outdoor exhibits, one of which Olson described as Minnesota's longest picnic table winding inside and outside the building with a seat for everyone.
Some current park facilities, including playground equipment, could see upgrades through the children's museum project as well, though Olson said the existing uses of Lum Park would not be altered.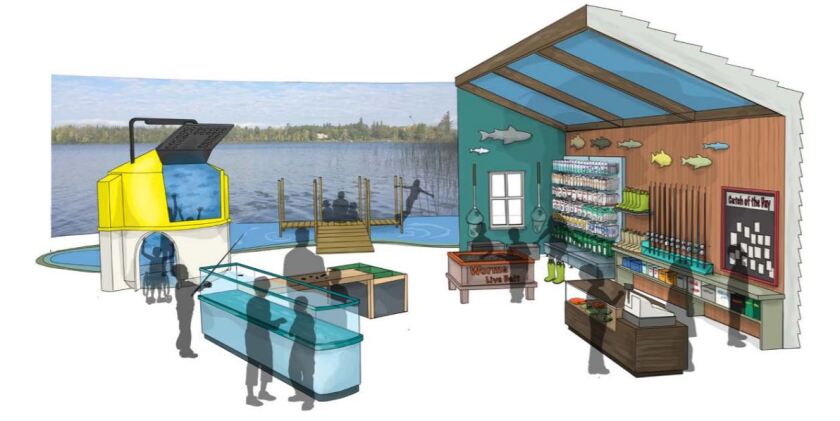 After seeing the designs and possibilities, Olson said the big questions council members now have to answer are whether they are interested in revising Lum Park for the 21st century with the children's museum and if they are willing to support joint master planning and a public/private partnership in terms of funding and maintenance for the children's museum.
"I think it would be a very good investment in our city," council member Jan Lambert said, with other council members consenting approval.
Council President Gabe Johnson directed both the city's parks board and personnel and finance committee to review the proposal and look at how the children's museum could fit into Lum Park and how the city council would contribute any funds.
"I don't think there is anything that can be more impactful on the vitality of the community and of the benefits it (a children's museum) provides to children," Olson said. "And I think children's museums have such a high return on investment for what it does in terms of children's long-term well-being, what it does for unlocking their potential and ultimately what it does for a community."