A snapshot of Minnesota and the coronavirus
On Monday, April 20, 2023 dozens of journalists from Forum Communications set out to provide a snapshot of the coronavirus pandemic in Minnesota. This is the result: The "19 Hours" project.
In the land of 10,000 lakes, life resembles little of what it did seven weeks ago. Wide-sweeping changes have altered life. Dramatically, perhaps even irreversibly, COVID-19, the respiratory disease caused by the new coronavirus, shook the core of what Minnesotans hold close and dear.
Since the first positive case was detected in the state March 6, the changes are mind numbing. An extended stay at home order for many, except for basic essentials or outdoor activities. Virtual classrooms. Unprecedented unemployment, a reeling economy and business closings. Social distancing. No gathering for worship, concerts or festivals. Even America's pastime, and the hometown Twins, are indefinitely suspended. High school and college athletes saw their seasons end abruptly — or canceled.
Family, particularly those most vulnerable to coronavirus, and friends isolated for weeks with no timeline to reunite.
The invisible and lethal global pandemic has tested Minnesotans — accustomed to greeting their neighbors, working hard, expressing their faith, attending events — in inexplicable ways, creating an unclear picture of the future.
But there are signs of life — and hope.
World-class health care experts, technology firms and manufacturers are working at warp speed for solutions and ways to re-establish normalcy and re-open the state, and America.
Now, more than ever, Minnesotans are heading to the great outdoors. They've found new ways to stay connected to family, friends and community.
On Monday, April 20, more than 50 journalists from Forum Communications, with newspapers all across the state, set out to document life in Minnesota over 19 hours. This is the story of Minnesotans, and how they are muddling through the unknown.
Time to make the donuts
BEMIDJI — While much of the world has come to a standstill, it's not the case for grocery workers at Marketplace Foods in Bemidji. James Dahl, Dave Long and Brandon Granmo were hard at work with their typical schedule that began long before dawn.
Dahl and Long have spent decades in the bakery department at Marketplace and Granmo works as the store director. The aroma of bread dough and bakery sweets wafts through the air, penetrating through any mask in the 5 o'clock hour at Marketplace.
Though the store is opening two hours later because of the coronavirus pandemic, here's how three of Minnesota's essential workers — two veteran bakery workers and the store director — spent an early morning hour during the coronavirus pandemic.
5:10 a.m. - Donning a Star Wars face mask, baker James Dahl forms dough, egg washes and scores loaves of bread. "I've worked here all my life," Dahl says. On the other end of the long wooden table, doughnut fryer Dave Long — celebrating his 27-year work anniversary — packages cake doughnuts.
5:20 a.m. - Long tosses some cake doughnuts in cinnamon sugar and then others in powdered sugar. Dahl places baking sheets with cookies into a giant oven. "It can hold 30 of these baking sheets," Dahl says. Soon going in and out would be cinnamon rolls, doughnuts and apple fritters.
5:30 a.m. - Store director Brandon Granmo unloads grocery items from pallets that just arrived on a truck. "It usually takes an hour or two," Granmo says.
5:50 a.m. - Other bakery employees show up for their 6 a.m. shift. They'll package and ice bakery items among other tasks. Dahl and Long continue to bake various sweet treats while Granmo continues to unload other grocery items from pallets.

'A lot of praying'
ROCHESTER — Michelle Heilskov parks her car in the employee ramp, slips on a fabric mask and steels herself for another 12-hour shift. "I do a lot of praying before I get here," she says.
Heilskov, 54, is a nurse in the medical intensive care unit at Mayo Clinic Hospital-Saint Marys, which treats patients who have serious conditions including a handful so far with COVID-19. On April 20, 116 COVID-19 patients are in ICUs, according to the Minnesota Department of Health.
Today is Heilskov's turn to be one of the charge nurses, overseeing a team of nurses caring for a dozen patients in all, a mix of COVID and non-COVID patients. She's been an ICU nurse for 25 years. "I like the challenge," she says.
Caring for patients with COVID-19 has presented new challenges. Some cases require assigning two nurses per patient. The virus is still imperfectly understood. Nurses like Heilskov can offer care, but not a cure. And all the while, they risk their own health.
"It's more stressful," she says. "Nurses are nervous about taking it (the coronavirus) home. They're nervous about getting it."
So, they have learned to work together to "suit up" with personal protective equipment before entering patients' rooms, following instructions from a new PPE coach assigned to them. They help remind each other through the day to exercise care for patients, themselves and each other. No nurses in her group have tested positive so far, Heilskov says.
"We are a lot more hypervigilant about what we touch, how we do things," she says.
6:48 a.m. - Heilskov rides the elevator to the sixth floor of the Mary Brigh building at Saint Marys, which contains the ICU. Only four people at a time may ride, a sign says.
The toughest thing about COVID-19 for patients is being isolated from loved ones. But, Heilskov says, "They're never alone with us." Nurses decorate patients' rooms or bring them prayer blankets — whatever it takes to provide a measure of human comfort.
6:57 a.m. - Heilskov reaches the doors of the ICU. First thing, she'll take the morning report. "We tend to be excited just to get going," she says. At 8 a.m., the charge nurses will meet to go over patient reports, new admissions and the roster of those who are leaving the ICU — alive.
Yes, there have been COVID-19 patients who have emerged living from the ICU. "That's exciting," Heilskov says.
On any day, the hallways at Saint Marys are electric with life-saving purpose. That feels heightened today, when every person you see is masked. All that is seen of their faces are the eyes. Grim eyes. Determined eyes. Frightened eyes. And Heilskov's eyes — what have they seen? What might they wish they hadn't seen?
She waves her badge over a sensor, and across the hall a broad set of double doors silently swings open. She turns and strides through the doorway into the ICU. Her challenge is just beginning.
'Nobody wants the corona'
PEQUOT LAKES — Ashley Sullivan awaits the arrival of children to her home day care. At 7:30 a.m., the family's big bullmastiff, Millee, is locked behind a gate blocking the kitchen and the rest of her home from the living room, which serves as Ashley R. Sullivan's Family Child Care.
One of her four sons, Charles, 7, plays a video game on a large TV hung on the wall. Husband James, who works overnights at Pequot Tool & Manufacturing, is asleep in the bedroom with fans running as white noise.
7:34 a.m. - Marcus Evenson, who owns North Star Irrigation, delivers off his daughter, MaKenna, 18 months old. MaKenna's mom, Amanda Gelking, is a dental hygienist.
7:41 a.m. - Lloyd Warren, working remotely for Crow Wing Power's IT department, drops off Rowen, 5, and Waverly, 2. Wife Britany works in financial services for Cass County. Sullivan says an 11-month-old, whose mom is a nurse, won't be coming this day.
7:45 a.m. - The kids play and watch TV. "Nobody wants the corona," Rowen says.
7:51 a.m. - The two girls help Sullivan get the table ready for breakfast. Ten minutes later, the children are eating Cheerios with a banana.
8:16 a.m. - Sullivan cleans up breakfast dishes and helps the kids wash their hands and mouths. Moments later, she takes out toys for the kids to play.
8:26 a.m. - Sullivan wipes down the table, chairs and high chair and then watches the kids as they play. Her day now includes her own four kids — including two high school seniors — at home doing distance learning. That has affected her daily life more than any day care changes. She appreciates the school district dropping off weekday meals for her sons.

Drive-thru meal delivery to feed the kids
PERHAM — Two dozen or so staff members' cars are scattered around the Perham Public School parking lot as the golden sun rises over the middle school.
On what would normally be a busy morning in Perham, a community of about 3,500 people in Otter Tail County, a flag flaps lazily in a cool breeze at 7:45 a.m. as school staff comes out of the building to greet cars driving through the loop.
Rather than dropping off students, the drivers arrive to pick up school lunches.
As the cars move through the line, staff use a cart to help them distribute bagged breakfast and lunches for children.
Not exactly business as usual
THIEF RIVER FALLS — Though the facility is open and delivery trucks regularly pick up and drop off product, the changes are visible at Digi-Key in Thief River Falls.
A massive parking lot is about two-thirds empty and every other packing station, where product is boxed and labeled for shipping, is empty. Only two workers sit -- at separate tables -- in a third-floor employee dining area that could house two basketball courts.
Typically, over 3,800 people are working inside the electronic parts distribution company, which has teamed up with the University of Minnesota to supply components for respirators. Over 1,700 employees now work from home, a feat for the company's IT department, as many employees live in rural areas outside of Thief River Falls, and connectivity is an issue.
"It's a cubicle ghost town," says Shane Zutz, vice president of human resources. "It would be a great place to play Nerf wars or something."
7:50 a.m. - Receptionist Julie Peterson irons homemade masks workers can take if they want. She is part of a four-person mask-making team. She has a sewing machine at her desk that her husband puts in the car every Sunday night so she can work on the masks at work.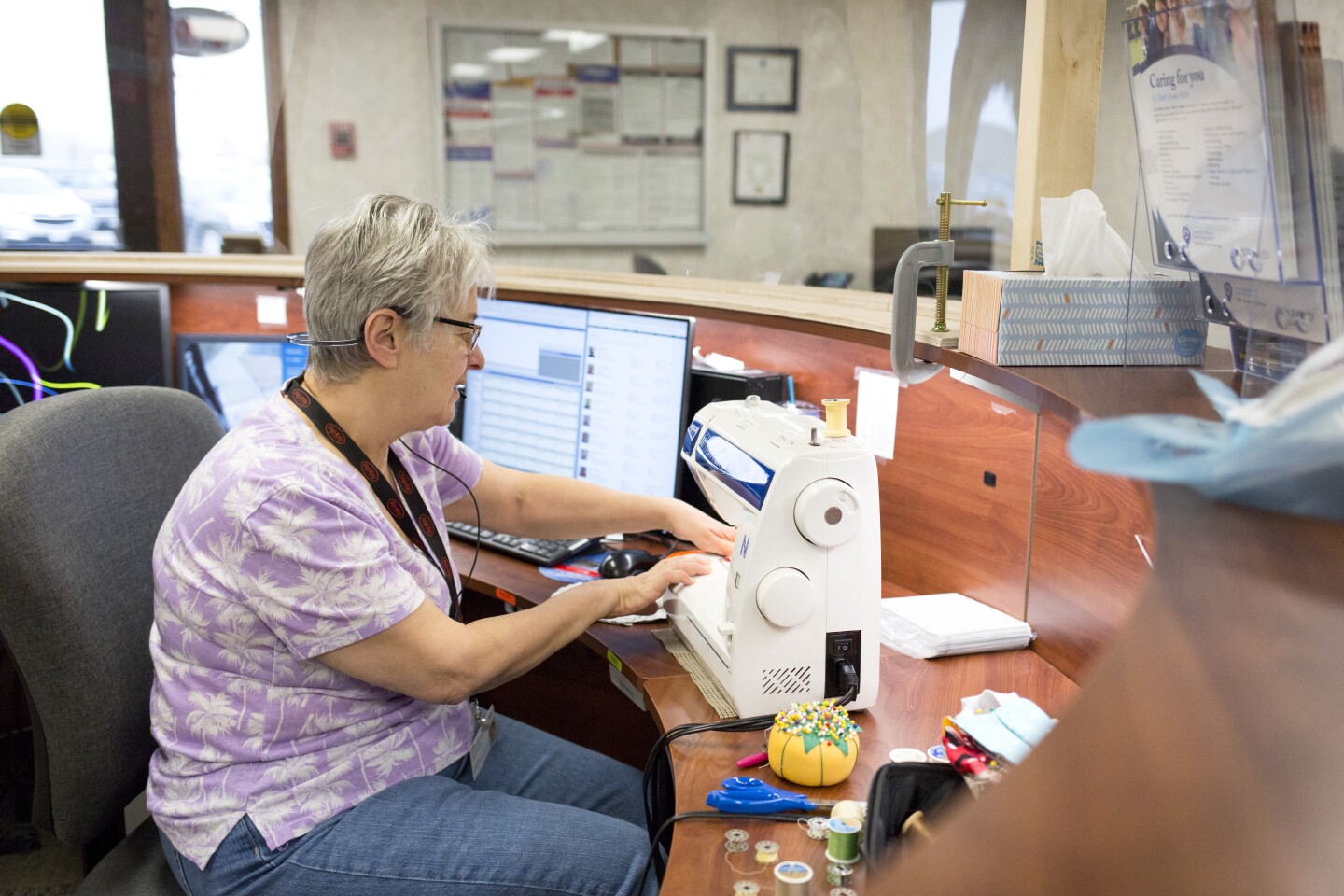 8:10 a.m. - Shane Zutz shows how employees clean totes. The totes allow parts, which need to be boxed and shipped, to be moved on the facility's conveyors. They pass through an ultraviolet light machine, engineered on-site. Staff had asked about the possibility of cleaning them. "These totes, In the course of a day, can hit 95 pack stations or pick stations."
8:17 a.m. - Cindy Wiskow and Gloria Barber do stretching exercises at their workstation. They do it twice a day to ward off becoming stiff while they work.
8:19 a.m. - Elaine Sundberg, wearing a mask and gloves, sanitizes tables in a break area. They get cleaned every two hours and she is responsible for three areas.
8:35 a.m. - Jamiee Gaddie takes a break from her 4:30 a.m. to 1 p.m. shift to drink an energy drink. "The closest employee is two tables away. We have staggered breaks, so there's less people on breaks now," Gaddie says.
8:57 a.m. - Cody Huschle, the director of order fulfillment, wears a face covering while sitting in his office, where he works on a plan to help keep employees healthy during the pandemic. "We're trying to get to a point where we have as much social distance as possible, within the confines of the building," Huschle says.
9:10 a.m. - Back at her desk, receptionist Julie Peterson sews masks while taking phone calls. She takes the sewing machine home with her on the weekends. She says the mask-sewing has a long way to go. "We're going to work on masks all week," Peterson says.