High school classes, sports interrupted by COVID-19
Pine River-Backus High School students will have a two-week distance learning period, while Little Falls boys hockey players will miss two games.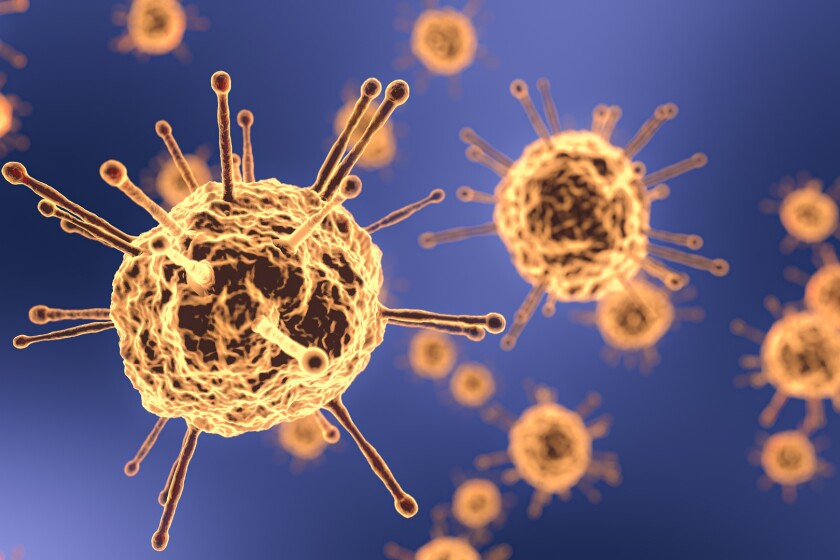 While COVID-19 trends continue in an encouraging direction in the state, high schools and their athletics programs in the area still feel the impacts of positive tests via returns to distance learning and game cancellations.
Pine River-Backus Superintendent Jonathan Clark announced a two-week reset period beginning Wednesday, Feb. 24, for seventh through 12th graders, after three positive cases in students and staff.
Clark said in a phone interview Tuesday the cases are in the secondary school and support staff, impacting a lot of programs and service areas with the need for many people to quarantine.
"It's very disappointing going back for a couple weeks," Clark said, noting the ninth through 12th graders just returned to in-person classes Feb. 16.
At Monday's school board meeting this week, Clark said the district reported zero positive cases and zero students and staff in quarantine.
"This is just how fast things can change," he said Tuesday. "And oftentimes we'll get a reaction that (we're) overreacting, but we're following CDC, MDH and MDE guidelines, and it doesn't leave us a lot of choices in how to respond when you have the positives. … So we're hoping for understanding during this two-week period."
The guidance to which Clark referred comes from the Centers for Disease Control and Prevention, Minnesota Department of Health and Minnesota Department of Education, covering quarantine and isolation recommendations as well as school-specific handling of positive cases. Clark said there is no evidence so far the virus was transmitted at school.
Varsity and junior varsity basketball will continue as scheduled at Pine River-Backus, but the boys and girls junior high teams will take a hiatus, Activities Director Tim Tungseth said Tuesday.
"It's something that you never want to do," Tungseth said, echoing Clark's statement that the district's hands are tied, and there isn't much they can do but follow protocols.
"But we're doing the best we can with it, and frankly I think it's been really good," Tungseth added. "... We've had very little COVID issues this winter season, and we've been able to get a lot of games in, which has been a good thing."
The junior high girls basketball team is expected to resume play March 4, with the boys following March 5.
Little Falls Community High School canceled two boys hockey games scheduled for Tuesday, Feb. 23, and Thursday, Feb. 25, after Athletic Director Kevin Jordan said a recent opponent confirmed a case of COVID-19, meaning the Little Falls boys had to quarantine.
The standard quarantine is 14 days, he said, but students can opt to fill out a form from the Minnesota State High School League to shorten the quarantine period to 10 or seven days if they meet certain criteria. The form asks about exposure, testing and symptoms.
"Basically they're being quarantined for 14 days, but if they want to fill out the form and meet the requirements on the form, (families) can choose to quarantine 10 days or seven days and continue to monitor their athlete the rest of the quarantine," Jordan said.
He hopes to be able to play March 2, but it all depends on the families' quarantine decisions.
Despite the setback of having to cancel a junior high basketball game against Pine River-Backus, the Crosby-Ironton High School boys basketball teams are back to competing after two students tested positive for COVID-19 last week. The district announced Feb. 16 there were 90 students absent from school that day after being identified as close contacts with the two positives. Basketball games for Feb. 11 and Feb. 16 were postponed. Superintendent Jamie Skjeveland said Tuesday there were no additional confirmed cases from the original two, and there were no COVID-19 cases in the district as of Feb. 23.
Update on case numbers
New cases of COVID-19 in Minnesota and the seven-county region remain on a trajectory of slow growth overall.
As of data reported Tuesday by the Minnesota Department of Health, Crow Wing County added a total of 34 cases in the past week, representing the lowest per capita rate of the seven regional counties also including Aitkin, Cass, Mille Lacs, Morrison, Todd and Wadena. Todd County was on the other end of the spectrum, showing a slight uptick in new cases compared to its own recent trendline and in comparison to other area counties. With 44 cases in the past week, this represents a rate of 17.9 per 10,000 compared to Crow Wing County's 5.2 per 10,000.
The deaths of two more area residents due to COVID-19 were reported Saturday by the health department — the first two deaths in the region since Feb. 7. Those who succumbed included a Mille Lacs County resident, age 80-84, and a Wadena County resident, age 90-94. Statewide on both Monday and Tuesday, just one death was reported. The last time a single death was reported in the state was Aug. 31.
COVID-19: How many vaccines have central Minnesota counties administered? See the latest numbers
COVID-19 data as of Feb. 23
Aitkin — 1,176, with 33 deaths; as of Wednesday, Feb. 17, 3,241 residents have received at least one vaccine dose, representing 20.5% of the county's population.

Cass — 2,172, with 24 deaths; 4,619 residents with at least one dose, 15.8%.

Crow Wing — 5,142, with 80 deaths; 9,716 residents with at least one dose, 15.1%.

Mille Lacs — 2,254, with 47 deaths; 3,768 residents with at least one dose, 14.6%.

Morrison — 3,214, with 46 deaths; 4,569 residents with at least one dose, 13.8%.

Todd — 2,438, with 30 deaths; 3,055 residents with at least one dose, 12.5%.

Wadena — 1,281, with 20 deaths; 2,039 residents with at least one dose, 14.9%.
NOTE: These numbers are cumulative since March 21, 2020, and many are out of isolation.