Morrison County sees spike in new COVID-19 cases
It isn't only cases rising. Vold said the rise in numbers is reflected in an uptick in hospitalizations as well, noting CHI Health-St. Gabriel's Hospital in Little Falls is seeing more COVID-19 patients "than they have for awhile."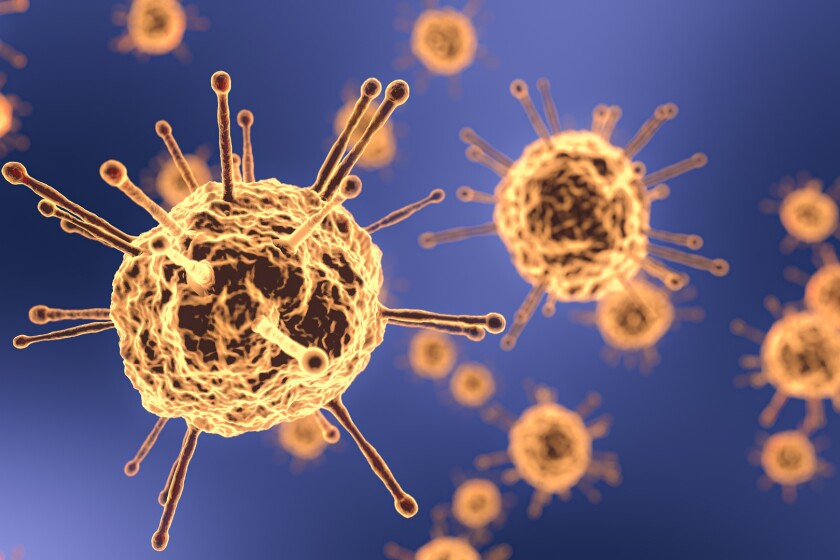 A sustained upward trend in new COVID-19 cases in Morrison County is a concern for the county's leading public health official.
Since mid-January, Morrison followed a similar path of other regional counties and the state as a whole, showing a significant slowdown in spread. Recent weeks, however, show Morrison residents are testing positive at a higher rate than residents of surrounding counties, according to Minnesota Department of Health data.
Brad Vold, public health/social services director for Morrison County, said after riding lows in the 14-day case rate ranging from 8.5 to 14 cases per 10,000 through February, March is beginning to match early January's figures, reaching into the 40s and 50s. This data represents the number of people whose COVID-19 test results were positive during a 14-day period per 10,000 people living in the county.
It isn't only cases rising. Vold said the rise in numbers is reflected in an uptick in hospitalizations as well, noting CHI Health-St. Gabriel's Hospital in Little Falls is seeing more COVID-19 patients "than they have for awhile."
While Morrison County saw backlogged cases previously unreported by some private testing labs added to its totals earlier this month, Vold said these are not impacting the 14-day rate showing growth in new cases. The majority of these backlogged cases and deaths attributed to COVID-19 occurred in long-term care facilities, Vold said, but the currently active cases are mostly within the general community.
"It has been concerning, Vold said during a phone interview Friday, March 19. "It seems like we've had transmission amongst larger families and maybe more in the eastern part of the county."
Vold said the county's been in touch with state health officials, who are considering pulling samples from the county's positive results to determine whether one of the more contagious variants may be present. On Friday, Kris Ehresmann, infectious disease director for the Minnesota Department of Health, said increasing case numbers in four distinct regions of the state are linked to the spread of B117, otherwise known as the U.K. variant. This includes St. Louis County as well as Blue Earth, Scott and Carver counties.
Vold said now is not the time to become lax in COVID-19 mitigation efforts, even as more and more people get vaccinated.
"I would again like to emphasize the need to wear a mask whether you are or aren't vaccinated. I think we still aren't clear whether vaccinated people can transmit," he said. "Wearing a mask and social distancing are still strategies to mitigate the spread."
Morrison County will host a vaccine clinic March 31 specifically for employees of bars and restaurants, who are named as essential employees currently permitted to get vaccinated, according to the state's vaccine priorities.
"It seems to me that we're having more opportunities and vaccine is more available, so if you can find a place to get vaccinated, please do," Vold said.
COVID-19 data as of March 21
Aitkin — 1,200, with 35 deaths; as of Friday, March 19, 5,266 residents have received at least one vaccine dose, representing 33.3% of the county's population.

Cass — 2,269, with 26 deaths; 7,667 residents with at least one dose, 26.2%.

Crow Wing — 5,371, with 85 deaths; 17,033 residents with at least one dose, 26.5%.

Mille Lacs — 2,410, with 47 deaths; 6,496 residents with at least one dose, 25.1%.

Morrison — 3,492, with 54 deaths; 7,618 residents with at least one dose, 23.0%.

Todd — 2,550, with 30 deaths; 5,165 residents with at least one dose, 21.1%.

Wadena — 1,345, with 20 deaths; 3,590 residents with at least one dose, 26.3%.
NOTE: These numbers are cumulative since March 21, 2020, and many are out of isolation.
CHELSEY PERKINS may be reached at 218-855-5874 or chelsey.perkins@brainerddispatch.com. Follow on Twitter at twitter.com/DispatchChelsey.