Column: On Lake Street, rising from the ruin
Lake Street and nearby neighborhoods were the epicenter of unrest in Minneapolis and across the country, but the community has quickly come together in the aftermath.
MINNEAPOLIS — If you ever take a walk down Lake Street in Minneapolis, you'll see there's a large cemetery just off the road — the Pioneers and Soldiers Memorial Cemetery. On the languid, golden-sunned radiance of Thursday, June 11, that cemetery, juxtaposed next to quiet, laid-back residents strolling down the sidewalks, lent Lake Street a stillness so sublime it's reminiscent of eternal rest.
Of course, things on Lake Street were quite different only a few days ago after George Floyd's untimely death. Lake Street and other neighborhoods in the heart of Minneapolis were the epicenter of civil unrest the nation — and much of the world — hasn't seen since the 1960s. Outrage over the extrajudicial killing of Floyd by Minneapolis police officers boiled over, resulting in a burning city where more than 1,000 buildings were vandalized — some damaged, others razed to the ground.
In a matter of hours, fervent protests and destructive riots broke out along immigrant neighborhoods where signs are etched in a multitude of languages and you can go for blocks before you hear a word of English. In some cases, the situation escalated so quickly shop owners only became aware of an oncoming flash flood of unrest when stones smashed through their windows.
"We were still working, we were still baking. We had to leave everything the way it was — the batter on the counter, the stove oven on — because we had to leave so suddenly. It got that much more dangerous," said Candy Gama, the owner of Pasterelia Gama, a bakery on Lake Street. "It went from zero to 100 in a matter of hours."
Despite the tranquility of the present, the evidence of unrest is still painfully visible.
Just about every window and inch of vulnerable glass is boarded up, covered in graffiti and emblazoned with messages: "Justice for George Floyd," "I Can't Breathe," and "Black Lives Matter"; or, in some cases, "Minority Owned Business," to fend off looters, and "Peace and Love," a poignant declaration of compassion amid chaos. Occasionally, you'll find a posted city warning regarding a building's questionable structural integrity, or there'll be signs plastered on walls that advertise for demolition contractor services.
The intersection of Minnehaha Avenue and Lake Street looks like an urban war zone, where tourists gawk and take pictures of gutted buildings, skeletal ruins and twisted metal heaped in ashen mountains. The Minneapolis Police Department's Third Precinct building — the site of a now famous image with dancing rioters silhouetted against the flames; seemingly a microcosm of society burning itself to the ground — sits on the street corner in a blackened, boarded-up husk.
But, that's only half the story of this city.
As an outsider walking down Lake Street, it's impossible to miss the outpouring of communal support that permeates this place in a kindly, mild-mannered way that's about as Minnesotan as tater tot hotdish: "Hola!" says a shop owner on the corner, "Can I help you?" "Hey man," call some municipal workers hosting a picnic. "Are you hungry? Come over and grab a hot dog!" "Excuse me, sir," asks a volunteer as she flags you down on the sidewalk. "Do you need anything? Food? Toilet paper? Blankets?"
Yes, Lake Street is battered and bloodied, but it's pulling itself together and in a hurry.
In my talks with business owners, city employees and volunteers, they all pointed to a rapid mobilization of the local community in which people poured into the streets much like the riots, this time to clean up broken glass and shore up their neighbors' establishments. For her part, Gama didn't buy the notion that local people would participate in the violence, as why would the residents of Lake Street terrorize their neighbors one night, just to help them so selflessly the next day?
"Me and my neighbors, we're like this," Gama said, flexing her muscles and stretching out her arms like she would if she were linked, shoulder to shoulder, with her community. "They're amazing. No matter what happens, we have each other's backs."
Chatting with members of the 563 Labor Union — Eric Angstrom, a business agent with the labor union, as well as Bryanna Kemp, a journeyman laborer and worker for the city of Minneapolis — both tried to take in the enormity of the unrest and summed it up with a shrug.
"Everybody's got their breaking point, I guess," Angstrom said.
On the other hand, the labor union members — who were out on the sidewalk, handing out hot dogs and chips to hungry workers and repair contractors passing by — had plenty to say about the extraordinary togetherness of Lake Street in the aftermath of the riots.
"We're all a big family of brothers and sisters and families work together," Kemp said. "It was quite a shock when everything happened, but what's amazing and what I'm so thankful for is how everybody came together and helped clean up so fast. ... Little bit at a time. Not going to happen overnight, but I tell you what, it's happening darn quick."
"Solidarity," Angstrom added. "It's kind of nice to see everybody come together after everything that happened here."
At the intersection of Minnehaha Avenue and Lake Street, volunteers for Voices from the Ashes have been working for more than two weeks — first amid the economic fallout from the coronavirus, now in the aftermath of the riots — to distribute things like food, clothes, medical supplies and more to members of the local community in need.
"The need has always been here, but the supply hadn't been here until the tragedy. The people of the community have really come together," Kris Love-Keys, a volunteer, said as they handed out homemade vegan meals. "We're just spreading love."
And that's the crux of it, isn't it? That's Lake Street and the city of Minneapolis beneath the boarded up windows and anguished graffiti. In an unprecedented confluence of unrest, crisis and despair, there's that one thing that transcends notions of color, creed and chaos. And while rocky days loom on the horizon as society excises its demons — many of them long overdue — it will remain, as one Black Lives Matter protester later said that day, the "all-conquering, single most powerful thing of them all."
It's love.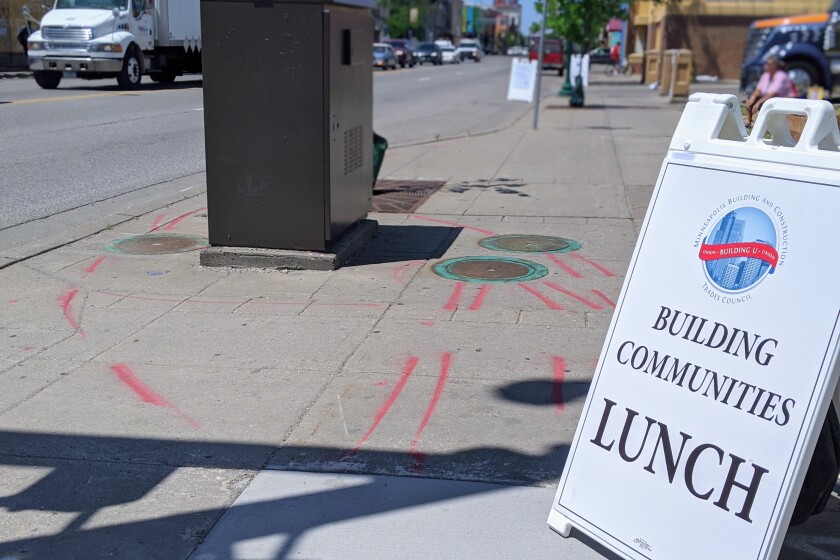 1
/
6:
A sign announces a community picnic on Lake Street in Minneapolis on Thursday, June 11. Lake Street and nearby neighborhoods were the epicenter of widespread unrest after the death of George Floyd in police custody on Memorial Day. Over 1,000 buildings were damaged or destroyed in Minneapolis alone, but the community is quickly putting itself back together in the weeks that followed. Gabriel Lagarde / Brainerd Dispatch
2
/
6:
Candy Gama, the owner of Pasterelia Gama, wipes down the surfaces of her bakery on Lake Street on Thursday, June 11. Lake Street and nearby neighborhoods were the epicenter of widespread unrest after the death of George Floyd in police custody on Memorial Day. Gama said the riots emerged so rapidly she and her employees had to escape the building, but the community is quickly putting itself back together in the weeks that followed. Gabriel Lagarde / Brainerd Dispatch
3
/
6:
A demolition crew works to clear rubble at the intersection of Minnehaha Avenue and Lake Street in Minneapolis on Thursday, June 11. Nearby neighborhoods were the epicenter of widespread unrest after the death of George Floyd in police custody on Memorial Day. Over 1,000 buildings were damaged or destroyed in Minneapolis alone, but the community is quickly putting itself back together in the weeks that followed. Gabriel Lagarde / Brainerd Dispatch
4
/
6:
Workers staple neon signs on businesses on Lake Street to announce their reopening on Thursday, June 11. Lake Street and nearby neighborhoods were the epicenter of widespread unrest after the death of George Floyd in police custody on Memorial Day. Over 1,000 buildings were damaged or destroyed in Minneapolis alone, but the community is quickly putting itself back together in the weeks that followed. Gabriel Lagarde / Brainerd Dispatch
5
/
6:
Protest signs plaster a storefront on Lake Street in Minneapolis on Thursday, June 11. Lake Street and nearby neighborhoods were the epicenter of widespread unrest after the death of George Floyd in police custody on Memorial Day. Over 1,000 buildings were damaged or destroyed in Minneapolis alone, but the community is quickly putting itself back together in the weeks that followed. Gabriel Lagarde / Brainerd Dispatch
6
/
6:
The burned out interior of Minnehaha Lake Wine & Spirits at the intersection of Minnehaha Avenue and Lake Street in Minneapolis on Thursday, June 11. Nearby neighborhoods were the epicenter of widespread unrest after the death of George Floyd in police custody on Memorial Day. Over 1,000 buildings, including Minnehaha Lake, were damaged or destroyed in Minneapolis alone, but the community is quickly putting itself back together in the weeks that followed. Gabriel Lagarde / Brainerd Dispatch