Area Golf: Wherley captures crown at Edina Country Club, Smed 3rd
The head professional at The Pines at Grand View Lodge nets win at Einda Country Club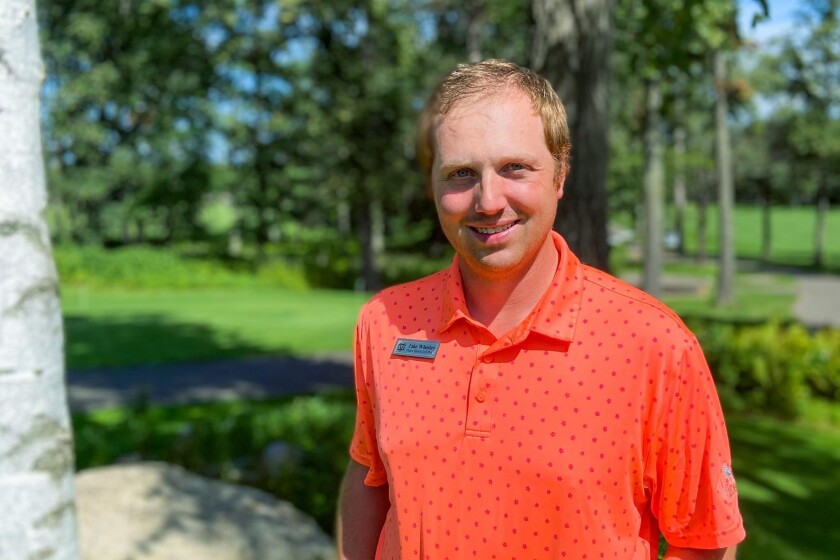 We are part of The Trust Project.
Jake Wherley knew he had a chance to win.
The head professional at The Pines at Grand View Lodge chipped in for birdie on 17 to take a two-shot lead heading into the final hole of the Minnesota PGA Assistants Championship at Edina Country Club.
After the player chasing him, Andy Smith of Hazeltine National Golf Club, birdied the 18th, Wherley two-putted for par to win by one shot and claim his first Minnesota section win of 2022.
"I lagged my putt up there to about eight inches, so it wasn't until that last hole where I felt like I had it," Wherley said. "It was a two-man race between myself and Andy that whole second round."
Wherley opened the two-round tournament with a 7-under 65 to take the lead into the second round.
Wherley began his first round with a 6-under 29 on the front nine. He birdied three of the first four holes. After two pars, he birdied the par 3 seventh hole and finished with an eagle, two, on the par 4 ninth hole.
After birdies on 10 and 12, Wherley was 8-under before a bogey on the 14th. He bounced back with back-to-back birdies on 15 and 16 to get to 9-under. He suffered a double bogey, five, on the par 3 17th.
He bounced back on the 17th hole in the second round to make a key birdie.
Wherley opened his second round with a birdie on the third hole after two pars.
He dropped a shot at four, but after pars on holes five through eight, he finished on the front nine with a birdie to get to 8-under for the tournament.
He birdied 13 to get to 9-under before a bogey on 16 set up his strong birdie-par finish to win.
"Everything just fell together at the right time," Wherley said. "I played Edina (Country Club) for the first time about three weeks before. I liked what I saw, but I didn't feel like I could go out and shoot 7-under. But the course was in fantastic shape and it had a great layout. I just happened to play well when it mattered."
It was an important win for Wherley as it advanced him into the Minnesota Golf Champions Tournament Sept. 30-Oct. 2 at Minneapolis Golf Club.
"It's never a given in a certain year that you are going to qualify for that event," Wherley said. "This will be my third time playing in it and I made the cut in it last year. I really enjoy Minneapolis Golf Club, so I'm looking forward to it."
The win also secures Wherley a spot in the 2023 Minnesota State Open.
Wherley has six top-5 finishes in 2022 and pushed his winnings to over $4,000.
"The win gives me a lot of confidence in my own game," Wherley said. "It's been an up and down year for myself, but the last couple of months have been really good. It gives me the confidence that I can compete and play well in big events, still."
Bennett Smed, who is an assistant pro at The Classic at Madden's, finished third at Edina Country Club which puts him in the National Car Rental Assistant PGA Championship Nov. 17-20 at PGA Golf Club in Port St. Lucie, Florida.
Wherley is no longer an assistant pro, so he could not qualify for that tournament despite being able to play in the Minnesota PGA Assistants Championship.
Wherley is about to finish his first season at The Pines at Grand View Lodge. He spent the previous three and a half years at The Classic at Madden's.
"I love being at The Pines," he said. "It's a great environment to be a part of and making the move over there gave me a little more flexibility in my work-life balance and freed my schedule up personally. But it's a busy, active course with a great men's league and it's a place that I feel comfortable at."
CONRAD ENGSTROM may be reached at 218-855-5861 or conrad.engstrom@brainerddispatch.com. Follow on Twitter at www.twitter.com/the_rad34.