Athletics: Diving into coaching culture with CLC's Peterson
For 28 seasons Jane Peterson has coached the Central Lakes College Raiders volleyball team, but there's more to this physical education instructor, wife and mother of two.
For 28 seasons Jane Peterson has coached the Central Lakes College Raiders volleyball team, but there's more to this physical education instructor, wife and mother of two.
A lot more.
You might know about the national championship teams, but did you know while growing up in southern California, Peterson played one or more seasons of soccer, field hockey, competitive swimming, track and field, softball, basketball, and of course, volleyball? She even dabbled in beach volleyball.
Growing up with two older brothers and a husband who also coaches has meant some form of competition has been a daily ritual for the soon to be 55-year-old.
Question: I asked Brainerd High School activities director Charlie Campbell about how rare it is to have coaches with such long tenure nowadays. How have you managed to continue in the profession and continued to find the challenges and joys in it every season?
Jane Peterson: I think for me, coaching is a vocation, a calling to teach and influence young women who are in the stage of life where they are on their own for the first time, making choices and figuring out who they are. This is a really important time for them and it's just really fun to be able to use the sport of volleyball to help them grow-as people.
Coaching has let me remain competitive as I age. It has let me laugh a lot more than most people my age laugh. It has let me develop so many relationships that I otherwise wouldn't have. Coaching has let me "work" at something that's fun for me. I have always had the support around me from those who love me to understand and encourage my role as an athlete (my parents and siblings) and a coach (my husband and sons). They have made it easy, been encouraging when things aren't perfect and been willing to celebrate right along with me when things are going well. Also, I just like learning. The game and coaching are changing. So I'm still curious about how to do things better/differently to make better connections with athletes. All this keeps me going and looking forward to next season.
Q: One thing I really wanted to ask is, how has recruiting changed for junior colleges? With student-athletes participating in post-secondary education and taking advanced placement classes in high school, many aren't eligible for junior college because they have too many credits. How difficult has that made the recruiting trail?
JP: Recruiting has become more difficult. I have to make contact with so many more people than I used to just to get five or six players every year. There are so many people who just don't want to consider a two-year college option. Usually, if we can get them to come for a visit we can impress them with the environment of the whole school and the culture of the volleyball program. I just try to find people who: 1, love volleyball. 2, are fun/good people to be around and 3, want to be a part of our program. Sometimes our reputation helps us because we win and former players speak highly of their experience and sometimes it hurts us because girls don't think they're good enough to play here or they may be scared of the high standards.
Q: Things have changed recently, but when I first started at the Dispatch there weren't a lot of female coaches coaching girls sports. I look at our area high school girls basketball, and of the 12 teams we cover, we have just two female head coaches. Volleyball in the area is better with eight female coaches. Do you think more should be done to push girls into coaching?
JP: More should be done to encourage girls to coach. To do that there should be more or better support for coaches. It's a time-consuming job that doesn't always result in financial benefits. So a woman needs support around her to make it possible to fit coaching into a real life. There are lots of women who are coaching kids by volunteering, etc. There are actually very few coaching jobs that you can make a living at. It seems to me that the number of full-time female teachers who coach has declined. I might examine that-the strain on classroom teachers or lack of support for coaching-if I was interested in increasing the number of female coaches. From personal experience, I know the value of having a female role model. Seeing someone who looks like you, that you can identify with, do a job makes that job seem attainable. I would be very willing to talk to anyone considering coaching about the value and benefits of coaching at any level.
Q: I know a lot of people think that once the season is over you're done coaching, but like most sports, volleyball is a year-round activity now. What are you doing in the offseason?
JP: Right after the season I got ready for the AVCA (American Volleyball Coaches Association) convention and the Final Four. I am the President of the NJCAA Volleyball Coaches Association this year, so I run the annual meeting, manage the budget and approve expenditures, communicate with the national (NJCAA) office, etc. I have also helped Under Armour with their All-American game at the DI National Championships in December. Every year, immediately after our national championship, we hold a tryout for our club team-Central Lakes Juniors. We help administer and coach about 45 girls from about 16 different schools through a winter season. I am recruiting. I am planning summer camps and leagues. I am teaching a full load. I am scheduling and planning for next fall's season and I usually speak at the Minnesota State High School Volleyball Coaches Association Clinic in July.
Q: You and your husband both have coached for many years. Who is the better coach? Who knows more about sports?
JP: You probably thought I wouldn't answer that question, but I love this topic. Keith definitely knows more about all sports. He has a mind that remembers stats and details and specific games and plays like no other. People love to hear him talk about sports. Come sit next to him at a game sometime. The commentary is really extraordinary. I think he should be doing games on the radio. He really is interesting to listen to.
As far as who's better? I think I'm better at some things and he's better at others. I'm pretty patient, but Keith can always keep the big picture in mind. He very rarely gets caught up in the emotion of the moment or the heat of competition. He is always thinking about what is good for the student-athlete. He has been a great model for me in this way-to think like a teacher. Maybe because I coach a different sport or because I coach a different gender or because I am a head coach or I work at a college not a high school-I might be better at being more in tune with the daily ongoings of the emotion and culture and of the team. I really get to develop some good relationships on a lot of levels that he just doesn't get to deal with. Actually, I think Keith is a better basketball and baseball coach and I am a better volleyball coach. I'm hoping he'll be able to help me when he retires.
Q: When you first started, I'm guessing there weren't too many female coaches around, especially in this area. What were those first few years like and how have things changed and have they changed for the better?
JP: When I first started there were probably more women coaches because girl's/women's athletics weren't such a big deal. As they have gained more respect and been seen as an important job/role, more men started to coach girls and women. There's a whole history here that I have written a thesis on and many people continue to study. I had some great female role models in my high school and college coaches. When I started at CLC there were many older women who helped and mentored me.
Q: A big question, but how has the sport of volleyball evolved in your tenure?
JP: Two big rule changes: Sideout scoring to rally scoring, which happened around 2000, and the addition of the libero, which happened a few years later. The change in cultural thinking about girls and women in sports. It, and they, are widely accepted as really acceptable, in fact, encouraged, avenues to pursue. Training practices-just being more about the whole athlete-weights and conditioning-have definitely been enhanced. And the evolution of the science/study of the mental game (neuroscience) and of motor learning have really changed the way I coach.
Q: How much of an impact, if any, is it that the University of Minnesota Gophers' program is one of the top in the nation right now?
JP: Minnesota has been a volleyball hotbed for many years. You can find Minnesota teams in the top five at almost every level of college volleyball. I think getting the Gophers on more local sports pages is helpful in the understanding of the sport in general. In our area, there are not that many people who have a deep level of understanding of the sport-although most people appreciate it. It's fun to watch. I'm always trying to find people who want to learn more and want to teach the game with me.
Q: You've had so much success throughout your career. Has there been a familiar theme with your successful teams and what might that be?
JP: One thing that has helped is having the same dedicated assistant coach to help me. Ken Miller has made it much easier to consistently stay motivated and excited about each season. I try not to fit my teams into a cookie cutter for success. They are each responsible for becoming the kind of team they want to be. I certainly help guide them in a certain direction and explain my philosophy to them. My philosophy has remained pretty consistent. There are a few non-negotiables. We have one rule: "Be someone your teammates, your coaches, your school, and your community will be proud of." But each team develops and has their own strengths and weaknesses. Perhaps this is one of the consistent strengths of the program-being able to adapt to the current players' strengths and weaknesses and being able to guide them in growth throughout the season no matter where they are at the beginning.
Q: The Minnesota State High School league is looking into adding boys volleyball. Obviously, other states already offer this, but do you think it's a good fit for Minnesota and will it affect girls volleyball?
JP: I think offering boys volleyball is a great idea. It will affect boys spring sports more than it would affect girls volleyball. I think it could really help girls volleyball by giving them another season to help, manage, learn about the sport. It might also help to have a coach who could do both sports or two people who could help each other in their offseasons. One of my former players who has a son who loves volleyball has been instrumental in the league that has formed in the Cities.
1
/
4:
Jane Peterson coaches from the sidelines during a volleyball game this past season at Central Lakes College in Brainerd. Kelly Humphrey Brainerd Dispatch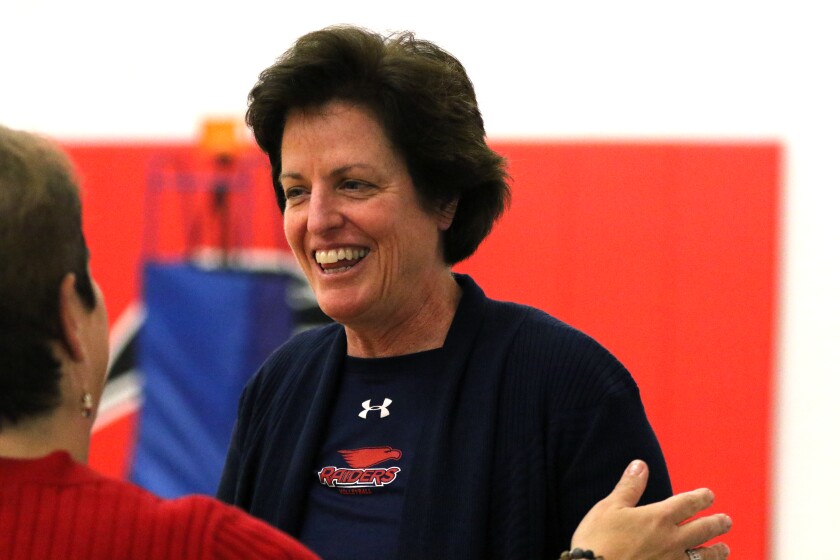 2
/
4:
Jane Peterson talks with college president Hara Charlier after a volleyball game this past season at Central Lakes College in Brainerd. Kelly Humphrey Brainerd Dispatch
3
/
4:
Jane Peterson coaches from the sidelines during a volleyball game this past season at Central Lakes College in Brainerd. Kelly Humphrey Brainerd Dispatch
4
/
4:
Jane Peterson coaches from the sidelines during a volleyball game this past season at Central Lakes College in Brainerd. Kelly Humphrey Brainerd Dispatch